Images have been pouring in all weekend from Wizard World Chicago Comic Con and Anime Revolution in Vancouver. Both events have been loaded with damn fine cosplay. Here are some of our favorites!
Photo Credit: The Will Box
Anime Revolution 2014
Photo of Battle Armor Disney Princesses by The Will Box
G/O Media may get a commission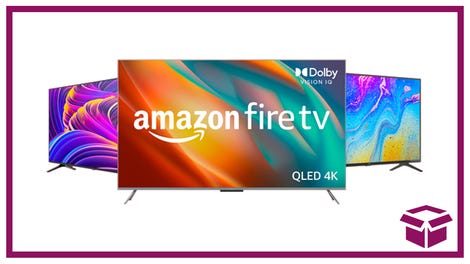 Ooh. stunning.
New Amazon Fire TVs
Photo by The Will Box
Photo of Jessica Nigri as Battle Armor Elsa vs. Sub Zero by The Will Box
Photo of Vivid Visions as Battle Armor Anna by The Will Box
Photo of Gladzy Kei as Battle Armor Jasmine by The Will Box
Photo of Megan Langan as Battle Armor Megara by The Will Box
Photo of Jessica Roh as Battle Armor Cinderella by The Will Box
Photo of Andy Rae as Battle Armor Snow White by The Will Box
Photo of Caroline Dawe as Battle Armor Arielle by The Will Box
Photo by The Will Box
Photo by The Will Box
Photo by The Will Box
Photo by The Will Box
Photo by The Will Box
Photo by The Will Box
Photo by The Will Box
KitsuNova Cosplay. Photo by Undiscovered Photography/Seattle Geeky Girls
Photo by Undiscovered Photography/Seattle Geeky Girls
Kavenza. Photo by Undiscovered Photography/Seattle Geeky Girls
Photo by Undiscovered Photography/Seattle Geeky Girls
Jet Tangerine. Photo by Undiscovered Photography/Seattle Geeky Girls
Photo by Undiscovered Photography/Seattle Geeky Girls
Cosplay by Devon. Photo by Undiscovered Photography/Seattle Geeky Girls
Cosplay by Mimi Reaves. Photo by Undiscovered Photography/Seattle Geeky Girls
Argent and Spartan Longshot-x. Photo by Undiscovered Photography/Seattle Geeky Girls
Enayla. Photo by Undiscovered Photography/Seattle Geeky Girls
Candyhappy of Forever Dreaming Cosplay. Photo by Undiscovered Photography/Seattle Geeky Girls
Photo by Undiscovered Photography/Seattle Geeky Girls
Caroline Dawe and Megan Langan. Photo by Undiscovered Photography/Seattle Geeky Girls
Photo by Undiscovered Photography/Seattle Geeky Girls
Moongazer22 & Fluffy Cosplay. Photo by Undiscovered Photography/Seattle Geeky Girls
Kawaii Kaba Neko Desu. Photo by Undiscovered Photography/Seattle Geeky Girls
Vitality Cosplay. Photo by Undiscovered Photography/Seattle Geeky Girls
Kawaii Kaba Neko Desu. Photo by Undiscovered Photography/Seattle Geeky Girls
Super Heroes of Cosplay. Photo by Undiscovered Photography/Seattle Geeky Girls
Photo by Undiscovered Photography/Seattle Geeky Girls
Photo by Undiscovered Photography/Seattle Geeky Girls
Photo by Undiscovered Photography/Seattle Geeky Girls
Photo by Undiscovered Photography/Seattle Geeky Girls
Kawaii Kaba Neko Desu. Photo by Undiscovered Photography/Seattle Geeky Girls
Photo by Undiscovered Photography/Seattle Geeky Girls
Vitality Cosplay Photo by Undiscovered Photography/Seattle Geeky Girls
Photo by Undiscovered Photography/Seattle Geeky Girls
Photo by Undiscovered Photography/Seattle Geeky Girls
Photo by Undiscovered Photography/Seattle Geeky Girls
Photo by Undiscovered Photography/Seattle Geeky Girls
Elissa Woo. Photo by Undiscovered Photography/Seattle Geeky Girls
Photo by Undiscovered Photography/Seattle Geeky Girls
Photo by Undiscovered Photography/Seattle Geeky Girls
Rocker Bomber Studio. Photo by Undiscovered Photography/Seattle Geeky Girls
Vance. Photo by Undiscovered Photography/Seattle Geeky Girls
Photo by Undiscovered Photography/Seattle Geeky Girls
Wizard World Chicago Comic Con
Photo by Greg Boozell
Photo by Greg Boozell
Photo by Greg Boozell
Photo by Greg Boozell
Photo by Greg Boozell
Photo by Greg Boozell
Photo by Greg Boozell
Photo by Greg Boozell