This week at TreeHugger: Introducing EPEAT, a brand-new standard system for evaluating, certifying and registering green computers and other electronics. From the makers of Solio, the solar iPod charger come a line of gadget cases made from old tires. TREAD will keep your Solio, iPod nano, 3G iPod and various 15" laptops safe from harm's way, all while disposing of some superfluous Colombian truck tires. Live in Britain? Need some extra dough? Have an old cell phone or two (or three)? The UK's Envirofone has a deal for you that involves cash for your old paperweights. Sticking with the UK: for anyone that doesn't dig paying for parking, we have the ride for you, and it even has four wheels and a roof. The Maranello4 commuter vehicle is an all-electric two-seater with a top speed of 30 mph and a range of around 45 miles per charge that is legal to park for free in many areas in London, and is exempt from the London congestion charge. Lastly, for the serious DIYer in to skipping the gas pump, SolarVehicles.org offers info, resources, advice and even blueprints for building your own solar-powered vehicle. Most fall somewhere in between a scooter and a golf cart, but they all will get you where you want to go and are powered on 100% good old-fashioned sunshine.
Like LEED for green building and Energy Star for appliances, EPEAT provides a clear and consistent set of performance criteria for the design of products, and provides an opportunity for manufacturers to secure market recognition for efforts to reduce the environmental impact of its products. The first U.S. standard to supply environmental guidelines for institutional purchasing decisions involving desktop and laptop computers and monitors, (Europeans are way ahead with WEEE and RoHS), EPEAT offers criteria in eight categories — materials selection, environmentally sensitive materials, design for end of life, end-of-life management, energy conservation, product longevity and life-cycle extension, packaging, and corporate performance. Though it'll definitely help decipher which computers are green, it won't help you run Windows Vista any easier, and it'll be a heckuva lot easier to recycle after you chuck your new PC out the window in an operating-system-inspired rage.
We hadn't heard much from Better Energy Systems since their much ballyhooed Solio hit the shelves last year. They have been busy in the interim, though, and have now launched a line of recycled products for your gadgets. The TREAD line includes a case for the Solio, 3G iPod, iPod nano (TreeHugger's unofficial green product of the year for 2005) and various 15" laptops. Each one is handcrafted from recycled truck tires and provides tough, waterproof protection for their respective electronics.
G/O Media may get a commission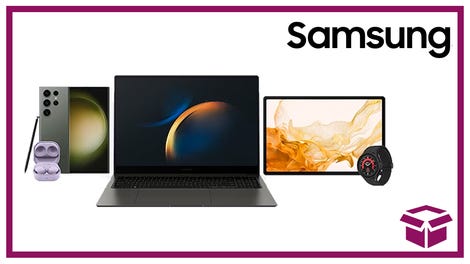 24 hour deals
Discover Samsung - Daily Deal
Britain's obsession with having the newest of the new cell phones means that 10 million cells are dumped every year. Rather than sending your old one to a rubbish pile or stashing it in a closet somewhere, use your new phone to call Envirofone, a company that will pay you for your old cell as well as making a donation to a charity of your choice. You get paid according to the model of phone, which you can check on their website and then just drop yours in the mail. In return, you have the option of getting hard cash or credit at Argos, the U.K.'s largest catalogue shopping chain. The obsolete phones are re-used wherever possible in areas around the world which need them; when they can't be reused, they're recycled in a way that insures that none of the nasties found inside the phones find their way out.
City driving enthusiasts in the UK who aren't fans of the scooter archetype now have another short distance electric commuter to go with: the Maranello4. It's the product of a collaboration between London-based Sakura Battery Company and Italian commercial vehicle manufacturer EFFIDI. The two-seater has a top speed of 30 mph and a range of around 45 miles per charge, and is exempt from the London congestion charge and parking is free in many areas. It's spendy at £9,950 (US$18,775), but may just be worth it for those who have to drive around London and don't want to belch emissions or pay for parking.
TreeHugger has seen lots of wacky solar gadgets, but nothing quite like this. For the serious DIYer, SolarVehicles.org offers info, resources, advice and even blueprints for building your own solar-powered vehicle. Most of the models are somewhere between a scooter and a golf cart, and, according to the pictures on the site, they even work! It may not be the kind of thing you'd want to take on the highway or even a busy street, but they seem perfect for putting around town. Once built, the three and four-wheeled vehicles go between 25 and 40 km/h (about 15 to 25 mph) depending on the load/cargo and grade of the road. Though it probably won't burn any rubber, you might get a sunburn instead.
TreeHugger's EcoModo column appears every Tuesday on Gizmodo.