It's election day here in the United States, and that means there are bound to be more technical screw ups at polling places. The screw ups actually started with early voting but they're bound to get worse as Americans finally head to the polling station in droves.
Of course, there are glitches with electronic voting machines every election, but tensions are higher this year after a massive DDoS attack took down large swaths of the internet last month, and reports of Russian hackers targeting state election systems have spread.
Here's an updating list of every glitch we've found on Election Day. Spoiler: electronic voting machines still suck.
If you run into any problems at your polling place, we'd like to hear about it! Send an email to william.turton@gizmodo.com.
Denver, Colorado: State Systems Down
It appears the database used to confirm voter registration is down, but will be back up shortly, FOX Denver reports.
G/O Media may get a commission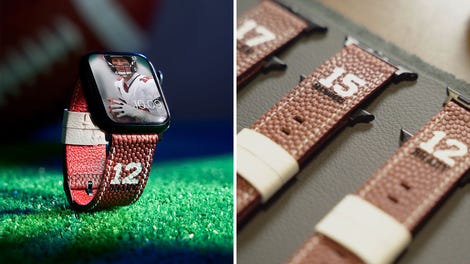 Official NFL PRODUCTS
Official NFL Apple Watch Bands
Providence, Rhode Island: Machine Can't Handle Voter Load
Long lines in Providence, Rhone Island are the result of electronic voting machines that can't handle the high voter turnout, reports the Providence Journal. "The volume is so high it's causing the backlog," said Tony Pires, the director of administration in Pawtucket told the Providence Journal. "The turnout is so large that one machine can't keep up with the volume. It doesn't seem to be a local issue. It seems to be statewide."
---
Washington County, Utah: Switching To Paper Ballots
Memory cards in voting machines in Washington County, Utah were improperly programmed, forcing polling places to fall back on paper ballots, local station KSL reports. Officials told KSL there currently aren't enough paper ballots on hand, and may have to print more if service to the electronic machines is not restored soon.
---
Lebanon, Pennsylvania: GOP Votes Appear As Dem Votes

According to the Lebanon Daily News, an error in 5 to 6 voting machines turned votes for a straight Republican ticket into votes for a straight Democratic ticket. A technical expert at the polling site was able to resolve the issue, ensuring that every vote was cast correctly. Since the Bureau of Elections technical expert repaired the machine, it has been working correctly.
---
Durham County, North Carolina: Laptops Malfunction
In Durham County, North Carolina, laptops used in all 77 precincts were not working properly, forcing the entire county to go back to good ol' fashioned paper poll books. "We're going to be using paper all day… the old-fashioned way," Kate Cosner, the County Board of Elections interim director told The Washington Post. "The state Board of Elections is aware of the problem, and we're both in agreement that this is the best way to go."
---
Detroit, Michigan: Defective Machines
In Detroit, voters are complaining that the ballot machine is jamming or not accepting their ballot. According to a local Detroit FOX station, voters are leaving their ballots with volunteers while they wait for defective machines to be swapped out. Volunteers are also venting their frustration as they are unsure who to contact to receive a new machine. "Defective machines will be swapped out," Detroit City Clerk Janice Winfrey told the FOX affiliate. "All ballots will be put through and all votes will be tabulated."
---
Virginia: Long Lines Due to Glitches
According to the Richmond Times Dispatch, Virginia polling places were opening 15 to 30 minutes late as the Virginia Department of Elections received about 12 reports of voting equipment malfunctioning. Virginia Department of Elections Commissioner Edgardo Cortés told the Times Dispatch the problems were "routine things that happen every election." One voter told the Times Dispatch that his ballot had been pre-marked for Joe Morrissey in Richmond's mayoral race. Virginia will be a key battleground state, though 538 says Clinton has an 85 percent chance of winning the state.
---
Philadelphia: Long Lines Due to Glitches
The Lawyers' Committee for Civil Rights Under Law is reporting long lines as a result of voting machine screw ups at three precincts in Virginia and in Philadelphia.
"It hasn't been anything out of the ordinary," Republican City Commissioner Al Schmidt told Philly blog BillyPenn. "It's been a handful [of malfunctioning machines]. If there were an issue like something extraordinary we would know it right out of the gate."
Pennsylvania is another key state for both Clinton and Trump, but 538 puts Clinton's odds of winning at 77 percent.
---
Indiana: GOTV Fail
In Indiana, a get out the vote effort by the Indiana Democratic Party sent 2,000 voters incorrect information about the location of their polling place. "The Indiana Democratic Party experienced a data-match error in our get-out-the-vote text message program to Democratic voters," state party communications director Drew Anderson told The Indianapolis Star.
---

Wilson County, Tennessee: Voting Machines Crash

A local FOX station is reporting that all voting machines went down in Wilson County, Tennessee during the first rush of voters. County officials say the machines have been restored. It's unclear why the machines were malfunctioning.
---
California: Accidentally Deceased People
Gizmodo reader John Lee writes in about his voting experience this morning:
Checking in from California — they told me I was labeled as DECEASED in their system, but they're correcting it on their side and told me that I should be able to vote later this afternoon. The over-the-phone rep told me it was a bug they found and it had affected multiple people. Hope everyone finds their way around THAT issue.

We'll update this post when Lee tries to vote later today.
---
Los Angeles, California: Machines Breaking Down
Gizmodo reader Mars Williamson writes in:
Only one machine that broke down almost immediately after polls opened. One of the manual machines wouldn't line up the ballot properly.

Called to find out when the machine would be fixed or replace and was told they didn't know because there machines down all over the city that needed to be fixed. Expressed concern about votes counting and was told the machine doesn't actually count votes but looks for errors. Couldn't be told how the votes get counted.

---
New York City: Machines Failing
Gizmodo reader Thomas Appleton writes in from East Harlem, New York City:
I went to the polls early this morning in East Harlem, NYC, and two of the four ballot scanners were already broken down. I fed my ballot into the machine, the screen blinked to a DOS-like command prompt, executed a few lines of instructions, then shut down entirely. The volunteers were unable to tell if my ballot had been counted or not, but they made sure I was able to fill out another ballot that would be counted.

However, this meant that there was only one ballot scanner available, which led to extremely long lines. I was only at the polling center for half an hour, but where there had been maybe 20 people in line when I arrived, the line was well out the door by the time I finished.

Chicago, Illinois: Ballot Counter Broken
From Gizmodo reader Jack Ringness:
This morning I attempted to vote in the City of Chicago, Ward 47, Precinct 22 right as polls opened at 6 AM. I was able to receive my ballot and make my selections, but when I went to submit the ballot the scanning machine was broken and would not accept ballots. The poll workers had us submit our ballots through a slot in the election cabinet and told us they were now in a locked box and would be scanned when the machine was working again. When I left around 6:20 AM there were approximately 30 people who were voting and would be following the same procedure.

Probably not the wildest election day story, but it did leave me feeling a little uneasy.

If you're registered to vote and haven't done so yet, get out and do it! Google has a really useful tool for finding your polling place. And again, if you run into any problems at your polling place, send an email to william.turton@gizmodo.com.