Getting the powers of every fairytale princess ever sounds like it'd be great, right? Perfect pitch, detecting beans under untold layers of bedding. But how do you use those powers to help save your missing brother? That's the question at the heart of Mega Princess—the new creator-owned fantasy comic from Boom Studios.
Written by Kelly Thompson, and with art from Brianne Drouhard and M. Victoria Robado, Mega Princess follows the story of Maxine, a young princess reluctant to take on the role of being a ladylike head of state who gets granted the power of every princess ever on her birthday.
"Mega Princess is actually an idea that my boyfriend Adam Greene and I came up with when I was working on my novel Storykiller," Thompson told io9 over email. "We seized on this idea of a princess that has the powers of all the princesses everywhere. Immediately it seemed so ripe with opportunity—both in humor and in creativity—consider how ridiculous it is to have the power to feel a pea under 20 mattresses as per the classic Princess and The Pea fairy tale. On the other hand, imagine actually making that power work to your advantage to save the day on an adventure, or while working as an amateur detective. So that's where we started, and then I added a sassy pony with battle armor... and we were on our way!"

The sassy pony—who features prominently in our exclusive preview from the first issue below—is just one of the ways Mega Princess plays with the typical fantasy of fairy tales and fantasy. "I really love fantasy, but I don't find myself particularly drawn to princesses, unless you're mixing it with other genres (like detective noir) or doing some things to subvert those ideas and conventions," Thompson continued. "Fortunately Mega Princess does a bit of both!"
G/O Media may get a commission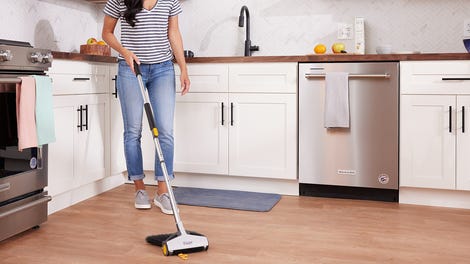 BOGO 50% Off
Flippr - BOGO 50% Off
After a spate of licensed hits like Jem for IDW, Power Rangers: Pink for Boom, or A-Force and the upcoming Kate Bishop Hawkeye series at Marvel, Mega Princess also marks a change of pace for the writer, as her first creator-owned monthly series.
"One of my first projects was a a creator-owned graphic novel called Heart In A Box, but that was for adults and a graphic novel, so this is my first experience with creator-owned single issues coming out monthly and also my first foray into true 'all-ages,' material, even though Jem & The Holograms definitely aims to be pretty all-ages appropriate," Thompson said. "I think working on something creator-owned always has a slightly different kind of excitement to it, as it typically allows you more freedoms and more risk-taking, but it's also more stressful in some ways as it can be tough to find your audience among all the great books out there."
As Thompson mentioned, Mega Princess is also a book that tries to reach all ages. It's a welcome thing in an era with lots of mainstream comics catering to teens and adults before they do younger kids—something that she hopes helps engage readers who might not particularly be drawn to your usual princess-themed stories. "I would love for young and old to read Mega Princess, boys and girls, men and women, all. It's got a lot of great messages about finding yourself and being yourself—and of course lots of sassy sarcastic jokes," Thompson told us. "Despite the word 'Princess' in the title, which I know can be a barrier for male readers, it's truly just a great adventure story and I think Max is a very relatable lead who wants different things than her life naturally brings to her, and who fights against those restrictions and labels, which is something I think a lot of us can relate to."
The first issue of Mega Princess—in a series of five—hits shelves tomorrow, November 9th.