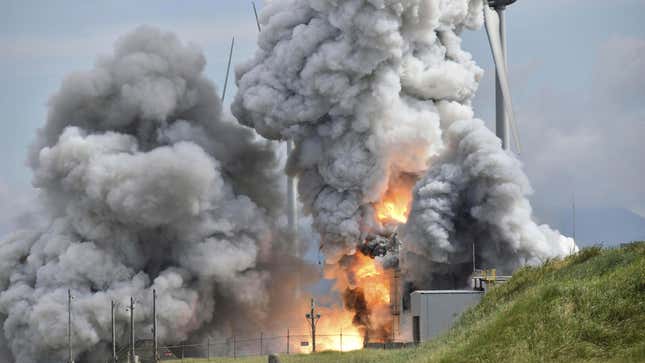 A second stage engine destined for Japan Aerospace Exploration Agency's Epsilon S rocket exploded during a test on Friday, spewing fire and smoke, and severely damaging the test facility, located in Noshiro, Akita Prefecture, in northeastern Japan. It's yet another setback for Japan's suddenly-floundering spaceflight industry.
Vizio's Latest TVs Go All Quantum
The explosion occurred at JAXA's testing site, Reuters reported based on a statement by an official at Japan's Education, Science and Technology Ministry. The catastrophic failure occurred approximately one minute into what was intended to be a two-minute test of the rocket's second-stage engine. Television footage captured the ensuing scene, showing flames billowing from the test facility, followed by a dense cloud of smoke that swallowed the entire facility.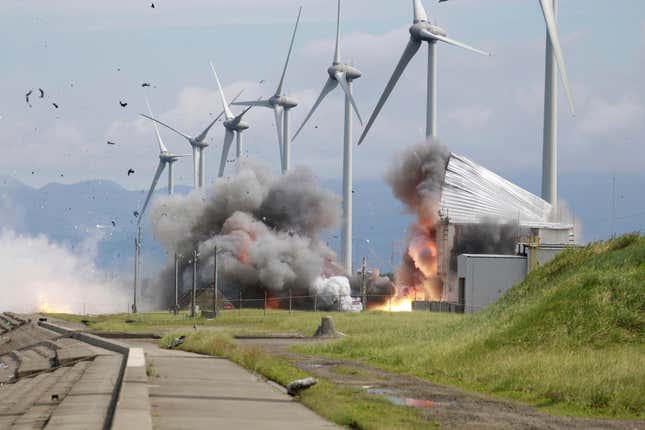 JAXA stated that the combustion test began at 9:00 a.m. local time in the center's vacuum firing test facility, as The Asahi Shimbun reports. Firefighters confirmed the deployment of 10 fire trucks to douse a fire that had erupted in a building at the center. The blast tore off the roof and some outer walls of the building, The Japan Times reports. Thankfully, there were no reports of injuries; personnel could come no closer than 2,000 feet (600 meters) to the facility during the test, according to The Asahi Shimbun.
Japan's Epsilon S rocket is a three-staged solid propellant launch vehicle and the latest in the Epsilon series, which JAXA began developing in 2007 to gain access to the small satellite launch industry. Five Epsilon launches from 2013 to 2021 went well, but the launch of Epsilon-6 in October 2022 ended in failure, with mission controllers having destroy the wayward rocket with eight satellites on board.
Epsilon S, a successor to the current Epsilon series, was being prepped for its debut flight sometime this year, although it's now unclear whether this latest incident will delay the rocket's test flight.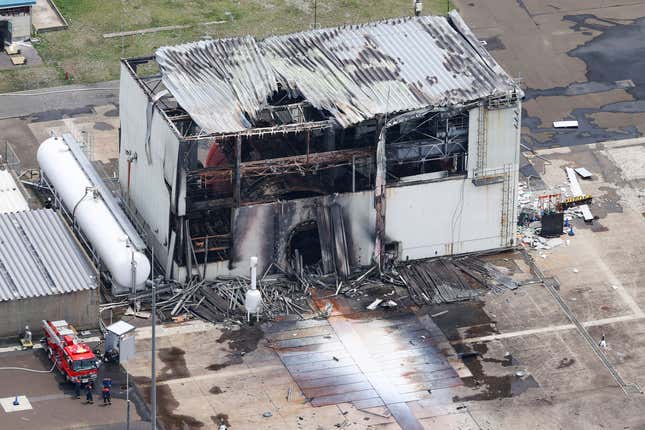 If we had to guess, we'd say most certainly yes. JAXA says the new generation Epsilon rocket shares similar parts to Japan's H3 rocket, both of which are supposed to usher in a new era for the Japanese space industry. H3 also suffered a recent setback when it was forced to self destruct during its inaugural attempt to reach orbit earlier this year. In a related spaceflight industry setback, the Hakuto-R lander belonging to private Japanese company ispace crashed while attempting a soft landing on the lunar surface in April.
Japan's spaceflight ambitions may have to be put on hold for a little while longer as two of its most promising rockets are in need some extra work.
For more spaceflight in your life, follow us on Twitter and bookmark Gizmodo's dedicated Spaceflight page.