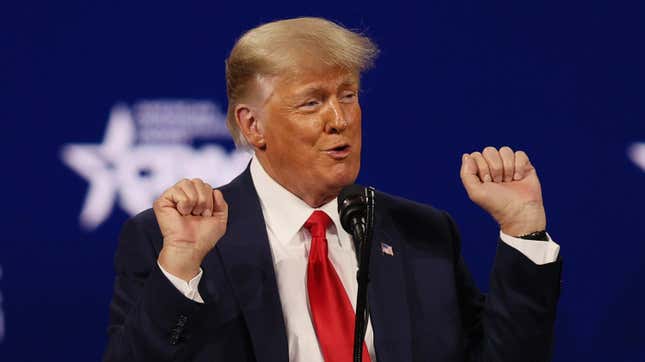 Donald Trump is coming back to Facebook and Instagram. Meta, Facebook's parent company, made the announcement late Wednesday, a little more than two years after it banned the former president from its flagship platform for his role in instigating the January 6 attacks on the U.S. capitol.
Meta's Apparent Firing Goof
The notice of Trump's reinstatement comes just one week after this campaign sent a letter to Meta demanding they let him back on the platform. When he'll be back is uncertain. Facebook and Instagram didn't specify a day when he would reappear. In the coming weeks, Trump will have a direct link to his more than 35 million Facebook followers and 23 million Instagram followers ahead of his 2024 presidential election run.

Why is Trump coming back to Facebook and Instagram?
In a statement announcing Trump's return, Meta President of Global Affairs Nick Clegg said the company no longer believes Trump's account poses the same "serious risk to public safety," as it did when they initially suspended him in January 2021. Clegg, who acknowledged the decision will almost surely, "be fiercely criticised," said Meta evaluated the current risk climate according to its Crisis Policy Protocol, which included taking in expert assessments on the company's current security environment and reviewing the results of the recent 2022 midterm elections and Trump's conduct during them.
"Our determination is that the risk has sufficiently receded, and that we should therefore adhere to the two-year timeline we set out," Clegg said.
Clegg went on to emphasize that Meta's original decision to suspend Trump was an "extraordinary decision taken in extraordinary circumstances," and did not represent the "normal state of affairs." The executive said he believed it was important for Meta users to hear from a former U.S. president and declared presidential candidates on its platform.
"As a general rule, we don't want to get in the way of open, public and democratic debate on Meta's platforms—especially in the context of elections in democratic societies like the United States," Clegg added. "The public should be able to hear what their politicians are saying—the good, the bad and the ugly—so that they can make informed choices at the ballot box."
The former president, not one to miss an opportunity to rail against tech platforms, took to Truth Social to comment on Meta's decision in typical Trump fashion.
"FACEBOOK, which has lost billions of Dollars in value since "deplatforming" your favorite President, me, has just announced that they are reinstating my account," Trump wrote. "Such a thing should never again happen to a sitting President, or anybody else who is not deserving of retribution!
Trump went on to thank Truth Social, which his media group owns, for doing "an incredible job" while he was deplatformed. Though Trump wasted no time hurling attacks towards Meta, he notably did not say whether he would continue posting exclusively through Truth. That's a slight departure from last year, when Elon Musk reinstated Trump on Twitter. At the time, Trump said he saw "no reason" to return to the platform.
Will Trump get banned from Facebook and Instagram again?
Trump's reinstatement does come with some caveats, though. Meta says it will put in place new, heightened penalties for any violations of the company's Community Standards by the ex-president. Now, when Trump posts violating content, Meta will remove that content and will issue a new account suspension between one month and two years, depending on the severity of the content posted. For other content that doesn't technically violate Meta's rules but could be seen as essentially contributing to a repeat of the January 6, Meta says it may limit the distribution of Trump's posts and temporarily restrict his access to its advertising tools. Those posts—maybe related to QAnon or election misinformation, for example—would remain visible on Trump's feed but would not be sent out to other user's feeds.
Meta says it put these "guardrails" in place partly in response to suggestions from its semi independent Oversight Board, which upheld Meta's initial Trump ban but took issue with its vague "indefinite" timeline. The board ultimately kicked the issue back to Meta, which finally decided on a two-year ban ending on January 7, 2023. The Oversight Board released a statement following Meta's decision to bring Trump back online, clarifying that it "did not have a role" in the decision. The Board called on Meta to " provide additional details of its assessment," for it to review.
Meta's decision faced immediate backlash from numerous online safety groups on social media though it simultaneously received praise from civil liberties groups like the ACLU.
"This is the right call," ACLU Execuative Director Anthony D. Romero said in a statement. "Like it or not, President Trump is one of the country's leading political figures and the public has a strong interest in hearing his speech."
Though Romero did not condone Trump's past violating content, he said it wasn't the place for a social media company to "engage in political censorship."
"The biggest social media companies are central actors when it comes to our collective ability to speak—and hear the speech of others—online," Romero added. "They should err on the side of allowing a wide range of political speech, even when it offends.
"There is a significant debate about how social media companies should approach content posted on their platforms," Clegg said. "We default to letting people speak, even when what they have to say is distasteful or factually wrong. Democracy is messy and people should be able to make their voices heard."
Update, 1/26/23, 9:25 A.M: Added comment from Donald Trump.