Jeff and Ashley Sierzenga recently took it upon themselves to bring to life the flesh-eating nanobots from Jeff Carlson's bestselling series Plague Year. Here you can see their entire project, from schematics to the final model.
A mechanical engineer with a lifelong interest in science fiction and science fact, Jeff Sierzenga explains:
My daughter has been fully engulfed by the magic of Avatar like I was thirty-three years ago with Star Wars. Plague Year is too powerful for her just yet, but the technology isn't. The two of us tried to combine our interests and ask: Where is our world progressing to? How can you manufacture and control devices so small?

In the books, the archos tech is meant to do a world of good. The scientists who build it want to police our bodies of disease, pollutants, cancer and everything else that makes people sick. Of course things go horribly wrong, but I love the idea of a super cure.

We started by searching back through the trilogy for details about the nanobot's design. Jeff Carlson was great about fielding a million questions from us via email. Then we followed our notes with conceptual clay models and hand sketches. The light in Ashley's eyes as she let her mind form ideas of invisible nanobots was amazing to say the least.

We finalized our design using SolidWorks parametric modeling software and created a 3D model. My good friend Randy Burns is an Engineering Technologist at Appalachian State University's NC Center for Engineering Technologies. He suggested that we rapid prototype our version of the archos nanobot as an exercise to inspire Ashley and introduce her to the world of engineering and product development.

At the lab, following Randy's guidance, Ashley was allowed to operate the material deposition machine herself, which, layer by layer, constructed scaled-up solid model prototypes of our design.

We made two so we could send one to Mr. Carlson himself. Now let's just make sure they don't get loose!
"The story is really, really creepy, but working with my dad was fun," Ashley said.
Find out more about Jeff Carlson, author of Plague Year, Plague War, and Plague Zone, on his web site.
G/O Media may get a commission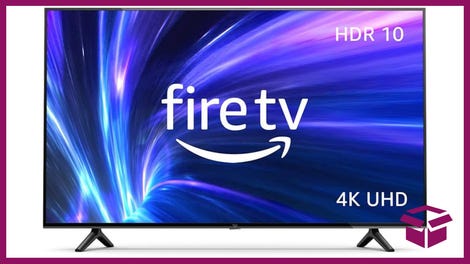 42% Off
Amazon Fire TV 50" 4K Smart TV