Even though Star Trek: Discovery is a prequel to the original series, it's added quite a few new aliens and creatures to Star Trek's database. The most notable would be Saru (Doug Jones), a Kelpian with serious fear instincts and a strut like a gazelle supermodel. However, the original plan for Saru's look didn't include a butt-like nose and a lunchmeat-tinted face. It was more akin to something out of Pan's Labyrinth.

During a Star Trek: Discovery Facebook Live (as shared by Trek Core), creature designers Neville Page and Glenn Hetrick went into how they designed—and later re-designed—Saru for the series. In a behind-the-scenes video shown during the live chat, Page described how original showrunner Bryan Fuller "had this vision of doing a multi-eyed character that had a specific V-shape to it." This 10-eyed alien design was mentioned during PaleyFest last year, along with some early concept art, but this is the first time we're seeing it in the flesh. Here's a slideshow with some images from the video:
The initial makeup tests on Jones looked weird yet promising, but Page explained it came with some logistical problems—like requiring a bunch of post-production CGI to make the eyes and other parts of the face look realistic. Page noted that he wasn't really a fan of doing multiple-eyed creatures, because the "biological question" of why a humanoid would have that many eyes didn't have a satisfactory answer. Plus, the whole structure limited Jones' ability to emote; given how he's an important supporting character, they felt it would hamper his ability to do his job. Of course, it's Doug Jones, who can give a great performance no matter what you stick him in—remember, he played the amphibious star of Best Picture winner The Shape of Water—but why not make give him more room to work with?
"It's been done so many times," Hetrick said. "You're kind of wasting Doug Jones underneath all of that animatronic or just static non-moving head [design] there."
G/O Media may get a commission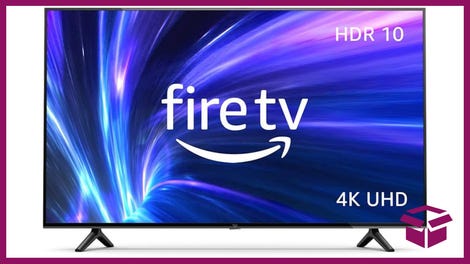 42% Off
Amazon Fire TV 50" 4K Smart TV
So, "with a few weeks left" before they were set to shoot the first two episodes, Page and Hetrick went back to the drawing board, starting Saru's design from scratch—while also creating 20 Klingons and designing the Torchbearer suit. Hetrick said it was "the greatest amount of work... hands down" they'd ever done in one time period. The artists decided to remove Saru's multiple eyes, simplify the facial structure to give Jones more room to work with, and change his skin to more of a flesh tone so that he'd be this weird hybrid of human and alien. That way, audiences would feel he was both part of the mostly human bridge crew and isolated from them.
"It allowed us to find a spot between human and alien that doesn't feel like a human and hopefully doesn't even feel like makeup. It just feels like a really cool version of some real thing that Doug's playing. And without that test, we never would've gotten that," Hetrick said.
"We all knew what [Saru] needed to be, round two. And I think we—not think, I'm confident we got a good look," Page said. "And I know that Doug is able to do his job and appreciates being able to be Doug. Be Saru."
Star Trek: Discovery returns with season two sometime in 2019.
[via Trek Core]