This is not a drill, people. The first song clip from the upcoming Flash and Supergirl musical crossover for The Flash is out, and they're literally singing about the power of super friendship. Yes yes YES!!

The adorableness in this taste of musical greatness cannot be understated. The episode, which comes out Tuesday, is about Barry and Kara being trapped in a musical coma by the Music Meister (Darren Criss from Glee), so they have to sing and dance their way out. This first clip is a section of "Duet," about how friendship is super-magic, and it's already a gooey vanilla ice cream cone of deliciousness. These are real lyrics in the episode, people, these are the lyrics:
In times like these
When life is getting me down
And the world seems like it's gonna end...ship
There's at least one power
That we both still have
And that's the power of...friendship!
The song doesn't show either Grant Gustin or Melissa Benoist's singing talents to their peak, probably so it can better transition them from superheroes to singing icons. But I simply can't wait for these Glee alumni (and classically trained performers) to belt it out by the end, because those two can sing and dance like nobody's business. Plus... SUPER FRIENDSHIP! "I'm your super friend." Yes, please, Flash and Supergirl, be all our super friends now and forever and always. God, is it Tuesday yet?
G/O Media may get a commission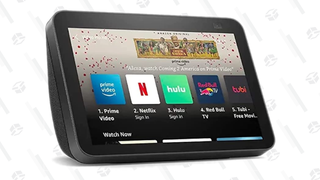 [YouTube]