The Mario movie is, err, a-go. The cast of Detective Pikachu keeps getting weirder. Paramount has its eyes on a big new genre franchise. Andy Serkis talks about Snoke's Star Wars future. Wesley Snipes is still holding out hope for a new Blade. Plus, what's to come on Black Lightning and The X-Files. Huzzah for spoilers!

Detective Pikachu
Bill Nighy and Chris Geere (You're the Worst) have been cast in the film as a "father and son duo," according to Coming Soon. The casting of this film continues to get really, really weird.
---
Ology
Paramount Pictures has assembled a writer's room including Michael Chabon, Akiva Goldsman, Christina Hodson, Nicole Perlman, Jeff Pinkner, Lindsey Beer, and Joe Robert Cole to adapt a film franchise based on the popular YA series of encyclopedias exploring concepts like "Alienology," "Oceanology," "Monsterology," "Dungeonology" and "Spyology." [/Film]
G/O Media may get a commission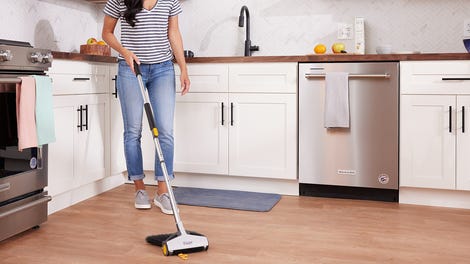 BOGO 50% Off
Flippr - BOGO 50% Off
---
Super Mario Bros.
Nintendo of America has confirmed previous reports that there will indeed be a new, animated Super Mario Bros. movie from Illumination, co-produced by Mario creator and Nintendo icon Shigeru Miyamoto.
---
Wonder Woman 2
Omega Underground reports production will begin this summer in the UK.
---
Halloween
The original Michael Myers, Nick Castle, is now on set.
---
Mission: Impossible - Fallout
Tom Cruise shared two new photos from the upcoming trailer on Twitter.
---
Hellboy
Speaking with THR, David Harbour revealed "some very prominent nerds" advised him to "step away" from the role of Hellboy.
I was approached by some very prominent nerds whom I know very well, and I respect their opinions because they're friends of mine, who were like, 'Dude, step away from the Hellboy. Step away'. I can like Michael Keaton's Batman and I can like Christian Bale's Batman. I can like Jack Nicolson's Joker and I can like Heath Ledger's Joker. There's other Jokers I don't have to like.

[The comics] seem much more macabre to me, they seem much more melancholy, they seem much more primal, more struggle, more angst. And I felt like those other two movies were funnier and brighter and kind of sillier in a way, which was great for what it was. But I thought to approach this material in a different light and to do something completely different than what they had done. This was something that I couldn't pass up because I love those [Mike] Mignola comics. And the mythos we are in now, I feel like two strains are running. They are making these kind of popcorn-y, somewhat two-dimensional comic book movies and then there is this strain like Logan and Deadpool. That is what I am drawn to in the genre. I would love to do a Hellboy where you love him, but you're also not quite sure about him.
---
Star Wars Episode IX
Andy Serkis revealed he's had discussions with J.J. Abrams about Snoke's backstory, in the vaguest manner possible:
We did, yeah. We've talked about it. We wanted to keep it a mystery and, you know by the way, it is Star Wars so who knows what might happen. Without giving anything away.
---
Blade 4
In an interview with THR discussing the unproduced '90s Black Panther movie, Wesley Snipes stated he's interested in revisiting Blade.
I am very much open to all of the possibilities. If Blade 4 comes along, that is a conversation we can have. And there are other characters in the Marvel universe that, if they want to invite me to play around with, I am with that too. I think the fans have a hunger for me to revision the Blade character, so that could limit where they could place me as another character in that universe.
---
Pacific Rim: Uprising
A new tie-in website invites fans to enlist in Jaeger Academy.
---
Tremors: A Cold Day in Hell
Screen Rant has new images from Tremors 6, set in a surprisingly temperate-looking Arctic research station.
---
Game of Thrones
Video from filming has hit social media that appears to show the series' Winterfell sets going up in flames as part of a sequence that, presumably means the ancestral home of House Stark is going to be laid low in the final season. Whether it's dragonfire or the aftermath of an impending White Walker attack (or something else entirely) remains to be seen. [Watchers on the Wall]
---
Arrow
In conversation with Screen Rant, Johann Urb revealed Vigilante's motives are largely motivated by his feelings toward Dinah.
I think the history that he has with the Green Arrow, and really the history that he has with Dinah, played a huge part in which way Vigilante is going and turning, because there's real love there and I think there has been kind of an awakening in him when [he] was unmasked. I think their love and memories have played a big part in the way things have been going in terms of [his] allegiances."

"Vigilante hasn't really appreciated the Green Arrow's approach. We know that he's thought the Green Arrow has gotten soft and is not really doing what he's supposed to be doing, like he was in the beginning. I don't know that without Dinah we would have seen the Vigilante really jump on board with Team Arrow — really the new Team Arrow.
---
Legends of Tomorrow
Brand Routh jokily posted an image from the set next to some very Fortress of Solitude-esque crystals. Given the rest of the set doesn't look like Superman's famous enclave, it's probably not a teaser for the location's appearance on Legends, but, you never know.


---
Legion
The first footage from season two appears briefly in this promo for FX's 2018 programming roster.
---
Voltron
Rejoice, season five debuts March 2nd on Netflix, according to Coran's voice actor, Rhys Darby.
---
Black Lightning
Anissa hits the streets in the trailer for "Black Jesus," next week's episode of Black Lightning.
---
The X-Files
Finally, learn about Skinner's time in Vietnam in the trailer for next week's deceptively titled episode, "Kitten," guest-starring Haley Joel Osment.
---
Banner art by Jim Cooke.