As we shrugged off yesterday's over-hyped, lukewarm Apple event, the day started with a lively report from PMA in Orlando, where the annual photo show was wrapping up. Then we heard rumors of Motorola's Q smartphone perhaps not being as close to the Verizon as was once thought, and at the same time, that flash-memory-packing 720p Sanyo HDV camcorder for which we had high hopes was trashed by Akihabara News. On a lighter note, the first results of our Phake Photo Phun contest were rolling in at a fever pitch, with one standout being a wedge-shaped iPod intended for use as a doorstop. We re laughing out loud here, looking forward to even funnier entries from the best readers in the world, coming in before that Monday, March 6th deadline.
Phake Photo Contest Update
Phake Photo Phun: Update Numero Uno
Live PMA Report
PMA Live: Faster MonsterPod! Stick, Stick, Stick!
Rumor and Speculation
Rumor: Motorola Q Testing Next Week, Shipping in April?
G/O Media may get a commission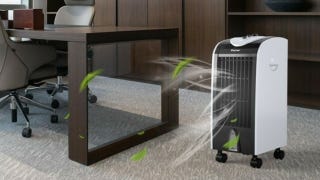 Save $10
Evaporative Portable Air Conditioner Cooler with Filter Knob
News
Keg-a-QueMicrosoft s Dance-Controlled Interface
Guitar Phone
Apple Hi-Fi iPod Stereo Unpacked
JVC Surround-sound Optical Adapter
Post-Traumatic Apple Event Disorder
Orla PK-400 Accordion Monstrosity
Automatic Blood-Toxin Detection
Sony Net Juke 40GB NAS-D5HD
Unicon MBridge WiFi Device to Ship in Q2
Scosche BlueLife Connects iPod via Bluetooth
DLO Ships TransDock Micro iPod Charger/Car Adapter
Power User - The Best of Lifehacker
Samsung Developing Cellphone Software That Nags You
Samsung YP-Z5 MP3 Player
Motorola Signs Design Firm Pininfarina
Vodafone 904SH Cellphone with Face Recognition
A New Load of iLoad: iLoad-v and iLoad-c
Sony Ericsson Shows W300i Walkman Cellphone
Shocking Knife Set
Free USB Keys From Microsoft
Tux-shaped Box
Nikon Coolpix P3 and P4 Reviewed (Verdict: The P is for Performance)
Sanyo HD1 Camcorder s Video Quality Called Disastrous
DIY Pink Toolbox for the Ladies
Zorb: It Feels So Good When It Stops