Apple's just gone public with an announcement that Google CEO Eric Schmidt is stepping down from the Apple board of directors to avoid, ahem, "conflicts of interest." To be fair, things must have been getting pretty awkward over there.
That's not to say that Schmidt left over a tussle in the App Store, or even the FCC's recent investigation into Apple's handling of Google Voice apps, but these little shitstorms could've been a reminder that, as much as Apple and Google have worked together over the years, they are competitors in all kinds of markets, from online services to cellphones to browsers to, soon, OSes. On this, the brief press release doesn't mince words:
Unfortunately, as Google enters more of Apple's core businesses, with Android and now Chrome OS, Eric's effectiveness as an Apple Board member will be significantly diminished, since he will have to recuse himself from even larger portions of our meetings due to potential conflicts of interest.

Therefore, we have mutually decided that now is the right time for Eric to resign his position on Apple's Board
G/O Media may get a commission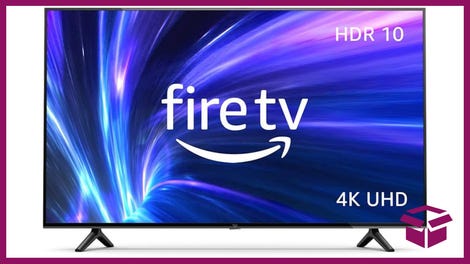 42% Off
Amazon Fire TV 50" 4K Smart TV
It's hard to tell if this "mutual decision" was kind of thing where Schmidt just saw the big picture and said "Hey y'all, it's been real," or if the rest of the board told him to pack his bags, but either way, it seems like the inevitable is happening, and Google's entering its next stage of evolution as a tech compay, full of flamewars and fanboys, taunting blog posts and constant controversy. Pick your sides; this should be fun.