You haven't crossed the final frontier until you've had sex in space. It's the ultimate dream: weightless lovemaking. Here are 11 awesome zero-gravity sex scenes...plus one real-life zero G sexytime moment caught on video.
There have long been rumors and reports that NASA astronauts have really had sex in space, but they've largely been debunked — here's Packing For Mars author Mary Roach debunking one of them. And according to experts, actual zero-gravity sex would be unpleasant — objects thrusting against each other would have a tendency to fly apart, plus there'd be a lot of sweat. Of course, there's a lengthy and somewhat loony zero-G sex scene in Rick Moody's Four Fingers of Death, between two male astronauts, which has to be read to be believed.
In any case, the fantasy is usually (but not always) better than the reality. Here, in no particular order, are a dozen zero-G sex clips:
Moonraker
For many of us, this is still the zero-gravity sex clip of all time — James Bond has successfully defeated Hugo Drax and his army of Aryan blond uber-menschen, with their plan to use a rare flower to poison all the genetically impure people on Earth via a space station. (It sort of makes sense, honest.) And now he's celebrating his victory aboard the space shuttle with Doctor Holly Goodhead, who has perhaps the most humiliating "Bond girl" name of them all:

Lifeforce
Mathilda May is a space vampire who's on a major killing spree, until an astronaut is having sex with heras they float up towards a spaceship via an energy beam — and then while they're weightless and screwing, he stabs her with a weird dagger thingy. Actually, this scene is billed as being an example of weightless sex, but it looks like most of the actual sex takes place when they're still on the ground. They do fly naked though.

Barbarella
Does it count as sex in space if it's just a strip tease/masturbation? If it's Barbarella, it does. We're still kind of sad we don't get to see Rose McGowan's take on this role.

The Uranus Experiment part 2
This is one of the few porn movies ever to be nominated for a Nebula Award. It's also the first porn movie ever to be actually filmed in zero-G. According to Space.com:
The scene was filmed by flying an airplane to an altitude of 11,000 feet. The plane, containing performers Sylvia Saint and Nick Lang, then went into a steep dive, creating the momentary illusion of weightlessness.

Insiders described the filming process as particularly messy from a technical and logistical standpoint.

Budgeting constraints allowed Saint and Lang, who portray astronauts, only one shot at a perfect zero-G take, leaving the actors with only a narrow 20-second window of time in which to launch themselves toward one another and complete the scene.
Unfortunately, I couldn't even find the 20 seconds of genuine weightlessness. Most of the zero-G sex in the movie is obviously pathetically fake, like this:

Moving Violations
From the makers of the Police Academy movies, which is pretty much all you need to know. The zero-G scene does feature Jennifer Tilly, although there's almost no nudity. Mostly notable for some of the most ridiculous wirework ever seen, which becomes the main joke after the characters' shirts start floating around and groping each other:

Defying Gravity
This ABC summer show did not win too many people over, sadly, despite promising rampant zero-G sex in its first episode. The scene is definitely cute and gets points for being well-choreographed. Here's the trailer which contains the relevant shots:


G/O Media may get a commission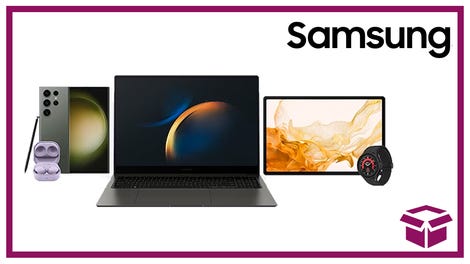 24 hour deals
Discover Samsung - Daily Deal
Falling Fire
Michael Pare plays a space cop who has to stop a killer — and prevent a deadly asteroid from crashing into the Earth at the same time. Somehow he finds time for a bit of weightless nookie while he's at it — this movie originally aired as part of the "Roger Corman Presents" series on Showtime, and it shows. Still, bonus points for using tight closeups and a bit of contortionism to create the impression of zero-G:

Cube 2: Hypercube
In the middle of coping with puzzles and deathtraps inside the horrifying cube, there's this bizarre scene where two characters get it on, and suddenly, their sex causes the axis of gravity to break and they spin around and around without any up or down:

The Red Shoe Diaries, "Weightless"
Ah, Red Shoe Diaries. Possibly the third greatest show David Duchovny ever did. By the time the third season rolled around, they'd run through a lot of the more obvious story ideas — like a pool hustler who needs to have sex on a pool table in order to regain her focus, or Star Trek's Tasha Yar as a cop who likes arresting hot men on trumped-up charges and then handcuffing them. So they had to go with the zero-G episode, with a story by John Shirley. Honestly, I'm not sure what's supposed to be happening in this episode, not least because the only copy I could find was dubbed in Russian. But I think they're on a space shuttle, and some of the scenes are supposed to be in regular gravity, but then they're making out in zero-G after the shuttle separates from its booster. And it makes them think about swimming, or riding a horse, or talking about their feelings in front of a picture of our planet. I need David Duchovny to explain this to me.

Dracula 2000
There have been a lot of Draculas over the years — but only one of them has had flown a woman up to the ceiling and had microgravity sex. Suck it, Lugosi!

Supernova
This film may have its detractors, but it certainly has a lot of awesome nudity, including the naked cryo-chambers, plus Robin Tunney getting floaty and flirty in this scene:



Plus this brief snippet of James Spader and Angela Bassett (which apparently is just an outtake of Tunney and Peter Facinelli, digitally altered):

The First Vertebrate Mating in Space - A Fish Story
And then, as promised, one real-life clip of sex in space. I hope you like fish porn. This experiment was carried out aboard the Space Shuttle Columbia in July 1994, and a video tape is available free of charge from Dr. Kenichi Ijiri. Here's the video:

Additional reporting by Katharine Trendacosta.