In Guillermo del Toro's latest film The Shape of Water, a mute cleaning lady falls in love with a mysterious fishman. It's a weird premise, to be sure, but nothing about how it's handled feels weird. Instead, del Toro's film is poetic, sumptuous, emotionally complex, and yet almost strikingly simple in its narrative.
The Shape of Water takes place in the early 1960s. The United States is locked in a Cold War with the Soviet Union, the Civil Rights Movement is in full swing, and, at a nondescript military base, a simple, happy-go-lucky woman named Elisa (Sally Hawkins) is about to have her regimented existence rocked. There, a former solider named Strickland (Michael Shannon) arrives with a brand new discovery, an imposing and inexplicable amphibian creature (Doug Jones).
From there, del Toro's film kind of goes exactly where you'd expect a love story between a mute woman and a fish creature to go. No, it's not a typical story, but when viewed through the eyes of those characters, it feels right. It's engaging, exciting, and romantic, but rarely shocking. And along the way, del Toro paces the story briskly and efficiently, because the story isn't really the point.
What truly makes The Shape of Water shine, though, is everything outside of the story. Del Toro has seldom been better at creating a new, fantastic world. First there's the camera, which is always moving, making the story feel more like a dream than an actual event. The sets, courtesy of production designer Paul D. Austerberry, are sparse in number but abundant in feel and texture. Alexandre Desplat's music creates the perfect blend of reality and fantasy.
G/O Media may get a commission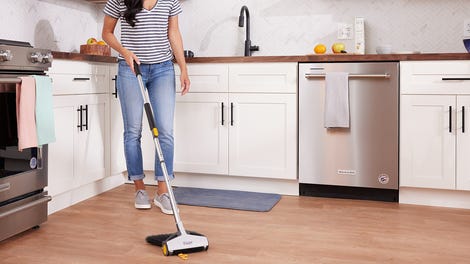 BOGO 50% Off
Flippr - BOGO 50% Off
And the traits of each character's life, both major and minor, are so specific or strange that we can't help but connect to them, for good or for ill. For example, Elisa's daily schedule includes masturbating in a bathtub as she boils eggs in the kitchen. Strickland's family craves his attention, but his violent past makes that affection impossible. Elisa's best friend and neighbor Giles (Richard Jenkins) has secret feelings and outdated talents which make life in the modern world hard. Dr. Hoffstetler (Michael Stuhlbarg) leads the lab but is not telling everyone his full story. Then there's Elisa's co-worker Zelda (Octavia Spencer), whose devotion to an ungrateful husband gives her quite the chip on the shoulder.
Each of these characters feel more complex than the story around them and, as a result, they are the story. Yes, Elisa and the creature develop a romantic relationship, and the film certainly explores that universal desire for companionship and love, but their romance is too easy, too simple. It's the other characters that are really speaking for the film.
This feels like it's by design, since neither Elisa nor the creature can actually speak. Each communicates in their own way, and del Toro uses that to great effect. Plus, both Hawkins and Jones are phenomenal in the movie. But their inability to speak is key; words and sentences and storylines don't matter without having a connection to other people first. Tolerance and acceptance beget the deepest, truest meanings.
Whether that was del Toro's aim or not is difficult to say. But even the potential for it to be true speaks volumes for The Shape of Water. It's a film not particularly concerned with the surface. What's happening is less important than why. And that almost dual track is structured so that the answers arrive in perfect harmony.
So, at the start, everything feels a little disjointed. But as the film moves along, things start to click. Then they start to sing. It's almost as if del Toro is begging us, the audience, to grapple with the film at the start, so we can fall more and more in love with it right up through the end.
The Shape of Water starts off a bit confusing, but it's worth grappling with until the end. And the film is luscious throughout—it's a film you could watch every day and find something new and wonderful. You may just want to do exactly that.
The Shape of Water opens in limited release December 1, then expands on December 8.