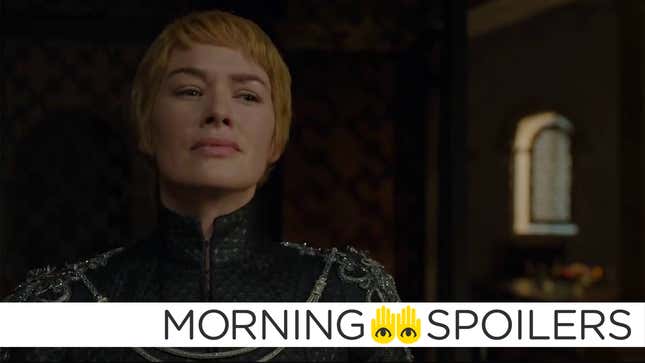 Supergirl will still have Cat Grant in its next season—just not as much of her. Bryan Fuller talks about increasing the female roles in American Gods. Plus, new looks at Suicide Squad and Transformers: The Last Knight, the return of Ash vs. Evil Dead, and more on Tales from the Crypt's weird new format. Behold, Spoilers!

Did Elon Musk Regret Buying Twitter? | Walter Isaacson Interview

Spider-Man: Homecoming
UFC fighter Tyron Woodley has joined the cast in yet another undisclosed role.[Spidermannews.com]
---
Avengers: Infinity War
Script writers Christopher Markus and Stephen McFeely revealed they're "many drafts in" on the script, and further discussed their approach to incorporating as many characters as possible.
Markus: When we lock ourselves in a room with the Russo brothers and a couple of execs from Marvel, one wall has cards for movie one and the other wall has cards for movie two and another wall has little baseball cards of every character still alive in the Marvel universe —

Mcfeely: Down to Darcy's boyfriend in Thor 2 – literally, anybody who did not die and has been established as alive. And then we looked at that began to shuffle the cards around. So basically, the big scene is when Darcy's boyfriend and Galactus get together and….[Laughs].
[/Film]
---
Transformer: The Last Knight
Here's a high-res version of the banner art recently seen in Times Square.
---
Miss Peregrine's Home for Peculiar Children
Here's a new TV spot for the film.
---
Suicide Squad
Another new image from Jared Leto:
---
Game of Thrones
HBO programming chief Casey Bloys, in light of his own recent comments about the end of Game of Thrones after its eighth season, says that the prospect of a spinoff is currently in discussion:
We've talked about it. It's something I'm not opposed to, but it has to make sense creatively. I'm open to it. The guys aren't opposed to it, but there's no concrete plans.
Given that HBO dashed to Buzzfeed in an attempt to control the fallout of Bloys' comments about the show's ending with a statement adding that he "didn't really say for sure that's the end"—it seems like that messaging may refer to HBO's hopes for this spinoff rather than seeing more Game of Thrones beyond season eight.
[Buddy TV]
---
American Horror Story
Bloody Disgusting noticed Anabell Osorio tagged Lady Gaga, Kathy Bates and Cuba Gooding, Jr. in an Instagram post before editing it, and removing them—presumably indicating that she has joined the latest season of the show in some capacity.
---
Protoype
Syfy has passed on the pilot, which is now being shopped to other networks. [Deadline]
---
Supergirl
Calista Flockhart has been confirmed to recur, according to Andrew Kreisberg:
Supergirl wouldn't be Supergirl without the amazing Calista Flockhart as Cat Grant. We are so excited Calista has agreed to continue on the show when she can. We and the audience love to see her on screen.
However, she will no longer be a regular cast member, but instead a recurring guest star. [Deadline]
---
Ash Vs Evil Dead
The show will return on October 2nd. [EW]
---
American Gods
Bryan Fuller acknowledges Gaiman's novel as a "sausage party",and will write bigger roles for female characters. Most notably among them will be Laura Moon, Shadow's late wife, according to Bryan Fuller:
[Laura] was the character that for us was fleshed out to a good extent in the novel, and yet we got to pick up that baton and run with it. [She] was one of the [characters] that we really took ownership of, and we're very excited about telling her tale.
[TV Guide]
---
Arrow
Colton Haynes has been confirmed as being on the set—thanks to, strangely enough, a Snapchat story from Echo Kellum, who plays Curtis on the show. Haynes' return as Roy Harper was rumored earlier this year.
---
Buckaroo Bonzai
Kevin Smith is hopeful to get Quentin Tarantino, Richard Kelly, and Edgar Wright to direct episodes of his reboot:
I wanna get the people who loved it as much as me, so people like Richard Kelly, Edgar Wright, I'm gonna reach out to Quentin Tarantino, see if they'll direct an episode. 'Here's a chunk of change, a 50-page script, eight days… go make your section.' That'd be fun. It also means I won't take all the heat myself. 'Quentin was here, he didn't fuck it up!'
---
Tales from the Crypt
Finally, TNT/TBS president Kevin Reilly elaborated on the show's baffling new format:
I think it may even be longer than an hour. There's going to be a half-hour anthology and then a one-hour original show with some shorts in between. So it's part of a whole block. The original half-hour, sort of slightly comedic, kind of twisted [story] that Night himself is going to direct will be a part of it every week. Then we're going to have rotating original one-hours. Then we've got shorts that'll be part of it too.
[/Film]
---
Additional reporting by Gordon Jackson. Banner art by Jim Cooke.