This is the year. As much as we've postured about 4K TVs getting almost cheap enough and 4K content getting almost easy enough to access, this is the year that it's finally happened. You can buy an excellent 4K TV with HDR support for less than $700, and find stuff to watch on any streaming service. In fact, you have several options to achieve this entertainment bliss.
In order to understand what makes 4K TVs so special, you first have to wrap your head around what the 4K designation means. It doesn't specifically refer to picture quality or color contrast, which are two other very important specs. Rather, 4K refers to the resolution of the display—more precisely, the number of pixels wide the screen is. While you might own an HD TV that's 1280- or 1920-pixels-wide, a 4K TV lines up a stunning 3,840 pixels across the screen. (That's 3,840 pixels-by-2,160 pixels to be exact.) If your new TV is going in a small room, you might not even notice the difference in 1080p displays and 4K display based on the limitations of the human eyeball. Check out this guide and this calculator to see if your room's dimensions warrant the 4K upgrade.
Better resolution means sharper images and, frankly, a more cinematic experience. That 4K designation does not, however, mean you're getting the very best picture. For that, you have to consider whether the TV offers support for certain standards like HDR (high dynamic range) and Dolby Vision (a type of HDR standard) both of which improve the richness of the display's image. And of course, picture quality varies further based on factors like native refresh rate (the number of times the frame refreshes itself per second) and processor power (which influences the screen's ability to render fast-moving sequences without getting muddy.) On top of all this, you should also consider the various smart TV software platforms these displays run on, including Amazon Fire, Roku, and Android TV. If you're dying to get deeper into these details, our skeptic's guide to buying (or not buying) a 4K TV is a good start.
At the end of the day, buying the right cheap 4K TV boils down to four questions. Do you need a 4K TV or is 1080p enough for your small living room? Do you want HDR and Dolby Vision to make your movies look a little better? Will you notice the difference in refresh rates? Do you care about the smart TV experience, or are you just going to plug in the set-top box of your choice?
Now let's get down to business. This year, three new 4K TVs hit the market, each of which are now selling for less than $700. That puts them in easy striking distance for anyone who's looking to upgrade from an older, lower resolution TV without breaking the bank. Each one is slightly different in terms of features and image quality, but they're all excellent. Based on your specific needs and desires, however, each model will appeal slightly more to certain people. And we're here to make the decision-making process easy as hell.
---
The Best: TCL P-Series ($650 for 55-inch)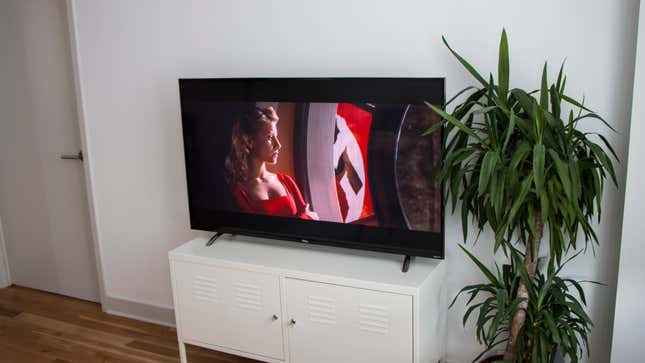 First up, we have a very good TV at a remarkable price. The TCL P-Series offers features that could only be found on models costing thousands of dollars just a year or two ago. Those include HDR10 and Dolby Vision capabilities, as well as 72 zones of local area dimming. (This spec means that there are 72 spots on the display that can be turned on or off to make colors appear brighter or dark areas appear darker.) The display also features a 120Hz native refresh rate which is more or less the gold standard.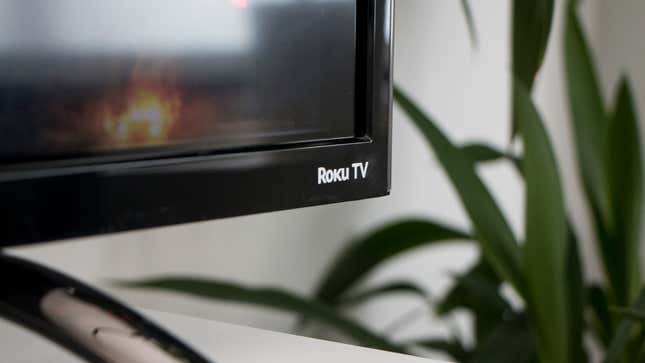 On top of that, the uses the Roku platform for smart TV features. So if you're currently using a Roku set-top box, the software will look very familiar right out of the box. The built-in Roku TV software also takes advantage of the TV's tuner so you can watch live TV, if you install an antenna. And did we mention that the 55-inch model costs just $650?
---
The Best Display: Vizio M-Series ($600 for 50-inch)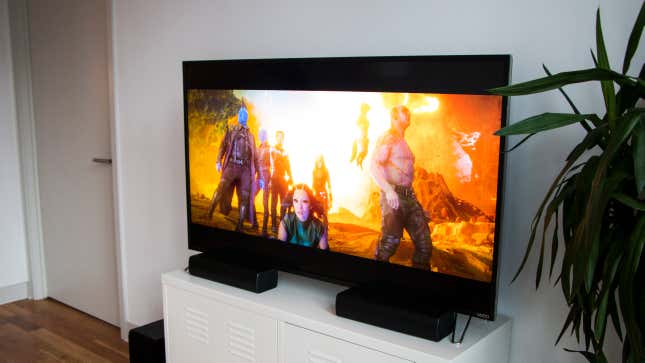 As it usually does, Vizio introduced a whole slew of reasonably priced 4K TVs with wild features for 2017. The all-new M-Series looks an awful lot like the TCL P-Series in terms of specs, but I actually think the display is richer. The 50-inch model is slightly cheaper than the 55-inch TCL TV, but you're still getting HDR10 and Dolby Vision support. The Vizio also features 32 local dimming zones—less than half of the TCL's 72—but again, the display looks more dynamic to me. It's worth pointing out that the Vizio uses an 8-core display processor, while the TCL uses a dual-core.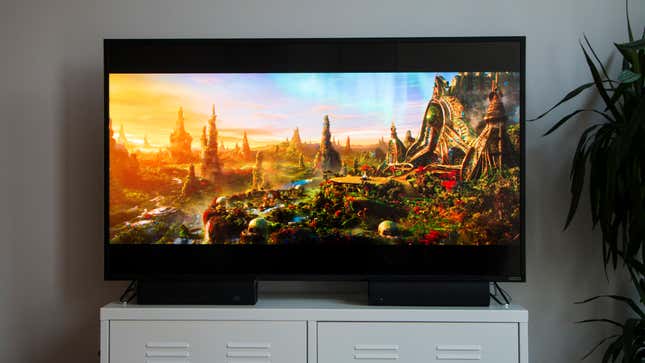 On top of those impressive specs, the Vizio M-Series also comes with Chromecast built-in. This isn't quite the same thing as having a set-top box built in, but it does make it easy to turn your TV and surround sound setup into a wireless audio rig. That's because the Vizio's Chromecast abilities include Chromecast Audio, so you can cast music to any speaker connected to it.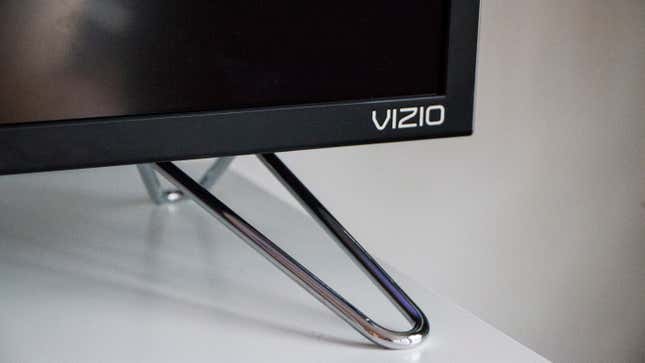 Right now, Vizio will also throw in the very well reviewed Smartcast 45-inch 3.1 sound bar system for an extra $300, if that's what you're in the market for.
---
The Best for Amazon Addicts: Westinghouse Fire TV Edition ($400 for 55-inch)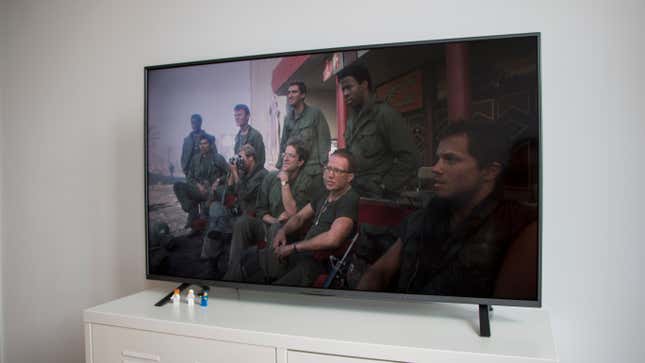 Amazon partnered up with a couple of TV brands—Element and Westinghouse—earlier this year to release the Fire TV Edition. At the time this post was published you could only buy the 65-inch model of the Element-branded Fire TV Edition for $900. However, the Westinghouse model is still available through PC Richard & Son, and wow is it a deal. For $400 (and surely for a limited time only) you can get a very satisfactory 55-inch 4K TV with Amazon Fire software built into it.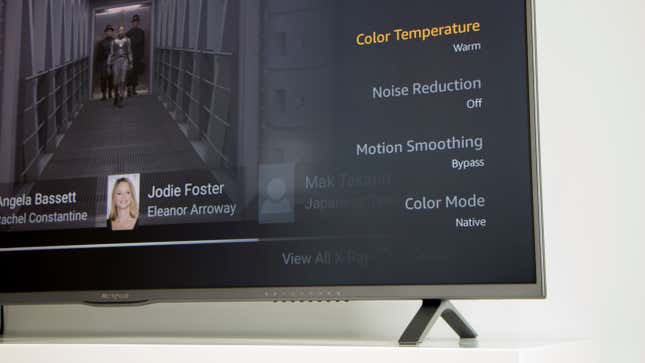 What you do not get are the Cadillac features like HDR and Dolby Vision. That means you'll have less contrast-y images and a narrower color gamut than you would find on, say, the TCL P-Series. The 60Hz display might also have trouble handling fast action movies or sports broadcasts. On the bright side, it does come with Alexa controls, so you Amazon fanatics will be pleased.