An evil Doctor is terrorizing the city, creeping through windows to murder blissful lovers in the night. A group of lady-vigilantes, the Crimestoppers – an unholy mating of Charlie's Angels and the Watchmen – have sworn to stop him. In "Hearts Like Fists," which played earlier this month at the Secret Theatre in New York City, the action and acting pops with the colorful energy of a comic book, while the dialogue is smart, self-aware, and wickedly funny. It's hard to imagine a better night at the theater.
Everything is purposefully over-the-top in the madcap world of Adam Szymkowicz's new "superhero noir" theatrical dramamedy. The production has its tongue planted firmly in cheek, paying exuberant, loving homage to a range of genre types: comic books and films, action and detective narratives, cheeseball romantic comedies, hospital melodramas. It nails them all and keeps barreling onward, literally cartwheeling from scene to scene. There needs to be a new genre created for "Hearts Like Fists": super-action theater.
No one but the audience knows why the mysterious Doctor X (played with pitch-perfect arch villainy by August Schulenberg, the company's artistic director and the playwright behind the evocative A.I. drama DEINDE) is set on murdering slumbering lovers. Why such a heartless act? The bad doctor lets us in on his motivation at the start: he was scorned by his beloved, a woman with "a face like a plate," and ever since is on a mission of liberating others from the tyranny of love. He remembers nothing else but the plate detail, and is so grotesquely bereft you almost feel for him. His methods, however, might be considered a touch extreme.
G/O Media may get a commission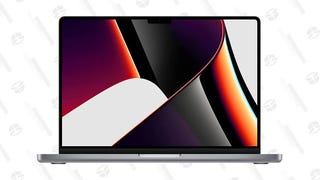 Save $300
2021 14" 1TB MacBook Pro
Bent on foiling dastardly Doctor X are the Crimefighters, a girl-power group of masked vigilantes who cartwheel, flip, kick and punch their way through the play. Led by the bold, Amazonian Sally (Aja Houston), who has an off-again, on-again relationship with the unseen Commissioner (Chris Wright, doubling as the funky in-house DJ), they are rounded out by gutsy Jazmin (Rachael Hip-Flores) and bubbly Nina (Becky Byers), whose feelings concerning Doctor X are conflicted.
The Crimefighters find a new recruit in the beautiful Lisa (Marnie Schulenberg, winsome and winning) after she challenges Doctor X and survives. Lisa, whose "superpower" appears to be inspiring lustful desire in all she meets, proves to be a natural fighter: "I never have to defend if I'm always attacking. I'm the kind of girl who has never had to protect herself because I'm the first to make the move. I will pre-empt your pre-emptive strike."
The Crimefighters moonlight as nurses at the local hospital, which throws their colleagues into the mix: Peter (Chinaza Uche), a sensitive Dr. McDreamy who's trying to create an artificial heart (his own is fragile), and a sad-sack lovelorn Nurse (Susan Louise O'Connor, who dazzles as a character meant to be wretchedly plain).
The story unfolds without subtlety and with plenty of stereotypes on purpose. In "Hearts Like Fists," everything is gorgeously cliché and nothing hurts. Like the best comic books, the story has a bright, action-packed surface with deeper complexities at work beneath. While its characters romp and roll, making impressive use of the theater's limited space (with a cleverly spare, mobile set design by Will Lowry that moves with the action), their fights are both physical and emotional. Human relationships are explored in their best and worst manifestations.
Can Lisa find love with the first person to reject her, and follow her Crimefighting destiny as well? What's going on with Sally and the Commissioner? Why does Nina keep thinking about Doctor X? Will the Nurse confess her true feelings? What happens if Peter gets his artificial heart to work? Can the Crimestoppers find the really, really bad guy before he strikes again? And who is this girl with a face like a plate?
The excellent cast is more than game at keeping multiple storylines intriguing and afloat as much as their bodies are. The fight choreography by Adam Swiderski is a wonder, a mix of gymnastics, balletic grace, kung fu, and awesomely campy action homages. The outfits by costume designer Stephanie Levin have superheroic flair, and director Kelly O'Donnell has melded the whole into an exhilarating 90 minutes of humor, pathos, and nonstop badassery. Szymkowicz's ear for witty dialogue and obvious love of the genres he is sending up clips the story along; it is never weighed down by ponderous monologues.
The mystery of the retracted affection that has so tortured Doctor X sustains the narrative, while multiple love stories bud or whither on the vine, and the lovely forces of good square off against googly-eyed evil. "Hearts Like Fists" delivers an enviable double blow: humorous and profound at once, it demonstrates that the boundaries of what can be done with speculative storytelling onstage are limitless, and always have the capacity to astonish.
Hearts Like Fists, presented by the Flux Theatre Ensemble, played at The Secret Theatre in Queens at www.fluxtheatre.org. Photos by Isaiah Tanenbaum.