What comic book debuts are on the stands tomorrow? First off, DC Comics releases their new anti-superhero espionage book Team 7, which stars a motley selection of characters from across the DC and Wildstorm universes:
As Superman emerges, so too does the world's counter measures against him and his kind! Dinah Lance, Amanda Waller, Steve Trevor, John Lynch, Alex Fairchild, Cole Cash, Slade Wilson are Team 7.
In the returning pile are new issues of Buffy the Vampire Slayer, Adventure Time: Marceline And The Scream Queens, Conan the Barbarian, The Massive, Orchid, Batman, Before Watchmen: Comedian, Frankenstein Agent Of S.H.A.D.E., Suicide Squad (preview here), American Vampire: Lord of Nightmares, Saucer Country, Rocketeer: Cargo of Doom, Chew, Avengers vs. X-Men, Wolverine and the X-Men, and Uncanny X-Force.
The graphic novel selection this week includes two noteworthy contributions from artist Walt Simonson. There's the much deserved reprint of his old-school Alien adaptation with Archie Goodwin and his new high-concept DC Universe graphic novel, The Judas Coin, which he writes and illustrates:
[The Judas Coin] shows how one of the silver coins Judas was paid to betray Jesus has had an impact on the DC Universe, with chapters starring THE GOLDEN GLADIATOR (73 A.D.), THE VIKING PRINCE (1000 A.D.), CAPTAIN FEAR (1720) and BAT LASH (1881). In the centerpiece of the book BATMAN faces TWO-FACE in an epic, present-day battle before the story blasts into the future for a final chapter set in the year 2087 starring MANHUNTER 2070!
G/O Media may get a commission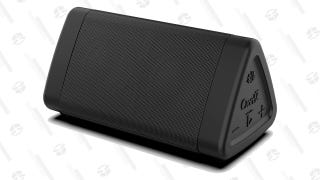 Save 31%
Oontz Angle 3 Portable Bluetooth Speaker
Other books on the stand include Doctor Strange: Year One (a "new tale of how a selfish, arrogant surgeon collided with a hot-headed martial artist to become the greatest team the mystic arts have ever seen"), the first trade paperback of Kieron Gillen's Uncanny X-Men, a new Buffy The Vampire Slayer hardcover, and the fifth volumes of Love And Rockets: New Stories and The Powers Definitive Collection. And as usual, here's the list of everything being released to comic stores tomorrow, and you can find your nearest comic retailer here. Happy reading, gang!