Nominally famous intercourse entrepreneur Dennis Hof — the star of HBO's Cathouse reality series and owner of the Moonlite BunnyRanch — has a vision, a refined vision he can only articulate with such epigrams as "sex from another planet" and "Alien Cathouse girls do it different."
If all goes according to plan, Hof will be the proprietor of the Alien Cathouse, presumably the first legal science-fiction-themed brothel in America. Explains the Las Vegas Review Journal:
The reality television star and outspoken sex merchant recently bought a rundown bordello 90 miles northwest of Las Vegas and unveiled plans to renovate and reopen it with a science fiction theme [...] It's all an attempt to cash in on the property's location just south of the federal installation formerly known as the Nevada Test Site — though nowhere near the actual Area 51.
Yes, the brothel's selling points will be that it's in the neighborhood of A.) a former atomic testing site; and B.) not in the vicinity of clandestine extraterrestrial activity. Well, I suppose there's the whole prostitution angle. But who cares about sex when there are costumes designed by Hof's partner, tabloid fixture Heidi Fleiss?
Hof's alien theme is already well past the probing stage, but important details — whether the working women will be painted green, for example — are still being decided [...] It's unclear whether the costumes will be for everyday use or for promotional events and special occasions.
G/O Media may get a commission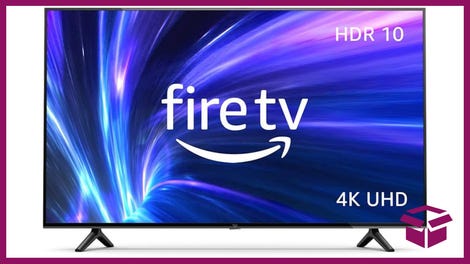 42% Off
Amazon Fire TV 50" 4K Smart TV
Special occasions, like all those Nevada scrubland yacht christenings! Honestly, I think Hof is going about this all wrong. The notion of the extraterrestrial brothel is well-trod territory in science fiction, and there's absolutely no way he's going to be able to maintain the aesthetic illusion of space sex, given that the Moonlite BunnyRanch has the sex appeal of a bingo hall.
Also, Hof's new cathouse is downwind from a former atomic testing range — why not spring for a Hills Have Eyes-themed brothel? That's certainly an untapped market, and Hof won't have to refurbish the "disgusting, terrible" bordello he's purchased.
Semi-related: Japan's Jurassic Park-themed love hotel. Hat tip to Jerry.