The CW is finally launching a new superhero show to replace the long-running Smallville — and it focuses on Green Arrow, DC Comics' counterpart to the Avengers' Hawkeye. Check out the first ever clip, which mostly consists of a shirtless Oliver Queen working out, making arrows, and scowling at the camera. We're in.
Deadly Mississippi Tornado Kills More Than 2 Dozen | Extreme Earth
Also, below is the first clip from The CW's new Beauty and the Beast remake, starring Kristin Kreuk.
Here's what The CW says about Arrow, its new superhero show:
After a violent shipwreck, billionaire playboy Oliver Queen was missing and presumed dead for five years before being discovered alive on a remote island in the Pacific. When he returns home to Starling City, his devoted mother Moira, much-beloved sister Thea, and best friend Tommy welcome him home, but they sense Oliver has been changed by his ordeal on the island. While Oliver hides the truth about the man he's become, he desperately wants to make amends for the actions he took as the boy he was. Most particularly, he seeks reconciliation with his former girlfriend, Laurel Lance. As Oliver reconnects with those closest to him, he secretly creates the persona of Arrow – a vigilante – to right the wrongs of his family, fight the ills of society, and restore Starling City to its former glory. By day, Oliver plays the role of a wealthy, carefree and careless philanderer he used to be – flanked by his devoted chauffeur/bodyguard, John Diggle – while carefully concealing the secret identity he turns to under cover of darkness. However, Laurel's father, Detective Quentin Lance, is determined to arrest the vigilante operating in his city. Meanwhile, Oliver's own mother, Moira, knows much more about the deadly shipwreck than she has let on – and is more ruthless than he could ever imagine. The series stars Stephen Amell as Oliver Queen, Colin Donnell as Tommy, Katie Cassidy as Laurel Lance, David Ramsey as John Diggle, Willa Holland as Thea Queen, with Susanna Thompson as Moira Queen and Paul Blackthorne as Detective Quentin Lance. Based on characters appearing in comic books and graphic novels published by DC Comics, ARROW is from Bonanza Productions Inc. in association with Berlanti Productions and Warner Bros. Television, with executive producers Greg Berlanti ("Green Lantern," "Brothers & Sisters"), Marc Guggenheim ("FlashForward," "Eli Stone"), Andrew Kreisberg ("Warehouse 13," THE VAMPIRE DIARIES) and David Nutter ("Smallville," SUPERNATURAL, "Game of Thrones"). Melissa Kellner Berman ("Eli Stone," "Dirty Sexy Money") is co-executive producer. The pilot was directed by David Nutter from a teleplay by Andrew Kreisberg & Marc Guggenheim, story by Greg Berlanti & Marc Guggenheim.
And here's the first clip from Beauty and the Beast, in which some thugs kill Catherine Chandler's mother, and she's saved by... something. Something beastly, in fact. Nice job making Kreuk look like a teenager. The voice-over is classic CW cheese, too.
G/O Media may get a commission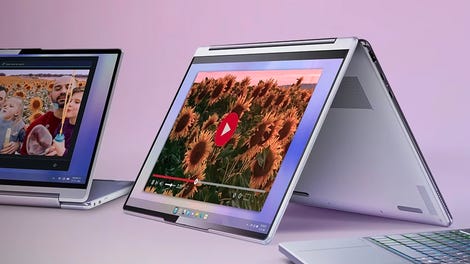 up to 70% off
Lenovo Spring Clearance
Here's what The CW is saying about Beauty and the Beast:
Detective Catherine Chandler is a smart, no-nonsense homicide detective. Several years earlier, Catherine witnessed the murder of her mother at the hands of two gunmen. Catherine would have been killed too, but someone – or something – saved her. No one has ever believed her, but she knows it wasn't an animal that attacked the assassins…it was human. Years have passed, and Catherine is a strong, confident, capable police officer, working alongside her equally talented partner, Tess. While investigating a murder, Catherine discovers a clue that leads her to a handsome doctor named Vincent Keller, who was reportedly killed by enemy fire while serving in Afghanistan in 2002. Catherine learns that Vincent is actually still alive and that it was he who saved her many years before. For mysterious reasons that have forced him to live outside of traditional society, Vincent has been in hiding for the past 10 years to guard his secret – when he is enraged, he becomes a terrifying beast, unable to control his super-strength and heightened senses. Catherine agrees to protect his identity in return for any insight he may have into her mother's murder. Thus begins a complex relationship between Catherine and Vincent, who are powerfully drawn to each other yet understand that their connection is extremely dangerous for both of them. The series stars Kristin Kreuk ("Smallville," "Chuck") as Catherine, Jay Ryan ("Terra Nova") as Vincent, Max Brown ("The Tudors," "MI-5") as Evan, Nina Lisandrello ("Nurse Jackie") as Tess, Nicole Gale Anderson ("Make It or Break It") as Heather, Austin Basis ("Life Unexpected") as J.T., and Brian White ("The Shield," "The Cabin in the Woods") as Joe. BEAUTY AND THE BEAST is from CBS Television Studios with executive producers Jennifer Levin ("Without A Trace," "Felicity"), Sherri Cooper ("Brothers and Sisters"), Bill Haber ("Rizzoli & Isles," "Thurgood"), Paul J. Witt ("A Better Life") & Tony Thomas ("A Better Life"), Ron Koslow ("Moonlight") and Gary Fleder ("Life Unexpected").
And finally, The CW also announced a third show, Cult — which is a midseason replacement. This is the show created by Farscape's Rockne O'Bannon, loosely based on his experience with Farscape fans. (We wrote about it here.) It sounds like it's going to have a conspiracy-theory feel, but also possibly a lot of overt weirdness over time. There's no clip, but here's a photo and synopsis:
Investigative journalist Jeff Sefton has learned to laugh off his brother Nate's relentless string of obsessions, especially his latest rant that a hit TV show intends to harm him. However, when his brother mysteriously disappears, Jeff takes Nate's paranoia seriously, and in the process uncovers the dark underworld of the TV show "Cult" and its rabid fans. The only person who seems willing to help Jeff with his investigation is Skye, a young research assistant for "Cult," who has also started to grow suspicious of the increasingly dark happenings surrounding the show. The fictitious show, centered on the cat-and-mouse game between charismatic cult leader Billy Grimm and LAPD detective Kelly Collins, has become an obsession for its viewers – and now some of its devotees seem to be taking their fixation to deadly extremes in the real world. As Jeff and Skye dig deeper into the fan world, they discover that the gruesome plot twists on television are much more than fantasy for some very unfortunate people. The hardcore fans of "Cult" would kill to see what happens next…
And here's the full CW fall schedule — including Supernatural moving to Wednesdays!
MONDAY
8:00-9:00 PM 90210 (New Night)
9:00-10:00 PM GOSSIP GIRL (New Time)
(THE CARRIE DIARIES premieres January, 2013)
TUESDAY
8:00-9:00 PM HART OF DIXIE (New Night)
9:00-10:00 PM EMILY OWENS, M.D. (New Series)
WEDNESDAY
8:00-9:00 PM ARROW (New Series)
9:00-10:00 PM SUPERNATURAL (New Night)
THURSDAY
8:00-9:00 PM THE VAMPIRE DIARIES
9:00-10:00 PM BEAUTY AND THE BEAST (New Series)
FRIDAY
8:00-9:00 PM AMERICA'S NEXT TOP MODEL (New Night)
9:00-10:00 PM NIKITA (New Time)