We caught up with Stargate stars Ben Browder and Amanda Tapping at the Sci Fi/EW party at Comic-Con, and got a chance to ask them some fun questions. We talked to Browder about what it's like to embody the heroic archetype, and whether he'd ever want to play a supervillain. And Tapping told us the difference between Stargate and her new show, Sanctuary.
We asked Browder if he'd ever appear on Stargate Atlantis, and he hauled producer Brad Wright over to help answer the question. Wright wouldn't make any promises, but did say he hoped to feature Browder in another direct-to-DVD Stargate movie soon.
When we asked Browder how he feels embodying heroic archetypes like Farscape's Crichton and Stargate's Mitchell. He was super modest: "I let someone like Brad write it, and I just say the words. My job, in a lot of ways is the easy job... my job is just the fun part. I get to go out and do the boy stuff and do the fun stuff, I don't think I think about the heroic archetype. That's something the writers take care of, and the directors and the editors."
Browder had some practice being villainous when he was being mind-controlled by Scorpius in Farscape. Would he like to play an out-and-out villain sometime? Yes, he said. "I think it'd be a lot of fun. Now, wearing prosthetics on a full-time basis — that's not fun."
We asked Tapping about the difference between the gadget heavy Stargate and the more low-tech setting on Sanctuary, and she said Sanctuary is much more "steampunk." Actually, the making of Sanctuary is much more high-tech, because it's entirely shot in greenscreen. But there's less technobabble and fewer gadgets, because her character is 157 years old, and she borrows from all different eras. She said it's a bit weird to be shooting in greenscreen all the time, and she gets a "green chromakey headache." But the good news is that the show's art department shows the actors a really good representation of what the scenes will look like when they're done, so they know what they're reacting to.
In Sanctuary, Tapping plays Dr. Helen Magnus, who protects the "abnormals" (the mutants that society has deemed deviations, but who may actually be the next step in human evolution.) So she's sort of like Professor X from the X-Men, except not bald, "and hopefully prettier," she said.
G/O Media may get a commission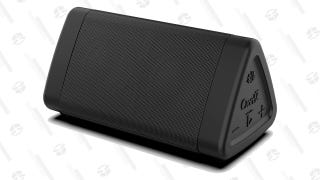 Save 31%
Oontz Angle 3 Portable Bluetooth Speaker
And she confirmed that she'll be in at least a couple more episodes of Stargate Atlantis this season, plus a third direct-to-DVD Stargate movie.