The vampires are back with a girls' night out, Kings dies a slow death on Saturdays, and Batman has to fight Planet Of The Apes-style Cat People from the future. I say let ABC's moon-meteor collision destroy the planet.
Monday:
The Universe –
What's "Beyond The Big Bang" after all? Physicists and historians gather round to talk creation and utilize some nifty animations showing how the universe was made, on The History Channel at 9 PM.
Movies:
Could anyone replace Michael Keaton as Beetlejuice? Seriously I'd love to see someone try to remake the ghost with the most, and fail miserably. Even the cartoon was funny, but sadly not the same without MK. Watch the original on ABC Family at 9:30 PM, and marvel at how young and innocent Alec Baldwin looked.
G/O Media may get a commission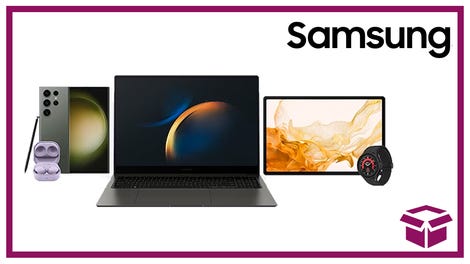 24 hour deals
Discover Samsung - Daily Deal
Tuesday:
There's a Doctor Who marathon from 8 AM to 4 PM over at the SciFi Channel — nothing wrong with that.
Life After People –
What will happen to the city of cars when we all disappear? Will Detroit's vast car lots become dangerous land mines? Also looks like the future aliens will have a long-horn cattle problem if they ever try to settle on Earth after we're gone. Seriously hasn't this show run out of topics yet? "It will get old, deteriorate and be covered with plants" seems to be the answer for everything. But maybe cars will be different. Check it out on the History Channel at 10 PM.
Wednesday:
MonsterQuest –
Think crocodiles only eat pirate hands? WRONG, these creatures are large and in charge — just ask the cast of Lake Placid. In fact, since I can't find a clip from this week's episode on the The History Channel at 9 PM, I'm going to include my favorite Placid moment, to get you revved up for super ginormous crocodiles.
Mythbusters –
The boys pin cars against the rain and proceed to bust up all the weather related car myths on The Discovery Channel at 9 PM.
Ryan Reynolds is on Letterman — shilling for The Proposal, no doubt — but maybe he'll talk a little Deadpool, which is infinitely more interesting than yet another rom com. We'll have to wait and see on CBS at 11:30
Conan plays host to William Shatner, and McLovin (Christopher Mintz-Plasse). So there's really no reason not to tune into The Tonight Show on NBC at 11:30.
Thursday:
Mini Joan Of Arcadia marathon on from 8 AM until 3 PM on the SciFi Channel. It's all about a modern day Joan of Arc (kind of.) Oh, and God is a hottie.
Movies:
There's a bit o' Bond to get you through the night, from the SciFi Channel. At 6:30 PM Roger Moore stars in the movie with maybe the best theme song, Live and Let Die. After that, Pierce Bronsan takes the reins to ensure Tomorrow Never Dies.
Friday:
Batman The Brave And The Bold -
Batman gets zapped to the future, where animals are humanoid, and now we're the pets, or urm... slaves? But whatever — there are CAT PEOPLE, on the Cartoon Network at 8:30 PM.
Saturday:
Kings –
It's Silas' birthday and uh-oh, there's a city-wide blackout. And you guys know what blackout is code for in TV land, secret sex, and lots of it. In the darkness, David tries to explain himself to the Princess, Jack makes off for his secret man lover and I sit alone in the corner and weep for what NBC did to this beautiful series. Kings is on NBC at 8 PM.
Primeval -
The ARC is being taken over by the military, and the group has to flee to the hills. As our heroes abandon their technology, it's humans versus prehistoric Terror Birds, on BBC America at 9 PM.
Sunday:
There's a Mythbusters marathon from 10 a.m. to past midnight, which promises a lot of smashing and crashing.
BBC Earth -
The lovely series BBC Earth will be airing on BBC America. This special is dedicated "Charles Darwin and the Tree of Life," delightful. It airs at 5 PM.
Impact –
The two-parter miniseries Impact has managed to do the unthinkable, make both Natasha Henstridge and David James Elliot unattractive. But you know you're going to watch it, because there's nothing else on TV, and you're a sucker for an apocalypse movie. The moon is crashing to Earth, and it's up to these mega cable TV show stars to save us all, at 9 PM on ABC.
True Blood -
Mother of God, what have you done to my Lafayette? There had better be some explaining this episode. But it looks like this week, we're in for some Jessica and Sookie one-on-one time, so no that shouldn't be shrillingly annoying at all. Ah, I kid. I love you ladies and every melodramatic moment you give me, bad accents and all. "Keep This Party Going" is on HBO at 10 PM.
Additional writing and reporting by Caitlin Petrakovitz.