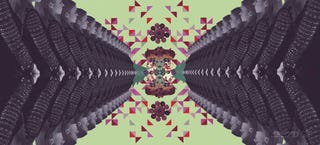 2033 is the last single from French musician Leon. The video—directed by Thomas Blanchard—is kaleidoscopic collage of images that drags you into a psychedelic vortex of colors, shapes, and pop music. It may be too early to pop any pills, but coffee and this will have a similar effect.

Leon is a French singer and folk guitar player. His music is a cross between folk, indie rock and pop.
You can follow Leon's work on his website and buy his music on iTunes.
---
This is part of a series in which we are featuring really cool music videoclips. If you are a musician or a director with high quality work, please drop me a line here.
---
SPLOID is a new blog about awesome stuff. Join us on Facebook