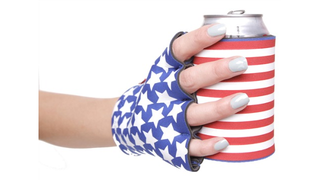 Nothing says 'Merica quite like a cold domestic beer. And nothing screams 'Merica!!!! at the top of its lungs quite like a cold domestic beer sitting in a koozie thing adorned with the stars and stripes of Old Glory herself, complete with an attached fingerless glove so you don't drop it amid drunken stumbles and chants of "USA!"
The Suzy USA Beer Mitt promises to keep your brew cold and your swelling sense of nationalistic pride red-hot at the relatively steep cost of 30 dollars. Thirty dollars and any sense of reverence you might have left. Better stock up now, these things are bound to sell out by July. [Incredible Things]
Editor's Note: Norwood, the people who own the rights to the word "Koozie" threatened to take legal action against Gizmodo and our parent company, Gawker Media, if we did not cease referring to this thing, which is not a Koozie, as a Koozie. It is not a Koozie. Koozie is a proper noun. Norwood, a subsidiary of BIC, inc, owns the rights to this word, and the company is kinda dickish about how it's used. Their right. Please, don't let that affect your decision to buy other, possibly superior products—like this, this, or this—instead of Koozie-branded products. Two wrongs don't make a right. Don't, by any means, stop buying officially branded Koozies just because they are on some legal power trip about their dumb made-up word to which they totally, legally, own the rights. Thank you.