In last night's episode, "Body Double," Betty and Veronica tackled the issue of slut-shaming. It worked and it didn't and, in doing so, highlighted some of the best and worst things going on in Riverdale.
So, Veronica goes on a date with Chuck Clayton. The next morning, she discovers that he's circulating a photo of them with a glob of maple syrup put over Veronica's face. What the hell that means literally is never explained, other than that it implies a sexual act. I'm fairly certain the Urban Dictionary definition isn't the show meaning, since it's implied to be a Riverdale-specific slang. (Side note: please don't tell me what you think it is because it makes me feel gross. Which is probably the show's intent, so... good job! )

When Betty and Kevin lay out that it's a Riverdale thing, Veronica snaps back, "It's a slut-shaming thing. And I am neither a slut nor am I going to be shamed by someone named, excuse me, Chuck Clayton. Does he really think he can get away with this? Does he not know who I am? I will cut the brakes on his souped-up phallic symbol."
Betty, of course, suggests going to the principal. Veronica points out that the football coach's son and golden boy isn't going to get in trouble. Betty then suggests exposing the whole thing in the school newspaper, which she has just decided to run. Betty does find out there are a number of girls who suffered the same thing and tries to get them on the record. It's apparently the standard operating procedure of five football players, who keep track of "points" in a playbook.
G/O Media may get a commission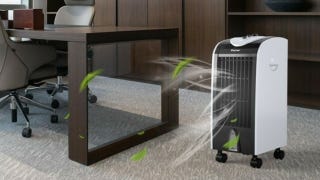 Save $10
Evaporative Portable Air Conditioner Cooler with Filter Knob
Cheryl claims none of it is true because her dead brother used to be the co-captain of the football team. And a) he never told her about it and b) he wouldn't have allowed it. They find the playbook, and Veronica, Ethel Muggs (played by Stranger Things' Shannon Purser—at one point, Cheryl even says "#JusticeForEthel), Betty's sister Polly, and Jason Blossom are all in it. And Polly's presence in the book is what gets Betty to endorse Veronica's scorched earth policy.
The plan involves Betty asking Chuck out, ambushing him in a hot tub, chaining him to a heating hot tub, and recording a confession of his lies. Unfortunately for Chuck, he said some shit about Betty's sister and she loses it. She pours maple syrup on the handcuffed Chuck and demands he apologize for ruining Polly and then "me," which is some serious dissociation.
In the end, Chuck gets cut from the team as a scapegoat and Cheryl apologizes, on behalf of her brother, to Betty.
The whole plot shows what's best and worst about Riverdale. In addition to being a show based on Archie comics, a murder mystery, and a teen soap, it also really wants to delve into social issues. This episode features, for example, Josie explaining to Archie how hard it is for Black women to get ahead. That her mother, the mayor, gets hate mail. And that Archie can't know the struggle this band of Black women has gone through.

It's good that the show acknowledges these things, but it's always done in a clunky way. Josie gives a speech, but then Archie helps them write a song anyway. Veronica gets mad at Cheryl's use of "sluts" and says not to call "these beautiful, young, strong, intelligent women" that ever again. And, in illustrating what's happening, Veronica name drops the Steubenville and Glen Ridge rape cases, just so that anyone watching makes the connection. The writing is too facile to really give this issue its due, but I guess they get points for recognizing it.
There's also a bit of a problem in how the slut-shaming issue is presented. It's clearly wrong that the boys have made a game out of ruining the girls' lives, but the show focuses on the boys lying. Not so much on the fact that even if they had had sex, they wouldn't deserve to be shamed either.
When Veronica says she's "not a slut,"it sends a message that having sex is bad. And while I think the intent of having Veronica tell Cheryl not to call "these beautiful, young, strong, intelligent women" sluts is to be empowering, it read as though the two things were mutually exclusive. That having sex would suddenly negate those other qualities. This is not a nuanced sort of "sex is for when you're an adult and can make decisions about it" kind of presentation. The show only focuses on the lying aspect and not brushes past the double-standard of guys getting glorified for sex and women getting ruined for it. (The double-standard is reinforced by the way Archie's relationship with a teacher is presented in a mostly positive way rather than the clear case of an adult taking advantage of a kid that it is.) By focusing on the "lying" aspect of this plot, the show still sends the message that sex is bad for women.
The whole thing also goes off the rails because the show's dealing with a serious topic, but the camp elements kind of take away from that. "Sticky maple" as a term is ridiculous and the fact that the dramatic climax involves a bewigged Betty pouring it on a dude handcuffed to a hot tub that she's threatened to boil him in does not help. The whole thing takes on a '70s rape and revenge exploitation flick vibe at that point.
What does work, and is this show's strongest point, is the evolution of the characterization of the young women. Betty and Veronica's friendship cements here and it's clear that both girls benefit from each other. Betty's method brings them evidence and the article she writes gets Chuck thrown out. Veronica's strength helps Betty stand up to her mother. The fact that Cheryl comes around to the idea that her brother isn't perfect and doesn't obstruct them gives that character a lot more nuance. She could so easily have just been a bitch forever, but the show didn't go that route.
Riverdale really wants to prove how woke it is, and it's trying too hard in some of the worst possible ways. The characterizations of the women have proved to be nuanced enough to carry the messages it wants to make, so maybe it should focus on using that to tell its messages, rather than forcing them to deliver ham-fisted pieces of dialogue.