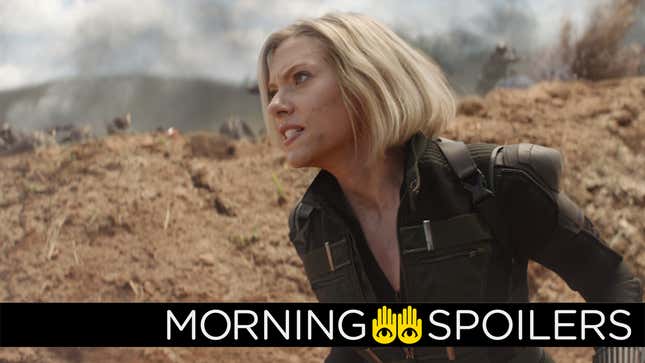 Lewis Tan addresses just what his recent DC Entertainment talks were about. Producer Andrew Form says a Quiet Place sequel won't be rushed just because of the first film's success. Plus, time is really up for Timeless, and what's to come on Cloak and Dagger. Spoilers, assemble!

IMDb Changes Rating System After Little Mermaid Review-Bombed | Future Tech

Black Widow
The list of female directors on the Black Widow shortlist has grown, according to Collider's Jeff Sneider:
In potentially related news, Kevin Feige recently told Gamespot that announcements of more female directors coming to the MCU are on the way:
We've got announcements that we'll be making at some point revealing that.
---
Nightwing
Speaking with That Hashtag Show at the Saturn Awards, actor Lewis Tan confirmed his recent meeting with DC involved discussions over Nightwing.
I know Chris McKay wants a martial artist, right, so that's out there. He's following me on Twitter, you know…there's a lot of good juju vibes out there for that. Nothing that I can say that is confirmed. This is a project that he's still developing and I sat down with DC, with some of the executives at DC, and they're big fans, I'm a big fan, obviously. My father came to America, because of Batman (Tan's father worked on Tim Burton's 1989 film) and, you know, I definitely want to see that come full circle and give back. Im not trading in my Marvel roots, because they started me, but DC started my dad, so it would be nice to go over there and play around and find the right thing. So we're looking for the right thing and there were a lot of different talks and Nightwing was one of those that were mentioned, so we'll see.
---
Skyward
Rampage director Brad Peyton is now planning a film based on Image's new comic book series, Skyward, in which a teenage girl named Willa plans to restore Earth's gravity after a cosmic event drastically reduced it twenty years earlier.
[Variety]
---
Suspiria
In a recent interview with the Italian publication La Repubblica, director Luca Guadagnino revealed his much-hyped Suspiria remake made Quentin Tarantino cry.
I showed it to Quentin Tarantino. We've been friends since our jury duty at the Venice Film Festival. I was nervous but eager to hear his advice. We saw it at his place and his reaction warmed me. He was enthusiastic about it, in the end he was crying and hugged me. Because it's a horror movie but also a melodrama, my goal was to make you look at the horror without being able to take [your eyes off the screen] because you're captivated by the characters. Amazon is very happy.
---
A Quiet Place 2
In a recent interview with Collider, producer Andrew Form promised a sequel to John Krasinksi's sleeper hit won't be rushed.
Oh [Krasinski is] definitely involved. We're lucky on this one. I've had movies where the studio says to you, 'Here's your date. Let's go!' and on this one we're not rushing anything, which is amazing. So we're gonna take our time, we're gonna figure out where to go, but there is no rush on it and we're just starting to talk about it. We're figuring out what everyone's involvement's gonna be and what the actual next movie's gonna be. The first one is so special to us that we really want to take our time with this and not rush anything.
---
Skyscraper

Dwayne Johnson shared a pair of "ultra cool vintage posters" on Twitter.
Universal also released the movie's third and final full-length trailer.

---
UFO
Gillian Anderson plays a math professor investigating mysterious aircraft sightings with a pair of college students in the first trailer for UFO, coming to DVD and digital September 4th.
---
Luis & the Aliens
Warner Bros. UK has a new trailer for the upcoming animated film from Oscar-winning brothers Wolfgang and Christoph Lauenstein, concerning a little boy who befriends three aliens.
---
Jin-Roh
Meanwhile, Warner Bros. Korea has released an international trailer for the live-action film based on the popular anime, Jin-Roh: The Wolf Brigade.


---
Los Espookys
THR reports HBO has ordered a new, entirely Spanish-language series from Lorne Michaels and Fred Armisen. "Set in a strange and dreamy version of present-day Mexico City" the series follows "a group of friends turning their love for horror into a peculiar business." Bernardo Velasco, Cassandra Ciangherotti, Ana Fabrega and Julio Torres are confirmed to star.
---
Stranger Things
Noah Schnapp confirmed the Byers' mysteriously absent family dog Chester died sometime between the events of the show's first and second seasons.
Um, I mean, I don't know — I mean, I think he died, didn't he?" He did. I mean, I'm sure, you could tell, I guess. In [Season 3] there's like a grave for him, that you see.
---
Timeless
Sad news - Timeless has failed to find another network and is effectively canceled.
---
Legends of Tomorrow
The season four premiere is titled, "The Virgin Gary" according to Marc Guggenheim on Twitter.
---
Westworld
Speaking with Stuff, co-creator Lisa Joy stated she's had a definitive ending in mind for Westworld since the pilot.
We have an ending in mind; we've had it from the pilot. It's very emotional, I think. I can't tell you exactly when that ending will come…but I think for every season what we try to do is tell a chapter of the story that gives you closure and then opens a door to a new chapter…The overarching question of the series is, what will become of this new lifeform? So I feel it would be irresponsible to not have an end goal in mind.
---
Ghosted
The Bureau Underground is snubbed by the FBI in the synopsis for July 15th's episode, "The Airplane."
The Bureau Underground struggles to be taken seriously while forced to share a case both with the FBI and the FAA. Disheartened by the lack of respect, the team turns to Merv (guest star Kevin Dunn) who offers very little support. Meanwhile, an unlikely relationship forms and Max makes a shocking discovery in the all-new "The Airplane" episode of GHOSTED airing Sunday, July 15 (9:30-10:00 PM ET/PT) on FOX. (GHO-116) (TV-PG L, V)
---
Cloak & Dagger
Finally, Spoiler TV has images from episode seven, "Lotus Eaters." More at the link.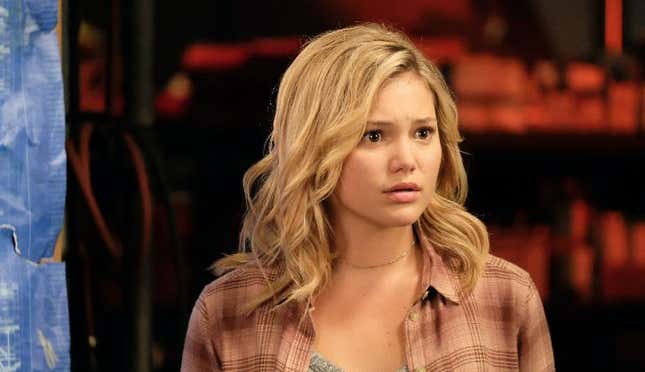 July 12 (8:00-9:01 p.m. EDT) – Episode 1007 – "Lotus Eaters"

A mysterious man may be the key for Tandy to finally clear her father's name. Unfortunately, getting the answers she needs will be difficult as the man has been in a catatonic state for almost a decade, but it might not be so impossible for two people with extraordinary powers. With Tyrone alongside to help, the two test their combined powers for the first time.


---
Banner art by Jim Cooke.