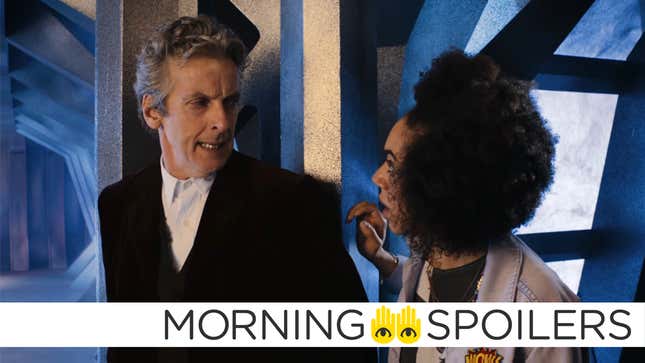 The Ghost in the Shell movie has a new composer. Could there really be a sequel to Immortals happening? Lin Manuel Miranda discusses the Rock's big musical moment in Moana. Plus, new looks at Netflix's Series of Unfortunate Events show and new footage from A Monster Calls and Underworld: Blood Wars. Spoilers Now!
Giving Optimus Prime a Proper Back Story | io9 Interview

Minecraft
Steve Carell is in talks to star in the adaptation of the popular crafting game, just one part of the film's planned ensemble. [Variety]
---
Immortals 2
A sequel to Tarsem Singh's 2011 mythological blockbuster is currently on Relativity Media's upcoming release slate. [Screen Daily]
---
Ghost in the Shell
Clint Mansell has been tapped to provide the score for the film. [Collider]
---
Moana
Lin Manuel Miranda discusses the creation of the Rock's big musical number in the film, "You're Welcome."
---
Underworld: Blood Wars
The cast and crew discuss the evolution of Selene in this brief new featurette.
---
A Monster Calls
Speaking of featurettes, here's one discussing the journey of Connor in the film.
---
Doctor Who
British tabloid the Mirror claims sources have told them that, due to flagging merchandise sales, season 11—the first under new showrunner Chris Chibnall—will be a total "clean slate" with both Peter Capaldi and incoming companion Pearl Mackie departing the show at the end of 2017, to be replaced by a "younger Doctor" á la David Tennant, and a new female companion.
---
Scream Queens
Brooke Shields is set to guest star as the excellently-named Dr. Scarlett Lovin, "a television doctor in the vein of Dr. Oz who also happens to be the idol of the Chanels." [EW]
---
A Series of Unfortunate Events
Daniel Handler and Neil Patrick Harris have shared new images from the show on Twitter ahead of a new trailer on Thursday.
---
Colony
Here's a new trailer, announcing a January 12th return for season two.
---
Incorporated
Finally, Syfy has posted the entire pilot for the near-future corporate espionage series to Youtube.
---
Additional reporting by Gordon Jackson. Banner art by Jim Cooke.