It's your friendly neighborhood spider-check-in as Kevin Feig talks Marvel's involvement in Homecoming, and there's new footage and details on Spider-Man in Civil War. Get a strange new look at Guardian of the Galaxy Volume 2's new hero. Plus, new Game of Thrones pictures, and Dark Tower casting. Behold, Spoilers!

Spider-Man: Homecoming
Kevin Feige says that Marvel has creative control over the movie:
Well, I've known all those people for a very long time. Amy Pascal, Tom Rothman, who runs Sony now, I've known for years. So, it's been great. They really are supportive in allowing us to make the creative decisions to make [Spider-Man: Homecoming], but they've been great partners. So far so good on that movie.
---
Captain America: Civil War
Birth Movies Death has a report on one of the two post-credit stingers attached to the film, following its opening in Europe—and to perhaps little surprise, Spider-Man features in one. Head to the link to see more details if you so desire.
G/O Media may get a commission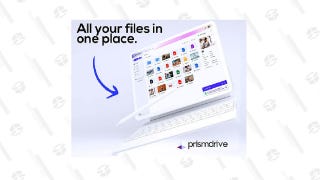 Save 97%
Prism Drive Secure Cloud Storage: Lifetime Subscription
Meanwhile, Spidey salutes Cap in a new TV spot.
---
Wolverine 3
Stephen Merchant has been cast in an undisclosed role, according to Deadline.
---
The Dark Tower
Speaking of actors cast in undisclosed role, Katheryn Winnick has joined the movie in similar circumstances. [Comicbook.com]
---
20,000 Leagues Under the Sea
While discussing Nightcrawler's view of Mystique in X-Men Apocalypse, director Bryan Singer confirms that his adaptation of the Verne classic is set after the Civil War (no, not that one):
[Mystique] is famous, but nobody's really seen her since. Meeting her is a big deal to him. She's the great hero from 1973 and he's starstruck in that moment. She's not comfortable with it. She's not interested in being the face of a world that she doesn't believe exists. She's not a hero. It's the same reason I'm setting 20,000 Leagues Under The Sea right after the Civil War. Everything wasn't suddenly hunky-dory between the North and the South – there was still hostility and tension. The same thing exists here.
[Empire]
---
Metronome
Patrick Melton and Marcus Dunstan are rewriting Colin Trevorrow's long-in-the-works spec script. [Tracking Board]
---
Deadpool 2
To the surprise of no one, screenwriter Paul Wernick confirms Deadpool will continue to break the fourth wall in the sequel:
We're going to break eight walls! Well, it's such a signature of the Deadpool comics, breaking the fourth wall. And yes, audiences loved it and we loved to write it. You'll definitely see more of it in the next movie.
[CBR]
---
Guardians of the Galaxy Volume 2
James Gunn has shared another storyboard, focusing on a shot of new Guardian Mantis (played by Pom Klementieff).
---
X-Men Apocalypse

Here's a new TV spot.
---
Arrow
Executive Producer Wendy Mericle teases plenty of death in the season finale:
It's a pretty grim one, I'm sad to say. We have a huge number of potential fatalities. And you'll definitely get a hint about where the team is headed for Season 5.
[TV Line]
---
The 100
A brief press release for "Perverse Instantiation – Part One" has been released. [Spoiler TV]
PART ONE OF THE SEASON FINALE — Clarke (Eliza Taylor) finds hope in the most unlikely place. Meanwhile, Alie's (guest star Erica Cerra) master plan comes together.
---
Game of Thrones
A gallery of images from "Home" has been released—find more at the link. [Coming Soon]
---
Preacher
And finally, here's a few more images from the show. [The Wrap]
---
Additional reporting by Gordon Jackson and Charlie Jane Anders. Banner Art by Jim Cooke.
Image: Captain America: Civil War.