Everybody loves spooky creatures and weird apparitions—but a new book about a mummified cat, called appropriately Mummy Cat, is especially wonderful. Writer Marcus Ewert and artist Lisa Brown have created a lovely children's book about a cat who comes back every 100 years.
In Mummy Cat, a loyal feline companion was mummified with his queen, after they both suffered a tragic death. And now, once every century, he comes back to life to see if his queen has awoken yet. The story is packed with tons of real-life details about Egyptian culture and the practice of mummification, but it's also as much about the relationship between the girl and her cat, and the sadness of a cat missing his owner, as anything else.
Most of all, your kid will love the beautiful, evocative drawings—Brown's artwork is just brilliantly colorful, and she invests the titular mummy cat with a playfulness and sweetness that stay with you.
Check out a few pages from the book below. Mummy Cat is available from Amazon, Barnes & Noble, Indiebound and (appropriately) WorldCat.
G/O Media may get a commission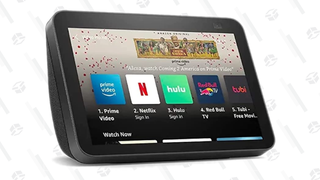 ---
Charlie Jane Anders is the author of All The Birds in the Sky, coming in January from Tor Books. Follow her on Twitter, and email her.