As part of its 'Prehistoric Creatures' series, the Royal Canadian Mint is releasing a super neat new quarter featuring the awkwardly majestic Quetzalcoatlus — a pterosaur that lived during the Late Cretaceous of North America about 65 million years ago. A particularly cool feature of the coin is that it glows in the dark; when the lights are out, the intricate skeletal outline of the winged beast can be seen.
With a design approved by the Royal Tyrrell Museum of Paleontology, the coin will be limited to 30,000 units, but they'll be issued worldwide. Each coin costs $30 (that's a rather expensive quarter), and there's a three-coin-limit per household. According to the mint, the coin should be placed under a light for about a minute, and then brought into the dark (pretty standard stuff for glow-in-the-dark).
This is the second coin of the series, with the first one featuring a Pachyrhinosaurus lakustai.
Technically speaking, the Quetzalcoatlus is not a dinosaur, but it is considered one the largest flying animals to ever appear on this planet. Specimens have been found with wingspans extending 52.2 feet (15.9 meters) in length.
G/O Media may get a commission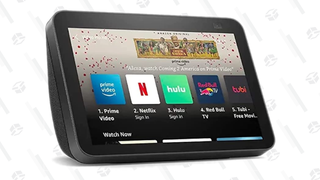 H/t x929.