Jon Spaights gives an update on his Forever War adaptation. We know when to expect The Batman to be released. 12 Monkeys adds some important new cast members. Plus, what's to come on Shadowhunters and Incorporated, and The Flash adds another comic book hero with ties to Cisco. To me, my Spoilers!
The Forever War
Jon Spaights discusses the progress of the adaptation of Jow Haldeman's 1974 scifi novel about soldiers fighting a galactic war:
I'm working on it every day right now. It was delayed a little bit, unfortunately, by the incredible time commitment that Passengers became. That's the way in which I was bitten by the depth of my involvement in the production and post-production of Passengers, but The Forever War is easily in my top five favorite sci-fi novels of all time.
---
The Batman
Departing Warner Bros. creative chief Greg Silverman confirms Warner Bros is eyeing a 2018 release for the film (and several others, including Ready Player One and the Fantastic Beasts sequel).
In 2018, there is a second Fantastic Beasts film, and Ready Player One feels like an ambitious movie by the world's best filmmaker, Steven Spielberg, that will set the world on fire. There is Aquaman with James Wan, and Scooby Doo will be a huge launch and then there is Lego Ninjago. And then there is Ben Affleck's Batman.
G/O Media may get a commission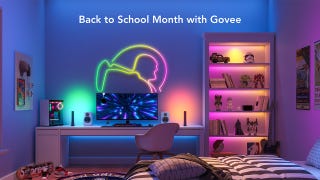 Back to School
Back to School Month with Govee Sale
[Deadline]
---
Cruella
Alex Timbers is in talks to direct the villainess' origin story. [Deadline]
---
Assassin's Creed
Here's a new featurette discussing the film's soundtrack.
---
Game of Thrones
Watchers on the Wall has a new gallery of set pictures that confirms previous reports back in September that Euron Greyjoy will indeed be teaming up with Cersei Lannister. The images feature Euron on horseback, flanked by gold-cloaked city guardsmen as he escorts Yara, Ellaria, and Tyene in chains through the streets of Kings Landing.
We'd previously heard that Euron would both capture at least one of the Greyjoy siblings after a big water battle following his deal with Cersei, as well as be responsible for the taking out multiple Sand Snakes. It looks like these pictures confirm that Nymeria and Obara are the ones kicking the bucket. Head on over to the link above to see the pictures.
---
12 Monkeys
Hana Waddingham, who play Septa Unella on Game of Thrones, has been cast as Magdalena, part of an apocalyptic cult that aims to protect the Witness, described as "both ruthless and expedient" in her methods.
Meanwhile, Warehouse 13's Faran Tahir has been cast as Mallick, "an imposing and devout enforcer of the Army of the 12 Monkeys who resides in Titan."
[Nerdist]
---
The Flash
Jessica Camacho has joined the cast as Gypsy, a character who had ties to Vibe in the comics, along with the power of invisibility. [The Wrap]
---
Legends of Tomorrow
Episode 13 of season two is titled "Land of the Lost."
---
Incorporated
Here's a synopsis for the fifth episode of the series, "Profit and Loss."
Ben improvises when Roger closes in on the truth about Elena; Laura takes her therapy to the next level; Julian helps a friend in need.
---
Shadowhunters
Finally, here's two new synopses for episodes two and three, "A Door in the Dark" and "Parabati Lost," have hit the web.
The hunt is on for Jace Wayland, and Alec and Isabelle hope tor each him before the rest of the Shadowhunters do. With orders from the Clave of "shoot to kill", the Lightwood siblings must act fast. Also on his own search, Simon turns to Magnus for help when he finds himself at odds with both Raphael and Aldertree.

Meanwhile, Clary struggles to find where she belongs since she doesn't seem to fit into the Shadowhunters world, yet can't go back to her mundane life.

Already cut off from the institute and his friends, Jace finds his situation worsen when he becomes a target for the New York wolf pack who believe Jace to be a killer. And don't forget about Aldertree and the Shadowhunters who continue their own hunt for Jace! With Jace becoming the most wanted man in New York, can his friends get to him before everyone else?

Meanwhile, Simon is on a search of his own as Raphael puts pressure on him to find Camille.
---
Additional reporting by Gordon Jackson. Banner art by Jim Cooke.