Spoiler alert: Someone major is going to die in the season premiere of one of your favorite TV shows. Not only that, but there are new promo images that put you face-to-face with the heroes of Watchmen and Fringe. There are minor new details about Terminator 4, and a new dimension to Shirley Manson's role on the Sarah Connor Chronicles. A Torchwood season three announcement is most notable for what it doesn't mention. And there are new rumors, speculations and minor details about Lost, Chuck, Heroes, Stargate Atlantis and Smallville. Please maintain a spoiler alertness level of five - or above. Watchmen: Warner Bros. put out a new official plot synopsis for Watchmen, which contains no surprises:
A complex, multi-layered mystery adventure, Watchmen is set in an alternate 1985 America in which costumed superheroes are part of the fabric of everyday society, and the "Doomsday Clock" - which charts the USA's tension with the Soviet Union - is permanently set at five minutes to midnight. When one of his former colleagues is murdered, the washed-up but no less determined masked vigilante Rorschach sets out to uncover a plot to kill and discredit all past and present superheroes. As he reconnects with his former crime-fighting legion-a ragtag group of retired superheroes, only one of whom has true powers-Rorschach glimpses a wide-ranging and disturbing conspiracy with links to their shared past and catastrophic consequences for the future. Their mission is to watch over humanity…but who is watching the Watchmen?
And here are some Brazilian magazine covers that show slightly different images of the movie's stars. Most notably, you get a pretty good look at Rorschach's mask. [Cinemablend]
G/O Media may get a commission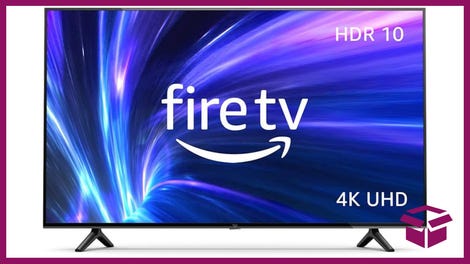 42% Off
Amazon Fire TV 50" 4K Smart TV
Terminator Salvation: And Warners also put out a plot synopsis for Terminator 4, which is almost exactly the same as ones we've seen before:
In the highly anticipated new installment of The Terminator film franchise, set in post-apocalyptic 2018, Christian Bale stars as John Connor, the man fated to lead the human resistance against Skynet and its army of Terminators. But the future Connor was raised to believe in is altered in part by the appearance of Marcus Wright (Sam Worthington), a stranger whose last memory is of being on death row. Connor must decide whether Marcus has been sent from the future, or rescued from the past. As Skynet prepares its final onslaught, Connor and Marcus both embark on an odyssey that takes them into the heart of Skynet's operations, where they uncover the terrible secret behind the possible annihilation of mankind.
Fringe: Even though each episode of J.J. Abrams' fringe-science show will have a beginning and end, there will be character arcs that carry forward. And the show's over-arching mythology has an end point already defined, which the show can reach whenever it ends, whether that be the first season or the tenth. Joshua Jackson's character, Peter Bishop, is like a babysitter looking after his dad, and wonders why he's there. But something early on in the season compels him to stay, and he ends up finding his purpose there. [Sci Fi Wire] And here are some new promo posters.[Fringe Television]
Lost: There's been a lot of suggestion lately that we'll see "flashbacks" to the early days of Dharma on the island. But today, EW's Michael Ausiello, interpreting Doc Jensen, suggested that actually when Ben cranked that frozen wheel, he sent everyone back in time. So the people left on the island will actually be interacting with the early Dharma people. [EW] Torchwood: The BBC put out a press release about the filming of the shortened third season of Torchwood. The main points: The cast is still just Captain Jack, Ianto and Gwen, plus Rhys and P.C. Andy. No mention of Mickey or Martha. Guest stars include Mr. Frobisher (Peter Capaldi), a civil servant with a dark secret in his past, Clem (Paul Copely), a survivor still haunted by his past, and Johnson (Liz May Brice), a cynical government agent determined to expose Torchwood. And the release promises plenty of surprises... maybe including appearances by Martha or Mickey. Who knows? [BBC via Blogtor Who] Sarah Connor Chronicles: The season premiere of the Terminator TV show starts with a cover version of "Samson and Delilah" (also the episode's title) sung by new co-star Shirley Manson. It runs over a montage showing the aftermath of the previous season's cliffhanger. The episode hints at a betrayal - or two - and ends with a moment that should please Terminator purists. [TV Guide] Smallville: At some point in the first seven episodes of Smallville season eight, Lois will confess her love for Clark. (Maybe just when they're play-acting being a couple for an investigation?) And something dramatic will happen between Clark and Jimmy. [EW] Chuck: A major character dies in the Chuck season premiere. For reals! (But it can't be Sarah, Casey, Chuck, Morgan, Jeff or Lester, or Ellie or Captain Awesome, since they're all in the later scripts that got leaked. Who does that leave? Racking my brains. Bryce? He's in a later episode too. I'm stumped. ) [EW] Heroes: A few new Heroes details: Claire may be immortal, like Adam, but the same probably doesn't apply to Peter, despite his healing powers. And Adam has had 400 years to learn how to keep telepaths like Peter or Matt from reading his mind. We'll see Arthur Petrelli (Nathan and Peter's dad) before episode 8, in a flashback. Sylar didn't absorb the powers of Candice, or Michelle, or Betty. The father of a "favorite character" will lose his head, permanently. (My money is on Matt's annoying dad.) Future Evil Claire works for the Company. [Heroes Television] New Canadian Heroes promos have the theme of "The Darkness Is Coming," and each features a different character, with their nice present version and their ebil future version, plus a quick soundbite. So far, there are promos featuring Peter, Claire and Hiro. Peter says he can't control these things that are happening to him, Claire says something about how you thought you knew her so well, and Hiro says we've chosen the wrong side. [Heroes Spoilers]
And here's a behind-the-scenes video I don't think we've featured before. [SpoilerTV-Heroes]
Stargate Atlantis: Here's some info about upcoming episodes of the Stargate SG-1 spin-off:
Episode 5.09 - Tracker: The team help out on a planet where the Wraith introduced a virus amongst the population. In the process, they find a runner with some extra luggage. Episode 5.10 - First Contact Episode 5.11 - The Lost Tribe: Sheppard and Zelenka are on a ship where a 15-year-old female engineer is teaching Zelenka a thing or two about hyperdrives. They race Todd for another ship. Asgards appear in this episode.
[SpoilerTV] Additional reporting by Lauren Davis.