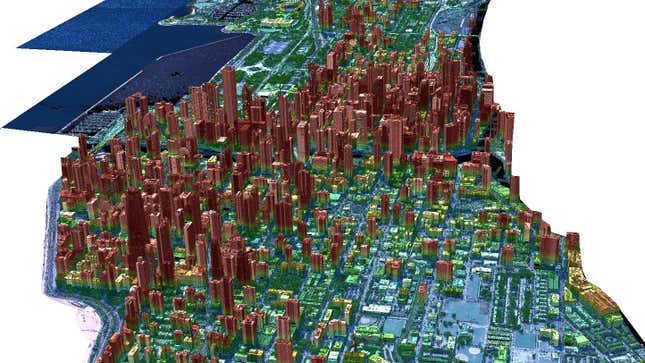 Satellites flying overhead in Earth's orbit largely provide a two-dimensional view of our planet, but a Florida-based company is hoping to change that by using satellites to routinely build 3D maps of Earth's entire surface. 
Astronomers Could Soon Get Warnings When SpaceX Satellites Threaten Their View
During the Geospatial World Forum, held from May 2 to 5 in Rotterdam, the Netherlands, NUVIEW announced its plans to launch a constellation of satellites, which will use LiDAR to map Earth in three dimensions.
"Our LiDAR satellite constellation will offer a wealth of information that has never before been available at scale, driving innovation and progress throughout numerous industries and revolutionizing the way we understand and interact with our planet," Clint Graumann, CEO and co-founder of NUVIEW, said in an emailed statement.
It's not clear when NUVIEW plans on launching its LiDAR constellation, but the company claims it already has $1.2 billion in contracts with prospective customers for its data.
LiDAR, which stands for Light Detection and Ranging, uses pulsed lasers to measure distance by detecting the time it takes for reflected light to return to the receiver. The technology is able to map Earth's typography in great detail, and it does so by sending down a steady stream of laser pulses that make their way through trees and other types of vegetation. So far, most other attempts to employ LiDAR when mapping the Earth's surface use drones or planes. NASA's ICESat-2, which launched in 2018 to measure ice-sheet elevation in the Arctic, is one of a small number of satellites that use LiDAR from orbit.
As a result, only about five percent of Earth's landmass has been mapped with LiDAR, according to NUVIEW. But thanks to recent technological innovations, as well as the evolving space industry that allows for better, cheaper access to orbit, NUVIEW was able to design a constellation of 20 LiDAR satellites. Modern satellites are also more capable of handling the high power demands of the LiDAR sensors.
NUVIEW claims that its LiDAR constellation "will collect data more than 100 times faster than current commercial aerial solutions." The company predicts there will be a large market for its data, which can be used by farmers to optimize crop yields and water usage, as well as urban planners to create more efficient and sustainable environments for cities, according to NUVIEW.
For more spaceflight in your life, follow us on Twitter and bookmark Gizmodo's dedicated Spaceflight page.