Remember the U.S. Virgin Islands? Y'know, those little islands that sit in the Caribbean Sea not far at all from Puerto Rico? National attention has largely ignored these islands and their American citizens since Hurricanes Irma and Maria. So, we thought you might need a reminder that they're still in crisis.
Hurricane Irma passed through the area September 6 as a Category 5 storm, the strongest a hurricane can be. Irma ravaged the U.S. Virgin Islands—St. Thomas, St. Croix, and St. John—killing more than 33 people. Barely two weeks later, Hurricane Maria arrived, also as a Category 5 storm. The disasters destroyed solar farms, countless homes, and so many schools that it took nearly a month for some students to return to class.
More than a month has passed since the region's initial destruction, but Google Trends shows that the public never really cared much about the islands' recovery, especially compared to how much people Googled "Puerto Rico." Puerto Rico does have a much larger population—more than 3 million compared to the Virgin Islands' 107,000—but both places are home to U.S. citizens.
Needless to say, recovery on the Virgin Islands has been lackluster. After Irma, many residents fled: Half of St. John's population left before Maria even hit. But many have also remained to face some pretty dire conditions. FEMA's Facebook page has warned islanders against polluted drinking and bathing water. With so much left to rebuild, an expert advisory committee, the VI Hurricane and Resiliency Advisory Group, dedicated to the region's recovery launched Tuesday, Gov. Kenneth Mapp announced. He hopes 90 percent of the region's power will return by late December; nearly 90 percent remain without power now.

G/O Media may get a commission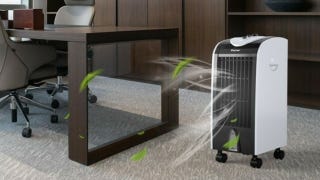 Save $10
Evaporative Portable Air Conditioner Cooler with Filter Knob
Each island is facing its own set of troubles, but a similar theme arises among them all: They have a long way to go.
St. Thomas
Recovery is still well underway on St. Thomas. Two FEMA recovery centers opened Tuesday to help disseminate information and available resources to survivors like homeowners, small-business owners, and renters.
Power is slowly returning to the island, according to the Virgin Island Water and Power Authority. Still, 71 percent of St. Thomas customers don't have power as of Wednesday, the U.S. Department of Energy reports. Restoration work has been tough the last couple of days because rain has been barraging the island, but the Western Area Power Administration says that crews are working on it.
St. Thomas is also seriously lacking potable drinking water. As of Tuesday, the island had just eight days of emergency water storage available. Cruises are set to return to St. Thomas by November, which will help revitalize the region's injured economy.
St. Croix
St. Croix harbors a number of monumental sites like the Salt River Bay National Historical Park and a former sugar plantation converted into a botanical garden. It's the largest island, so no wonder it's dotted in popular tourist destinations.
None of these attractions seem to matter in wake of these hurricanes, though. Nearly the entire island—98.4 percent—remains without power. And despite St. Croix being the largest of the three islands, it's supplied with the least amount of potable drinking water. Officials have just three days' worth of emergency water storage, as of Tuesday. Given the population's dire needs, FEMA opened a second Disaster Recovery center Friday.

"Hundreds of survivors have visited the recovery center in Christiansted to get help with registrations and learn about our assistance programs," said FEMA Federal Coordinating Officer William Vogel to The Virgin Island Consortium. "This new center provides an additional opportunity for survivors to sit down and talk with recovery specialists."
St. John
The smallest of the three main islands, St. John, is completely without power, per the U.S. Department of Energy. Yup, 100 percent of the island has zero power, and authorities don't expect its grid to be restored until two to three weeks from now. After all, crews are still busy cleaning up debris.
The water situation is still slacking, too: The island has just four days of emergency water storage. One town, Cruz Bay, is receiving its water from St. Thomas, according to the Virgin Islands Water and Power Authority.
Without water and without power, the so-called Love City is looking pretty lonely.