The iPhone's stock alarm app is kind of terrible. You have to navigate through multiple screens, flip switches, and spin what feels like an infinite roll of numbers. And that's just to turn it on. Minimalist, simplified apps have started popping up everywhere, so while Rise is no surprise, it's still a relief to ditch Apple's built-in alarm for a version that's stripped-down, intuitive, and lovely to look at.
What does it do?
Rise is a minimalist, beautifully designed alarm clock that eschews buttons for intuitive gestures, all set against calming gradient hues that change with the time of day.
Why do we like it?
Pretty much any non-iOS alarm would be an improvement, but Rise has managed to turn an inherently unpleasant experience (waking up to an alarm) into something of a joy. A simple flick left or right turns on the alarm, and a swipe up or down the screen to set the time. Plus, you can even set playlists to fall asleep and/or wake up to, sidestepping their supplied sounds. Most UI's boasting intuitive gestures still take some toying with before claiming any real level of comfort. But Rise uses "gestural redundancy" to make an interface that's immediately usable, and more importantly, usable even in a half-conscious state.
G/O Media may get a commission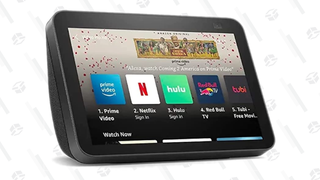 Alarm Security System
Download this app for:
The Best:
Progressive alarms
The Worst:
Preloaded alarms are grating