Brace yourselves, a fifth Sharknado movie is happening. Greg Berlanti's latest DC superhero show could find a new home on the CW. Bryan Singer discusses the tone of the new X-Men TV show. Plus, see the Rangers in action in a new Power Rangers poster, and new pictures from Powerless, The Magicians, and Iron Fist. All the Spoilers!

Mortal Engines
Robbie Sheehan and Ronan Rafferty have joined the cast in undisclosed roles. Sheehan will play a leading role, while Rafferty's is a supporting character. [Variety]
---
Sharknado 5
The Sharknado is coming for all of us—and also, more specifically, to Syfy later this year. The fifth (fifth!) entry in the saga will see an unprecedented global Sharknado develop, and only series regular Fin Shepard and his family can save the world from it. [/Film]
G/O Media may get a commission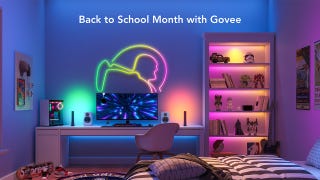 Back to School
Back to School Month with Govee Sale
---
Transformers: The Last Knight
The film's official Facebook page has shared a new synopsis for the film.
The Last Knight shatters the core myths of the Transformers franchise, and redefines what it means to be a hero. Humans and Transformers are at war, Optimus Prime is gone. The key to saving our future lies buried in the secrets of the past, in the hidden history of Transformers on Earth. Saving our world falls upon the shoulders of an unlikely alliance: Cade Yeager (Mark Wahlberg); Bumblebee; an English Lord (Sir Anthony Hopkins); and an Oxford Professor (Laura Haddock).
---
Thor: Ragnarok
It appears the film has a new logo that's even more retro than its previous one, if this Kirby-as-hell art department shirt from production is anything to go by.
---
Logan
The runtime is 135 minutes, according to the Berlin Film Festival's program.
---
Power Rangers
The Rangers and Zords fly into action in the final—and perhaps actually best—poster for the film.


---
Cars 3
Pixar has released a first look at the short that will precede the movie, Lost & Found, in which a sentient lost-and-found box fights back against a playground bully.
---
Riverdale
Showrunner Roberto Aguirre-Sacasa tells The Wrap that there's a strong chance that the show could introduce a new live-action incarnation of Sabrina, the Teenage Witch:
We could [see her in Season 1]. As I say, never say never, but it's certainly within the realm of possibility.

The one thing that's tricky is, there will always be a genre, mystery element to this show, but it's hard to introduce a supernatural element. I think there's a way to introduce Sabrina in a way that's not supernatural, but she is, she's a witch.
Delightful news, but perhaps not too surprising, considering that the CW and Archie Comics are looking to make more TV shows together, including one based on the beloved teenage witch. Could Riverdale stealth-launch a Sabrina show?
---
Black Lightning
The pilot for Greg Berlanti's superhero series based on the classic black DC character is no longer being made for Fox according to Deadline—and may in fact actually end up moving to the CW and becoming part of the Arrowverse. Even more CW superheroes for everybody!
---
Fear the Walking Dead
Buffy the Vampire Slayer's Emma Caulfield has joined the cast in a guest-starring secret role. [TV Line]
---
X-Men
Bryan Singer discusses the family aspect of the show that differentiates itself from Legion and the X-Men movies.

I'll tell you, it's very different from [Legion], visually, and yet it's very different from the X-Men films as well. It's mostly about a family. It's a family drama. There'll be effects, powers, and things like that. But at its heart, it's about a family. It's an emotional story. […] It's another standalone. That's our design. We developed it together — not together, but like at the same time. The only reason I was able to direct it was because the movie I want to make next, I'm not going to be able to make until September, so it gave me four months, and I suddenly said, "Why don't I take the helm?"
[Mashable]
---
Sleepy Hollow
Sleepy Hollow taps into internet media in a new synopsis for "Sick Burn."
When internet sensation Logan Macdonald comes to town, a supernatural infection hits, via a viral video. Meanwhile, Molly has a frightening vision that could predict a bleak future. Can the team cure the curse before it takes over town?
---
The Magicians
A brief new synopsis for episode four of the second season, "The Flying Forest," has been released, as have some new pictures. There are more at the link. [Spoiler TV]
Quentin and Penny embark on a quest; Margo works on a way to help Eliot; Julia seeks an old friend's help.


---
Powerless
A new gallery of images from the second episode of the series, "Wayne Dream Team," have been released. You can check out more at the link. [Comicbook.com]
---
Iron Fist
Finally, a few images from the show have been released by Marvel. Once again, you can find a few more at the link. [Comicbook.com]
---
Additional reporting by Gordon Jackson. Banner design by Jim Cooke.