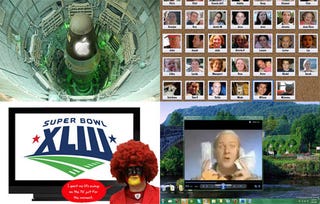 Throughout the week, writers take time to write longer posts, in-depth original stories you may not have had time to read during the week. Now that it's Saturday, here's your chance to RTFA!
Apple vs. Palm, Google, RIM and God knows who else:
How the company will or won't defend its multitouch phone interface patent
Bonus: All of Apple's bloodiest patent and copyright clashes, on one page

Apple's iLife '09 Review Roundup:
Our complete review of iPhoto '09 with tips
Special: What to know about iPhoto '09 face detection and recognition
iMovie '09 put through the paces in a full review
GarageBand's new Artist Lessons: What do they actually include?
More Great Stories:
T-Mobile's Curve 8900 mini review
Dealzmodo roundup of HDTV and other great gadget deals, pegged to tomorrow's Super Bowl but not just for football fans
Windows 7: Why Microsoft should just give it away