While we're super optimistic about the idea behind Ryan Murphy's new female-lead, Fox horror comedy series, Scream Queens, someone needs to tell Murphy about Buffy (and Evil Dead and A-Haunting We Will Go and Beetlejuice and Cabin in the Woods).
Looking at a press release for Fox's new horror anthology series Scream Queens, Slashfilm writer Russ Fischer and Bad Ass Digest both pointed out an odd statement by the Glee and American Horror Story creator:
"I knew I wanted to work with Brad and Ian again on something comedic, and we are having a blast writing SCREAM QUEENS," commented [Ryan] Murphy. "We hope to create a whole new genre – comedy-horror – and the idea is for every season to revolve around two female leads. We've already begun a nationwide search for those women, as well as 10 other supporting roles, and we're very grateful to Dana and Gary for their enthusiastic support."
Someone should tell Murphy that horror comedy has been around for fucking ever.
Sigh. Moving on, in more positive news, we love the idea that Scream Queens will be a yearly rebooted series led by women. According to the press release, "The first installment in the new anthology series revolves around a college campus which is rocked by a series of murders." So far, Fox has ordered 15 one-hour episodes. And the series is set to premiere in Fall 2015. And then, (like AHS) the next season (if it gets picked up) will reboot the whole storyline once again. Fun.
G/O Media may get a commission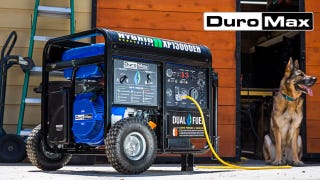 Black Friday Sale
DuroMax Generator Sale