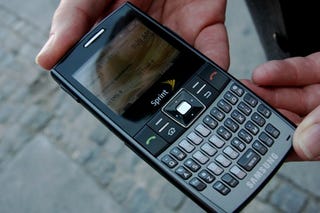 The Samsung Ace is coming to Sprint. It's worth noting because it's a cellphone that uses CDMA cellular tech, like all Sprint phones. But it also has an unlocked slot for a GSM SIM card in case you're wandering around a foreign country and want to buy a prepaid card (or just use Sprint's GSM roaming plan). Blackberry's World Edition 8830 has this too, FWIW. Jump for a shot of the phone's SIM slot, and more interesting points.
Pretty sweet, even if the GSM range is only 800/1900MHz. (Most countries use the 900/1800Mhz bands, says Wikipedia.) The Windows Mobile 6.1 phone looks like the Blackjack, but has a different keyboard. It has a 1.3MP camera, RSS reader preloaded, can be used as a USB EVDO modem and has A2DP stereo Bluetooth streaming. UPDATE: Here's a full review by Laptop Mag. They wish it had Wi-Fi and GPS, but find it to be worthy of a 3.5/5 rating.


Samsung ACE BASICS: Form factor: Ultra-thin candy bar form factor with QWERTY keyboard and internal antenna; 5-way navigation button and thumb wheel for one-handed operation Dimensions: 4.65" x 2.32" x 0.46" Weight: 3.9 ounces Operating System: Windows Mobile 6 Standard Edition Power: Qualcomm MSM6500 chipset Memory: 64 MB of RAM; 128 MB of ROM Digital Quad-band: CDMA (800/1900Mhz)/EVDO; GSM (900/1800Mhz)/GPRS Data: EV-DO (Rev. 0 and 1XRTT); GPRS outside North America Web Browser: Microsoft Internet Explorer Mobile Battery Specifications: 1300 mAH (standard); 1800 mAH (optional) Talk time: Up to approximately 4.3 hours continuous digital talk time with standard battery Large, full-color screen: Vibrant 2.3" TFT display with 65K colors and 320 x 240 resolution FEATURES: International Voice and Data Capabilities: Travel around the world and stay connected with this versatile device. The Samsung ACE is a quad-band device that operates on the Sprint Mobile Broadband Network in the U.S. and is capable of voice and data roaming in North America on CDMA networks and internationally on GSM/GPRS networks where Sprint has roaming agreements. A complete list of countries where service is available can be found at www.sprint.com/international. Unlocked SIM Card: A Sprint-provided SIM card is provided pre-installed in the device for customers who wish to utilize Sprint International Roaming Services (special activation required) while traveling abroad. Customers may also take advantage of the unlocked SIM which allows the device to accept an in-market international carrier's SIM for voice and data services. Windows Mobile 6: Delivers fewer clicks for email management and set-up, support for rich HTML email, a genuine Microsoft Office Mobile experience and increased security; all for meeting the needs of work and life on the go in a single device. Sprint Mobile Broadband with Power Vision: Experience EV-DO Rev. 0 data speeds averaging up to 400-700 kbps and peak speeds up to 2.0 Mbps when accessing Sprint Power Vision services and content. This device is backwards compatible to 1XRTT technology in areas where EV-DO is not yet available. Supported Power Vision applications include: Sprint TVSM: See and hear your favorite news, sports, weather and more with rich, clear visual quality and crisp sound that downloads at Broadband-like speeds. On-Demand: Retrieve customized, up-to-date web content such as sports, weather, news, money and movie information with the push of a button. Available only from Sprint. Downloadable Applications: Includes the Sprint Software Store provided by Handmark , an on-device software catalog enabling wireless downloads on-the-go. Customers can find, download and buy software, games, ring tones, graphics and other Windows Mobile applications simply and securely. Additional titles are available from the desktop PC at http://softwarestore.sprint.com Wireless Email: Send and receive email from multiple corporate and personal email accounts. Get wireless email access to popular commercial POP3 and IMAP accounts. Users can also set up wireless access to Microsoft Outlook email with a direct connection to Microsoft Exchange Server 2003. Microsoft ActiveSync: ActiveSync technology offers one of the best PC to mobile device sync experiences, making it easier to configure with faster data transfer and sync accuracy. File Viewer: File Viewer allows viewing of MS Word, Excel and PowerPoint documents Text Messaging Enabled: Send and receive Text Messages across the room or across the country. Built-in Bluetooth Wireless Technology (v.2.0 with stereo support): When used with your Sprint PCS Phone and compatible Bluetooth-enabled accessories, Bluetooth allows fast, secure transmission without cables or wires, even though the two devices are not in line-of- sight. Compatible Bluetooth-enabled wireless accessories sold separately. Micro SD Expansion Slot: Add memory and selected peripherals, transfer music, photos, and video from your desktop, or load additional games and applications. Cards up to 2GB are supported. 1.3 Megapixel Camera/Camcorder: 2.0 MP camera with 5X digital zoom, auto focus and video capture with sound. Microsoft Windows Media Player 10 Mobile: With Windows Media Player 10 Mobile you can play music, videos, and more on your device, and it works seamlessly with Windows Media Player 10 on your Windows-based computer. Phone as Modem: Take advantage of Sprint Mobile Broadband on your laptop by using your smart device as a wireless modem (USB cable included). Requires appropriate service plan. Built-In speakerphone: Hands-free operation made easy with dedicated speakerphone button RSS Reader: An RSS ("Really Simple Syndication") reader is a software application that resides on your device and obtains syndicated Web content such as news headlines, and blogs from different locations and displays them to you in an easy-to-view stream.