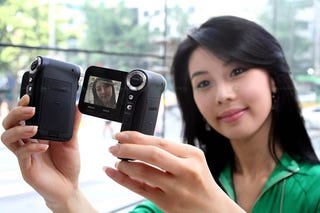 Ooh, ooh, ooh, all hail Samsung. Our top banana Koreans have brought out a new MP4 ASP camcorder that, although it looks like an electric shaver, can go from "Off" to "Record" (via "On," of course) in three seconds.
That's good news for any men who are, shall we say, Quick Off The Mark, who are lining up for a post-chokey movie session with Paris Hilton, I suppose.
No news about price or availability—feel free to insert any "Paris is Cheap" jokes you may have lying around right here—but we'll keep you informed. Resolution is 720 x 480 pixels and it shoots 30 fps. That's the camera, you filthy moos.
New camcorder by Samsung, the VM-X300 [Akihabara News]