Tons of pictures in today's spoilers, from The Green Hornet, Astro Boy, Eclipse, and FlashForward. Plus, Ian McKellan talks about his participation in The Hobbit and Magneto, and Lost reveals two more children. Plus, Supernatural, SGU, and V.

The Green Hornet
We get some action shots with Kato and a cement truck, while the Hornet just stands around in his pretty suit:

Astro Boy
New stills show off more of this movie's adorable (and sometimes intimidating) robots:

G/O Media may get a commission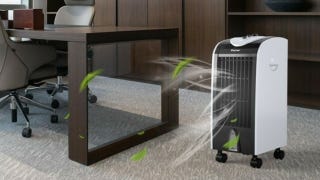 Save $10
Evaporative Portable Air Conditioner Cooler with Filter Knob
[IGN]
The Hobbit
Ian McKellen says the scripts for the two Hobbit movies will be delivered soon, and filming will probably start next March or April. At some point, Guillermo del Toro told McKellen they'd be filing for 383 days, a symptom of what McKellen affectionately terms del Toro's "artistic autism." [Empire]
Magneto
McKellen also said that, despite rumors he would appear in the X-Men prequel spinoff, he believes he won't be involved. [Empire]
A couple more sepia-hued images of vamps, werewolves, and Volturi:

[IGN]
Eclipse
David Slade might be bringing the blood to Eclipse, but the first official photos still reeks of tortured romance:

Two new TV spots try to make you believe in alien abductions:

Supernatural
A new promo for "The Children Are Our Future" is lighter on the urban legends, heavier on the Antichrist:

Lost
A set reporter snagged some pictures of the base camp for a scene from the new season's fourth episode. The pictures themselves aren't terribly spoilerish, but the reporter saw a scene between Locke (or someone currently wearing Locke's body) and Sawyer. Locke was wearing green cargo pants and a once-white (now green) shirt and Sawyer was in black jeans and a blue button down shirt.
In episode six, we'll see a couple of kids likely connected to Sayid:

[SAM] Middle Eastern, 9. Raised in America and has no accent. Typical boy: smart, eager, ready to tackle anything and watches out for his little sister. Happy to see an unexpected visitor but sad he can't stay longer...CO-STAR

[EVA] Middle Eastern, 6. Raised in America and has no accent. Shy and not as willing to plunge into new situations as her brother. Happy to see an unexpected visitor but sad he can't stay longer...CO-STAR
Here's a slew of appropriately ill-lit promo pics from this week's episode, "Darkness:"

V
A nicely ominous poster of Morena Baccarin and her alien eye:

[TV Guide]
FlashForward
Are flashforwards a good basis for making medical decisions? That's the question in a clip from this week's episode, "Black Swan:"

And it looks like Wedeck will be enjoying a glass of brandy in the Oval Office at some point during the episode:

In the show's October 29th episode, "Scary Monsters and Super Creeps," Simon (Dominic Monaghan) contacts a reluctant acquaintance.
And you can see some stills from the episode:

The twelfth episode will introduce the recurring character Timothy, a charismatic everyman and natural leader. Other people look to him for empathetic counsel. The episode will also feature Marcus, an insect-loving man in his 20s with a perpetually sunny disposition, and Roz, a schizophrenic, emotionally distant woman in her 50s, who alternates between lucidity and breaks with reality. [Spoiler TV]
Additional reporting by Alexis Brown and Charlie Jane Anders.