In Netflix's She-Ra and the Princesses of Power, sexism doesn't exist. This is the world that showrunner Noelle Stevenson has strived to create. In this video interview with io9, Stevenson and others share how She-Ra has reclaimed the princess archetype and fostered an environment of equality and community, both in front of and behind the scenes.
Stevenson chatted with io9 at New York Comic Con about the importance of creating a fantasy series that wasn't limited by things like sexism. For example, many of the people in positions of power on the series are women, and the character of Bow has two fathers. It reflects Stevenson's previous work on Steven Universe, a highly progressive show that strove for fair, positive, and equal representation.
"One of the things I've tried really hard to do with the show is set up a world where gender is just almost not really an issue," Stevenson told us. "It's a world where sexism doesn't exist—even in the Horde, which has a lot of gender parity, even though they're villains."
The importance of equality also extended behind the scenes. For example, the role of Princess Adora, a white character, is played by Aimee Carrero, who is Latina. During our interview, she chatted about how thrilled she was that the people creating the show didn't limit casting based on ethnicity. This is something we see all too often for actors of color. It's especially unfortunate given how often white actors are cast in roles that were originally designed for people of color.
"I think that it was really cool that never once in my audition process was that, 'Well can she play a Caucasian? I mean, can a Latin girl play a Caucasian?' It was never a part of the conversation, which I'm really thankful [for]," Carrero said. "I hope that that's the trend and that's the future, of not just animation but also live-action camera work."

Check out the rest of our video interview for more. The first season of She-Ra and the Princesses of Power debuts on Netflix November 13.
G/O Media may get a commission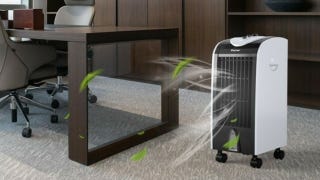 Save $10
Evaporative Portable Air Conditioner Cooler with Filter Knob