I took this photo with my Canon 550D using a standard 18-55mm lens.
Basically what I wanted to capture was the cold and dark Swedish autumn.
And to do so I actually took 3 photos that I merged together in photoshop. 2 of the images being quite straight forward with the only difference being the depth of field of them, and the third image taken freelensing in order to get the crazy silhouette and really blurry result that is seen around the edges. And that actually is how straight forward it was, and also no other postprocessing was used than some simple merging!
-Andre Jacquet
Canon PowerShot G7, 1/1250, f/4.0, ISO 80
Shot at the Alviso Marina, San Jose with love, decay and inspiration.
-Chris Schmidt
Canon PowerShot G7, 1/125, f/4.0, ISO 200
Went to the Thunder Mountain Monument in Nevada. This was shot through the broken back window of a car that has experienced many many years of decay... shot in Fall, but in a constant state of change.
-Chris Schmidt
G/O Media may get a commission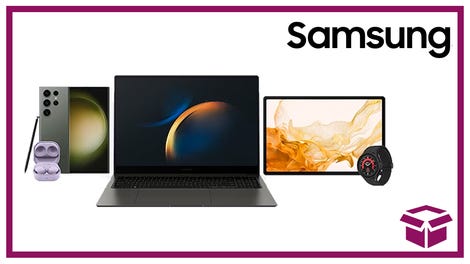 24 hour deals
Discover Samsung - Daily Deal
Lone Warrior: I actually stumbled upon this little guy as I was returning from taking pictures. This lone leaf must have been on a mission because it managed to get to the fourth floor of an indoor staircase.
Shot taken with my Ricoh CX3 digital camera with 10.7x wide angle optical macro zoom in dynamic range double shot mode. Auto ISO.
-Daniel Fishman
Bench Warmer: I am currently in college at James Madison University and I live near a park which is where I took most of my pictures. I tried to incorporate some of the man-made structures with the beautiful nature of Fall. This ended up being my favorite.
Also taken with the Ricoh CX3 digital with 10.7 wide angle optical macro zoom. Auto ISO.
-Daniel Fishman

This was taken on the Poudre River in Colorado with a Canon 24-105mm f/4L on a Canon EOS 7D. I really wanted to go for an ethereal look, so I slapped on my B+W 10 stop ND filter. In my first couple attempts the leaf shifted halfway through the ~100 second exposure and ruined the shot. That ended up working out for me though, as by the time I got this shot the sun was setting and provided the nicely colored reflections on the rocks!
ISO 100, Canon 24-105 f/4L @58mm, f/9.0, 107 seconds
-Erik page
<img src="
" width="800" height="531" Nikon D90, No Flash, 75mm, F/11, 1/80sec, ISO-320, Manual, Taken 10/27/2010
Here was this hidden part of the park that people don't frequent and I caught a glimpse through the trees.
-Gloria Jones
Nikon D90, No Flash, 240mm, F11, 1/80sec, ISO-320, Manual - Taken 10/27/2010
The coloring of the leaves was so gorgeous that I decided to do a close-up to capture the beauty verses the whole tree...reachable.
-Gloria Jones
1. Equipment: Nikon D60 with Tamron lens (up to 200 mm)
2. Settings: Auto (Nikko, Japan)
3. Technique: Auto
4. Story Behind Photos: So, I'm currently a study abroad student in Tokyo, Japan from Santa Clara University in California. As part of my experience, I really wanted to blog to share photos with people from back home (if you're interested: englishonegai.tumblr.com) - that was the purpose in taking these pictures - thus, I regret to say I did not do anything fancy.
Anyway: I've been to Japan a few times in the past. I really liked Nikko when I went in the past, so this time I decided to stay for a few days. That's where these pictures were taken - November 3rd and November 4th of 2010. The height of their fall is in October, so I caught the end of the season according to what people in Nikko would say, but as you can tell there are still some really beautiful leaves.
This was taken from a view point (Nov 3, 2010). I rode the Akechidaira Ropeway to get to the view point and if you look closely you can see quite a lot including 2 rivers and one lake and of course - most importantly lots of leaves! :)
-Hallie Bodey
This was taken on a bridge (Nov 4, 2010) was taken on the way to the Toshogu Temple the walk from the hotel nearby (Nikko Park Lodge - I recommend it to anyone that goes to Nikko and is an english speaker. Definitely go on the tour!)/in central Nikko. I thought this one would make a particularly cool desktop picture and I felt that the bridge colors complemented the leave colors in the background. It has a fall feel to me!
-Hallie Bodey
Myself, Denise (subject) and my five year old son went to the local graveyard as i had seen these great piles of leaves there earlier. My son proved to be a great helper on this shot. While holding the reflector his job was to throw a big handful of leaves in the air on the count of three. It all seemed to work and was a good lesson in team work.
Shooting summary.
Nikon f4s,
Kodak gold 400 iso film,
Reflector,
35mm f2 lens.
Shot taken at f5.6
-Jason King
We were having some turbulent weather one morning when I came out of the office to find a leaf sort of sitting on the winch in the front bumper of my truck. It was an interesting combination of the natural and the man-made, plus the winch is relatively unused and still shiney. I happened to have my new D80 (new to me at least) and a Nikon 70-210mm F/4 in the truck, so I snapped off a couple of photographs. I ended up liking the longer focal length the best, for the flattening effect and the narrow depth of field. This was shot at 210mm at F/5; I had to turn the ISO up to 500 in order to get a steady image. A slight crop and a litte bump in contrast, and the image was ready to go.
-Jerry Davenport

Taken with my Canon EOS Rebel T2i while driving around the roads of Westbury, NY.
EF-S18-55mm f/3.5-5.6 lens at 40mm focal length. Using aperture priority, evaluative metering
At f/11 and 1/15 shutter. Daylight White balance. ISO speed of 100
-John McNamara
I was looking for fall leaves to shoot two weeks ago on a weekend afternoon and had to take a detour because of a closed bridge near Hopewell, NJ. The detour road which otherwise I never would have traveled, had a great set of trees so I lined up the trees and fence and took this shot that showed a lot of different color variations both in trees and leaves. I used a canon 5D Mark II, 28-300 Canon telephoto zoomed out to 300, F/5.6, ISO 800 and shutter speed 1/100.
-John Cecilian
Taken with my Canon EOS Rebel T2i while driving around the roads of Westbury, NY
EF-S18-55mm f/3.5-5.6 lens at 48mm focal length. Using aperture priority, evaluative metering
At f/5.6 and 1/400 shutter. Daylight White balance. ISO speed of 100
-John McNamara
While taking a riverboat cruise on the Mississippi River, I snapped this shot with the great architecture of the Eads Bridge in the forefront and the magnificent St. Louis Arch and the arch grounds in the fall colors in the background. This was shot with a Canon EOS REBEL T1i, 28-135 lens, f/5.6, manual exposure 1/400, ISO 100.
-Joshua Dersch
Fallen Leaf in Water
Camera Canon EOS 50D
Exposure 0.017 sec (1/60)
Aperture f/2.8
Focal Length 100 mm
ISO Speed 100
Lens Canon EF 100mm f/2.8L IS USM
I just love water. It's been a long time since I've been able to photograph it like I did today. I love the way that the orange leaf stands out against the dark rocks while water pours over it. Shiny.
-Matthew Katzenberger
The Last To Fall
Camera Canon EOS 50D
Exposure 1/8000 sec
Aperture f/6.3
Focal Length 250 mm
ISO Speed 100
Lens Canon EF-S 55-250mm f4-5.6 IS
Not everything about fall is bright color. Fall is also about the leaves dying, and falling from the trees as cold, grey winter approaches. That's what this image says to me. The last leaf hangs to the branch by a thread, all the other branches are bare. It looks cold, and yet there's still a little color swirling around in the background.
-Matthew Katzenberger
Title: "The Last Blast"
I shot this with a Nikon D700 and a Nikkor 20mm f/2.8 lens. ISO 200, f/6.3, 1/125".
We've had a glorious fall-foliage season in New England this year. There is a local cemetery with some incredibly majestic maples. They're also some of the last trees to turn in the fall. I headed over to the cemetery one late afternoon a couple of weeks ago when the sun was intermittently dodging behind the clouds, and saw another photographer there. I said, "We had the same idea, didn't we?" He said, "Oh, you should've seen all the photographers here in the last 45 minutes. They've left already, but I'm hoping for a last blast of sunlight from behind those clouds. Maybe we'll catch it." We did. As it turns out, this was also the last blast of bright color this season.
-Mollie McPhee
Title: "Harvest"
I shot this with a Nikon D700 and the Nikkor 24-70 f/2.8 lens. Focal length was 24mm, ISO 800, f/10, 1/100".
Story behind it? I live in rural New England. Our winters are long and gray. In the fall, I tend to go all out taking photos — I consider it harvesting colors for the long winter, like the little mouse in the children's book Frederick by Leo Lioni. This was definitely one of those color harvest shots, knowing that this scene will be colorless from November until next April.
-Mollie McPhee
This was taken in Paris, France. I used a Sony Alpha A-200 with a Tamron 18-250 mm lens (Exposure settings : Focal Length -120, F5.6, Exposure time- 1/100).
I was walking along the beautifully preserved old quarters in Marais, and found this huge wall covered with leaves colored in all the shades of fall. I liked the gradations of the leaves from green to red and also loved the nice background texture formed by the enmeshed roots.
-Navin Michael
This was taken in Chantilly, France. I used the same body and lens as above (Exposure settings : Focal Length -75, F5.6, Exposure time- 1/10).
We had a long day in Chantilly (famous for its stables and the lovely Chantilly cream ), walking along the chateau and the huge gardens. This photo was taken as we were returning back. Had already packed my gear. I thought the guys walking with the dog and the fallen leaves and would make a good composition, so unpacked, set up my lens and fired away just before they went out of sight.
-Navin Michael
Canon 7D, F/8, 1/45, ISO 800. This photo was tough to take, the sun was coming in at such a harsh angle. So that said, I needed to angle my camera/body in the perfect way for the shot.
-Nicholas Yeh
Canon 7D, F/4, 1/125, ISO 200. I have quite the fetish for silhouette photos and I always wanted to do a shot like this... Low angle and silhouettes are the best!
-Nicholas Yeh
The second shot is done early November during a hailstorm. I was being rained (and hailed) on and I had no idea what the camera was capturing. I sat down near a puddle trying to get the right angle to get some of the leaves in the puddle but also the view of the hail hitting the puddle, I took 4-5 shots and chose the one with the best composition.
Camera: Canon EOS 5D Mark II
Exposure: 1/1000 s
Aperture: f/1.4
Focal length: 50 mm
ISO speed: 400
-oystein alasker
The first shot is from mid october, where I was trying to photograph a tree, suddenly, I looked down underneath a bench and I saw this sign drawn on the slate. I knew immediately that it would be the photo of the day.
Camera: Canon EOS 5D Mark II
Exposure: 1/200 s
Aperture: f/2.5
Focal length: 50 mm
ISO speed: 400
-oystein alasker

This was taken a few weeks ago on Washington Island, Wisconsin. The leaves were in full bloom and they had these nice manicured trees outside the hotel. I wanted to come back later in the day but decide to take a few shots since I was there. Canon 7D EF16-35MM - 35MM - ISO 100 - 1/200
-Ritch Wedeking

I took this a few weeks ago on my way back from Washington Island in Wisconsin. I guess it is a pretty famous restaurant where they have grass on the roof of the place and goats live up there and tend to the grass. There was no parking so I just jumped out of my car with a long lens and snapped a few shots from the long line waiting to get in. I used Apple's Aperture to remove a few power lines. Canon 7D, EF70-200 / 125mm/ ISO 100 - 1/100
-Ritch Wedeking
Camera: Sony A330L
Lens: 18-55mm
f5.6
1/100
Increased the saturation just a tad.
Story: Was driving to work, taking the long way in hopes to find a good tree to shoot for the Fall Leaves challenge. I parked my car. Got out and took a couple shots of a tree with bright red leaves. On the way back to my car I notice this puddle with a dried cracked leaf in it.
-Robert Rung
Went out and took these photos with my ghetto Nikon coolpix 5900. There really isn't much more to it than that. I don't have a lens or anything since it's a basic camera which means aesthetics were and lighting were really important. The first picture I took on the way to the river behind our apartment and the second was of some leaves I saw floating down stream.
-Scott King
I was out in full force wanting to get a good picture for this challenge. I wanted it to be of leaves. Well as you can see this picture is really lacking in the leaf department. This part of Ohio has had a really dry summer and made the fall no so great. All the leaves are mostly off the trees and already brown. So I was walking through the woods and this tree just spoke to me. I love this perspective of a tree and decided to see what I could get. So I got the color I wanted (sky) and got to show some character of this stripped of its leaves tree.
This was shot with a D7000 in Aperture Priority Mode at f5.6 with a 18-105 lens at 18mm (27mm dx) at ISO 110 and 1/60sec.
-Scott Robbins
The image was taken with a Sony DSC-R1, I don't really remeber the settings. However, the photo was taken near an island situated on the main river in my town, an island that kept growing since I was a kid and that now has quite a vast vegetation. I photographed the reflection of the trees from the island in the water and you can also see their leaves being carried by the current. I increased the contrast a bit for more impact because the original image, being a reflection, was a little bit soft.
-Sergiu Briceag
I used a Canon Power Shot S3 . I was waiting for some fog to lift in my car and decided to take a photo in the rear view mirror because it was too cold and I was too lazy to get out.
-Susie Buckley
I was driving home from college and saw this tree and felt extreme regret for not snapping it. So I turned around and pulled over and ended up taking about 200+ picture of the surrounding area. I really like this tree because it reminded me of when they use contrast dye for a heart CT scan when I made a black and white version. (Edited slightly in Lightroom 3.)
-Taylor Trevathan
Taken with a Canon Rebel XSi, lens was a 50mm Prime, 1.2 Fstop, 1/400 shutter.
The Picture was taken in Blue Ridge, Ga. a friend and I were exploring the woods behind her cabin and found all sorts of treasures such as this house that must be dated well back to the early 1900's or before. There are also numerous old cars that have been dumped in the area and were an amazing find. What's even cooler is that all of this is maybe 100 yards from the original Blue Ridge Railway.
-Zach Cagle
Taken with a Canon Rebel XSi, lens was a 18-55 F4 with 1/2000 shutter.
This image was taken along the Old Ga Hwy 2, if you live in Georgia this is a serious must drive. It took about 2.5 - 3hrs to complete only around 20 miles, but was worth it all. The entire drive is on gravel road, and some off shoots were large gravel rocks and mud which was way fun. All in all a great trip with tons of overlooks and Historical landmarks.
-Zach Cagle

This photo was taken over the past weekend. We were hoping for a better day and using all natural light but the sun was hiding behind a thick haze. Each shot had to be taken between people's leashless dogs trampling by or old dirty men walking by slowly and asking Ingrid questions. The shot was almost ruined from the moment she got out of the car as a leashless dog came running up to her having just gotten out of the lake and tried to jump up on her while she was in the kimono. Luckily her boyfriend, errand bitch boy for the shoot, played superhero and pushed the dog away with his mental telepathy before it put it's puppy paw prints all over her. The photo was shot with a Nikon D300s, a 50mm 1.8D, and an Alienbees B1600 camera left, 1/32 power, blasting through a shoot-through umbrella. Lens was F8 at 1/250. We wanted to use natural light but the clouds didn't cooperate.
-Jamie Russo

Canon G10, ISO 80, 1/800 sec, f/4.0
Just a city boy on a leaf peeping excursion to the Delaware Water Gap (where the Delaware River cuts through the Appalachian Mountains). Drove by this farm, got out of the car, and snapped the pic with my trusty ol' Canon G10. Added a smidgen of saturation in post for the pop.
-Michael Polter

Taking a different spin on Fall colors, for me, since I live in the wet and cool Pacific Northwest. My boyfriend took me on a very special birthday trip to New Orleans the week before Halloween, and while we were there, we went on a swamp tour. The temperature while we were there was in the mid-80s, but evidently this was cool enough (combined with shorter days) to prompt the cypress trees to turn colors, albeit more subtly than the maple and oak trees in my home region. In my first picture, I focused on the Spanish Moss, which is an air plant that lives abundantly on the cypress trees, and is the source of the "horse hair" that was used to stuff most antique furniture. Both photos taken with a Nikon D90, 18-105mm kit lens, on "Auto" settings. These are 2 of 204 photos taken on a 90-minute swamp tour.
-Erin Enemark