This was taken with the iPhone 4 native camera. I was in Chicago with my brother, looked up inside the Millennium Park Bean and shot. I've found three occurrences of my brother and me in the pic, but I'm guessing the total occurrence is INFINITE.
- Laura Andersen
I used Hipstamatic with an iPhone4. John S lens/KodotXGrizzled film with no flash.
Thought of using the 2 mirror technique, like everyone else, but then I remembered logging into my own computer by accident a while ago using GoToMyPc (This time I used LogMeIn. Same effect). I couldn't get out of it and eventually my computer froze. It looked pretty neat and I tried to capture that again. It was me logging into my computer, logging into my computer, logging into my computer...ad nauseum.
G/O Media may get a commission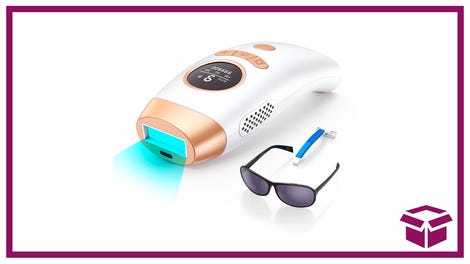 58% Off + Coupon
IPL Hair Removal Device
- David E. Lee
My interest was piqued by this contest, but the only camera I had on hand was the crappy one in my iPhone 3G. In fact, the crappiness inspired me to try something out. How bad would an iPhone picture of an iPhone picture look? Or a picture of a picture of a picture? Or infinite pictures?! I snapped a shot of my computer monitor with the contest's lead shot pulled up. I emailed myself this picture, pulled it up on my monitor and repeated. Things got visually interesting pretty quickly. I reached this result after only a dozen iterations. It may not be infinite, but I think it's neat looking.
- Earl Nicholson
I went to the tracks down the street and sat there for a minute to see the best angle i could use. What i came up with is just simple. Sony A230, 18-55mm lense, f/5.6, 1/160 , ISO 100, Daylight WB Apperture setting. Changed a bit the saturation on Gimp 2.6 and here it is.
- Felix Garcia
As soon as I heard "Infinite loop", the obvious idea was to somehow showcase a programmatic infinite loop. So I wrote up a phony C++ program with a conditional infinite loop. Wrote another one to simulate the output (I was lazy to make the main program work ;) ). Setup terminal app to be translucent, to show the output in the background, and shot the photo when the beach ball started showing up, to illustrate an infinite loop. Also changed my wallpaper to a space-themed one to show infinite-ness.
P.S. Check out the condition for the infinite loop in the code ;)
Shooting Info:
Cam: Nikon D90
Lens: Kit 18-105mm
Focal length, Shutter speed, Aperture: 52mm, 1/1.6s, F5 [for shallow DOF]
Manual focus, shot with a IR remote from a tripod
- Manu K.P.
"Nebotičnik" (Slovenian for "skyscraper") is a prominent high-rise located in the centre of Ljubljana, Slovenia, and is one of the city's most recognizable landmarks. The building's spiral staircase leads up to the top of the building which is 70.35 m high. When you look down from the top of the staircase it almost feels like it's infinite. And it looks amazing. I've never been there; this challenge was the perfect excuse to go up and see the view of the city as well as the spiral staircase. I was a bit lightheaded from walking all the way up to the top of the staircase; when I looked down from the top it almost felt as if the spiral was pulling me downwards, the bottom definitely appearing to be nowhere to be seen. The red banister made a nice contrast to the grey stairs. It felt perfect for the challenge so I took the photo.
Settings: Canon EOS 60D, Canon EF-S 18-135mm kit lens, ISO 800, f3.5, 1/200sec, 18mm
- Janja Nikolic
After hearing about this contest, I already knew that I wanted to do a picture involving Scrabble. Two weeks ago, I was at a tea lounge with friends and they had Scrabble as a board game to play with. In the game, there are only 100 usable letter tiles, but with those tiles the player could create a virtually infinite amount of words. I spilled the tiles out on my floor, turned off the lights and used my external flash to illuminate the tiles and black out the background.
Here's a link to other examples of my work: http://www.flickr.com/photos/58402676@N08/5767054702/in/photostream
-Nikon D7000
-Nikkor 17-55mm f/2.8
-SB-800
-Manfrotto 055XPROB
- Arvin Alvarez
Shooting Summary:
iPhone4, 3.9 mm, f/2.8, 1/15
Thought I could create the Infinite loop effect by using this simple trick. Used mine and my friends iPhones to shoot at each other multiple times, each time keeping the photo that was just shot on the phone's screen
- Vamsi Avala
At first I tried something with mirrors, but that didn't turn out too well. So I had a change of heart (thanks to my girlfriend) and switched to a pipe with the camera on one side and an elbow pipe on the other. While taking the photo, I used the flash to flash into the pipe on the other side.
Is that infinity? No
Is it infinitely cool? Maybe
Is it better than shooting in mirrors? Definitely, yes!
I used:
a NikonD300 with a Nikkor 18-200mm lense @18mm; ISO was at 200; F-Stop at f/22; Exposure time 6 sec
a Nikon SB-900 Flash in RPT mode remotely triggered; Output level was at 1/128; 10 flashes at 10 Hz
- Bernhard Petracek
I don't have any any better quality versions of this photo, which is kind of the reason why it's a bit different from most of the submissions you'll probably get.
Story
It's funny how when you think about something, you'll stroke your chin, or fidget with a pencil. By distracting your physical senses, your brain can get onto thinking. While reading the contest, I was playing with the inertia bounce of the Instagram application on my phone — the screen where your feed is displayed. I'll often import images into Instagram, shots taken with the default Camera application itself. Since they're bigger, the images bounce a little as you resize them to fit the square format. With a screencap of each step, I realised I could create an Infinite Loop!
Technical bits:
iPhone 3GS, Instagram Application
- Peter Franc
I had seen this type of photo before and wanted to give it a shot. Luckily I was able to bump up my ISO in order to keep my 6 year old in focus long enough to create the shots needed. My first go around I thought I would try to do some light painting in the photos to try to differentiate my photos from the pack but by photo 3 my mini flashlight died. So I scrapped those photos and decided to process the 2nd to last photo in B&W so it would be surrounded by the last color photo. I was please with the outcome. Most of the photos were shot at different settings, but they were all shot with the Canon T2i with the Rokinon 14mm Lens. The final photo is at ISO 200 at 1/5 of a second. The lens was set manually at around f4.
- Drew Eldridge
"Infinite climb"
I had no creative idea for this week challenge until I ended up in one of the NYC landmark buildings and thought of the ever continuous stairs. I didn't have any time to set up my tripod, so I just bumped my ISO to 800 and set aperture to f2.8 for a handheld shot. Set the lens to its lowest zoom of 17mm and took a few shots. In post processing I added some split toning to give the straits look a bit more older look. Canon T2i.
- Aleks Oz
In chaos theory, the "butterfly effect" is when a small change - like the motion of a butterfly's wings - can result in the creation of large systems, like tornados, over space and time. According to Wikipedia, the butterfly effect in fiction is often used in reference to time travel "and with "what if" cases where one storyline diverges at the moment of a seemingly minor event resulting in two significantly different outcomes." Shortly after reading the challenge (and thinking it was too hard), I saw from my window a butterfly landing on my purple salvia, and thought of the butterfly effect as a wonderful metaphor for infinity and the unanticipated changes that move us into a future formed and reformed by chaos. The late afternoon light was perfect, so I ran downstairs. He stayed around for some great shots so close and focused you could see the fur glisten on his belly, and the folds of his wings like a fan. But I picked a more abstract shot that captures the movement of the wings and a mysterious light, with a small focal range only on the more stationary flower stem and the very inner edge of the butterfly's wings. Nikon D5000, shutter 1/3200, f/1.8, !S0 250, 33mm. No adjustments to the original picture.
- Cathy de Moll
I was up visiting my family in Colorado this past weekend, and we decided since I had never been that I should see the mountains. We did a little driving, and there we were. It was beautiful, and yet all I had was my iPhone 4. A bit angry that I didn't have my Canon T1i, and knowing the iPhone took decent pictures, I went at it. This picture was one of the best I took. I used my mirrored aviators to show the reservoir. I felt like this fit the category of infinite, because in the mirror image, the sky and mountains seem to go forever. I have to say, this definitely shows off the iPhone 4's camera.
- Sam Kirsch
This is one of my first captures off my new camera, bought just a few hours back. :)
Since capturing infinity was the challenge for the week, and that is what I tried to do with this picture, and an infinite attempts later, I was manage to capture infinity. Had visualized the concept as soon as I read about the challenge.
The shot was captured on self-timer mode, with an ISO speed 100 and 3.2 sec exposure, with the camera resting on a makeshift stand.
- Neel Indap
The kit for this one was a Canon EOS 550D, with the kit 18-55 Lens. Settings were 1600ISO, with a 1/8 shutter (auto aperture).
Now the story is a little interesting. I've only had this camera for less than a week (my first >£80 camera), so I'm still getting to grips with it so to speak. Secondly I only browse Gizmodo occasionally, so I didn't find out about this until 11pm GMT (I'm in Portsmouth, UK). After trying to come up with a few philosophical takes on Infinity, I thought I'd go back to basics. So I stuck the ceiling light on, put the zoom up and the focus as close as possible and stuck the camera up against a mirror. It took a few shots before I got one that was reasonably steady (although there is still some minor ghosting. Next purchase: Tripod).
After I glanced on the screen I knew this would be a great shot. The curves in the lenses distorted the colour of the ceiling lamp nicely, while also getting some reflection between the two.
- Adam Hayter
I originally was going to submit a shot of the sea and sky but my wife convinced me to change my photo to this entry. She said it was more interesting. Since its hard to take a picture of something so big, I took the interpretive route.
My photo is of my three year old son's stacking blocks, lined up, and photographed while zooming the lens out. I'm not sure what it is supposed to be...maybe traveling at warp speed through infinitesimal space. Or something like that.
Tech Info:
Canon EOS REBEL T1i
Lens EF-S18-55mm 4/3.5/5.6 IS
1/2
f/16
55-27 mm
ISO 100
0 EV
- Matthew Johnson
This is a picture looking up from the base of a public Dave Chihuly glass installation in Tacoma, Washington. If you were to see the installation from the outside, it would look something like a bunch of huge ice cubes at the top of an especially tall stick, or perhaps extra-large rock candy. I was out shooting with my dad today and the way the metal poles sort of spiraled upwards holding up the glass made me think of something infinite.
Nikon D3100 at 1/4000 ISO 400 f 3.5 on a 60mm Micro Nikkor
- Ashok Chandwaney
I used my HTC Droid Incredible and Canon 7D for this shot. I wanted to use the angled mirrors as well as the picture within a picture concept. I've spent a lot of time trying to envision how far a picture within a picture can be seen. Theoretically it can exist beyond what our vision will even allow because of the dimensions shrinking each level.
This picture is of my phone held up to a mirror, with a picture of my phone held up to a mirror in it, with a picture of my phone held up to a mirror in it, with a picture of my phone held up to a mirror with a picture of angled mirrors circling backwards in it. I started by taking a picture with my phone held against one mirror angled towards another mirror. Then I took a picture of my phone showing the first picture and its reflection in the mirror, using my Canon 7D. I transferred this picture to my phone and then took another picture with my Canon 7D of the phone with this picture showing in it, held up against a mirror to show the reflection as well. I repeated this process once more. Then I took a picture of my phone showing that picture with the mirrors angled to show more than one reflection of the phone and picture on it. Finally I took a picture of my phone showing that last picture with its reflection.
I also used this technique of using my phone and camera as I've begun to use my phone more for photographer, as have many others. But I also circle back to my SLR. I need them both for my complete photography though.
Camera: Canon 7D (and HTC Droid Incredible)
Lens: 50mm
ISO: 800
f/5.0
1/50 sec
- Gina Todorovich
This image was taken with a Canon T3i, the EF-S 18-55mm kit lens, and a Canon Speedlite 430EX. The subject is a large collection of magnetic spheres (generic no-name brand, not the expensive name brand kind), formed into a long tube. The camera was set up so that the center of the lens looked directly down the center of the tube. An external light was used to provide light through the holes in between the spheres, and a flash was used to provide fill light after being reflected off suspended pieces of paper that were strategically placed above the tube. A very small aperture was used to increase the depth of field as much as possible, but even using this the DOF was still quite shallow. A long exposure was needed to get enough light with such a small aperture.
Shooting mode: Manual
Focus: Manual
Shutter: 30 Sec
Aperture: f/32
ISO: 800
- Matt Hicks
This contest was a lot of fun, and it was hard to decide which picture to go with! I tried as much as possible to stay away from mirrors for this challenge and played around with illusions and making physical objects that appear to stretch into infinity. The picture I chose for this contest is actually a picture of the inside of a paper cone. What I did was make a black border with a sharpie around the edges of a 8x11 piece of paper, then rolled that into a tight cone. I then taped this cone over my lens and then took a whole bunch of pictures using different lighting sources (must have looked ridiculous). This particular picture was taken with my desk lamp over top of the middle of the cone, which gave me the fade in and fade out (played a little bit with the contrast and brightness as well). It reminds me of space, and every time I look at the picture I feel as though I am being sucked into a black hole and into infinity. Hopefully you feel the same!
Camera: Panasonic Lumix DMC-G2
Lens: 14-42 (shot at 14mm)
ISO: 100
F-stop: f/3.5
Exposure time: 1/20 sec
- Jeffrey Groom
This is a shot that my wife and I came up with that represents our interpretation of "infinite". We both came up with similar ideas pretty much right away, so we combined them and got this!
Of course, everyone is going to take this picture and my following description of it differently, so I just want to say I mean no offense and pass no judgement on anyone by posting this. I just hope you can look at it (and enjoy it too) as a bit of artful interpretation ;)
The picture is of both our wedding bands laying on a Bible. Specifically, 1 Corinthians 13, which speaks about love. As both of us are strong in our faith, we thought what better way to symbolize "infinite" than our wedding bands laying on the word of God. Of course, the wedding bands (being circles) symbolize an "infinite commitment" to each other and the Bible could symbolize in this case, either Gods eternal commitment to us or Gods Omniscience/Omnipresence/Omnipotence.
We were busy all weekend, so this was shot at the last minute on Sunday. It was taken in a dark room using only an LED flashlight to illuminate the shot. Taken with a Canon T2i and a EF50mm Compact Macro lens. No flash, ISO100, f/11 and 1 second exposure. Tweaked slightly and cropped with iPhoto '11.
- Aaron + Jen
I pointed my webcam at a live feed of itself. Then, I tilted it to produce a spiral effect. The hardest part was maintaining focus and not blowing out the highlights since I was hand-holding the camera. I tried various colors and images on my desktop wallpaper before finally settling on this one (http://www.flickr.com/photos/hisgett/4220467014/sizes/l/in/photostream/) which had a Creative Commons license on Flickr. My specs are as follows: Logitech QuickCam Pro 9000, 3.7mm, F/2.0 (sorry, that's all I could figure out).
- Sheryl Delrosario
When I think of infinite, I think of the universe. One hypothesis says the universe is something like the surface of a bubble that curves back around upon itself. This could lead to the observations that if you look back far enough that you could see around the universe multiple times, looking back at various points of its history. So my first thought was trying the mirror shot reflecting the stars. But, I did not have the mirrors for the shot. (Sure I could have taken the wall mirror down in the bathroom and cut it into pieces, but I think my wife would not react well to that.) I briefly considered a Mobius Strip, but quickly rejected the idea. Then I saw the sun catcher hanging by the window. So I tried setting the sun catcher onto the lens of my Canon EOS Rebel T2i while taking photos of the night sky. I also tried spinning the sun catcher just in front of the lens. One of the shots was with the moon in the frame, and the result was interesting. SO I submit the version that reminds me of a talk about perceiving dimensions beyond where a 4th dimensional cube was shown as the shadow of a transparent three dimensional cube. Then again, it could be more of an angelic take, which could lead to a more metaphysical discussion of what is infinite and infinity.
Camera Canon EOS REBEL T2i
Exposure 20
Aperture f/5.6
Focal Length 55 mm
ISO Speed 1600
Rio Rico, Arizona
- John Hays
I call this one "infinite blue sky". I thought a long time about how to tackle this challenge and it took an awful lot of work to get the setup just right. after about 100 test shots, I was ready. in the end, I think it worked out pretty well, don't you?
Camera Nikon D3000
Exposure 0.002 sec (1/500)
Aperture f/4.0
Focal Length 70 mm
ISO Speed 560
- Bob Zimway
Well, as usual for me, I approached the challenge with much haste, waiting until the 11th hour to even think about doing something. So, after dark last night, I decided to try something. I thought that shooting through a tube and playing with light in the tube might be a way to simulate an infinity look. Problem 1: finding a tube at 11pm on a Sunday night.
I looked around and all I could find that might work was a Slinky. So I went outside to the 2nd level of my kid's playhouse, taped one end of the slinky to a 55mm Macro lens and dropped it down to the ground.
The next problem was the wind so I needed to weight it down and I thought that I could try a light source of some sort. The only thing I could find was a candle because I needed my flashlight to see what I was doing.
I taped the candle to the other end of the slinky and then used my flashlight as a highlight on the outside of the slinky. Success? Not really. Because of the movement of the slinky, I wasn't able to stop the lens down enough to get more of the slinky in focus and give more of a distance effect, due to the increased shutter time, and it might not have worked anyway but this is what I got. Lumix GH2 ISO 1250 Nikkor 55mmMacro @ f5.6 1/40th sec.
- Tim Hammer
Kodak Z980
ISO Speed at ISO-64, Macro On, Flash Off, Exposure +1 compensation, other settings Auto, used a tripod
∞
Infinity. The very idea of capturing something limitless and boudless, greater than anything else, seemed fascinating to me. But is it possible to capture something in a non-finite manner?
Subject of the shot is our TV. Connected the cam to it - no hdmi out so 480p video-out only :'( - set up the cam on the tripod and got this shot after a few tries. Managed to capture the 'Shooting Info' before it disappeared ;) - strangely the EXIF info contained a slightly different shutter speed (1/6 on the image and 1/2 in EXIF).
You can see the " tv-in-a-tv-in-a-tv-in-a-tv-in-a-...... ∞ " stretching on to 'infinity' , or at the least, 'near-infinity'.
- Krishvanth Suresh
I took this shot today with my D80. It is a metallic fence of a small shop.
- Sébastien Bonaimé
Device:
iPhone 4, HDR
I used a jailbroken iPhone 4 with Display Recorder to take the photo along with my laptop installed with iDemo. I just took the photo of iDemo displaying real time screens from my iPhone to create the infinity shot. I shot it at an angle and the result is this cool infinite spiral effect.
- Chon Neth
This was shot with a Canon 7D and 24-70mm f/2.8L lens set at 32 mm, F11 and 1/200.
While trying to decide on what would be the best subject for this challenge, I was explaining what an infinite loop was to my 10 year old son. After a few failed attempts at getting my point across his eyes finally lit up as he said, "you mean like in Portal where you can make her fall forever?" I knew then and there what we were going to be doing this past weekend. So, here's an infinite loop as envisioned by Zack Evans.
- Daryl Evans