Heirloom. When you are essentially the oldest left in the family, there are a lot of things you can choose from. So what to choose.
I decided to go with one of the oldest things I got from my Grandmother when she passed five years ago. The family Bible. Well, actually it was the back up, as the original family Bible was lost in a fire more than 20 years ago. It was even older than this one, and contained the family genealogy. This one is an old leather bound volume, with two versions of the Christian Bible side by side on each page. It was published in 1889. Given the condition of the surface, I figured that the process of HDR may show it better than regular photography could. So I took a six shot HDR of the book, using Luminance HDR for the processing.
Camera Canon EOS REBEL T2i
Exposure Varies
Aperture f/5.6
Focal Length 90 mm
-John Hays

There is a lack of heirlooms in my family, unless you count the rugged good looks passed down from generation to generation, so I used a particular brand of watch everyone in my wife's family is gifted when they turn 21 (which is a while ago, hence the scratches). I used my macro lens to get in close and focused on the winding knob rather than, perhaps more typically, the face of the watch. Hit the image with some antique coloring and a little blur in post.
Nikon D60 (b/c my D7000 doesn't work with my macro lens)
Sigma 105mm Macro
F2.8
Shutter: 1/125
SB-600 Flash
G/O Media may get a commission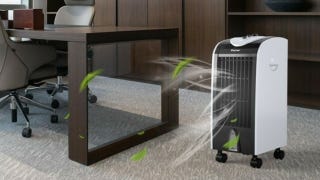 Save $10
Evaporative Portable Air Conditioner Cooler with Filter Knob
-John Mc Grail
These are two books that were given to me. They are Rudyard Kipling's "Stalky & Company" from 1899, and "Captains Courageous" from 1901. Decided to just set them up on my desk with a simple light over them. Taken with a Nikon D5100, ISO 200, 1/13s and F/10.
-Stephen Wolking
What better way to celebrate heirlooms on a photography blog than with a camera heirloom? This Mercury II was manufactured by Universal Camera Corporation in the mid 1940s. First owned by her great-grandfather, passed on to her grandfather, then to her father, then finally to my girlfriend.
Shot with a Canon 60D and Sigma 70-300 (Macro) lens on a Manfroto tripod . 2 sec exposure at F/22, with 100 ISO.
-Nathan Johnsen
I took this shot as a HDR. The middle shot is f/5.6 for 1/25th of a second at 42.0mm with an ISO of 800. I took it with my Olympus E500. The photo is off my family ring. The sigil is a boar. My second name is Guinness so I composed the colour in the shot to echo the appearance of a pint!
-Harry Guinness
Here is my submission for the weekly shooting challenge Heirloom.
This shot shows some of the typebars of an old Remington Standard Typewriter No. 7, like the one seen here (not mine, but the same model).
I bought the typewriter with plans on gutting it and sticking an ITX motherboard in it, as someone else did with an old Underwood 5. After buying it & discovering it was made in the late 1800s, I didn't have the heart to gut it. I'm not sure what I plan on doing with it now, but hopefully it'll turn into an heirloom for my kids. :)
Shot specs:
Canon 7D
75-300mm USM @ 300mm
Manually focused, with Canon 420ex fired wirelessly
-Brian Gibson
Hello -
Attached is my submission for the Heirloom Shooting Challenge.
Photo Taken: Sunday January 22, 2012
Camera: Canon 50D
Lens: Canon 50mm f:1.4
ISO: 100
Exposure time: 1/125
The subject of this photograph is my Grandfather's Berninghaus Hercules barber chair. Contrary to the typical heirloom, this five hundred pound masterpiece sat center stage in my parent's house for most of my childhood. Operated from the front room of his Mechanicsburg, PA home, my Grandfather trimmed the hair and whiskers of the town's residents from 1946 through the 1980's. The razor strops still dangle from the hook underneath the right arm, as seen in the photo. The chair raises, lowers, swivels, and remains entirely functional to this day. Accompanying the chair in this photograph is his Diploma in Modern Scientific Barbering and Modern Scalp Therapy from the Philadelphia Institute of Barbering. Also appearing is one of his medicinal cabinets, his sink, and the original barber sign, as well as his razor, scissors, and a few other priceless heirlooms.
Thank You,
-Adam Haynos
This is a watch that belonged to my grandmother and was passed down to my mother. It's on top of a stone jewelry box that also belonged to her. I'm not sure how old the watch is, but I know it's much older than my brother and I. I used some soft light to the left of the box and set the shutter speed to 1.6 seconds. The aperture value was 7.1, the focal length was 36mm on the Rebel T3 18-55mm kit lens and the ISO speed was 200.
-Selyce Bynes
The camera I used, was a Canon XSi with a 50mm 1.4/f lens. I turned all the lights out in the room and threw on a Canon 450EX II speedlite. My ISO was set to 400, aperture was set to 1.4/f and my shutter speed was 1/200. The pieces I included in my photo were all items I was able to carry on my wedding day back in October. The pocket watch was my Mom's Father's, the cufflinks were my Dad's Father's, and the handkerchief they are sitting on, was carried by my Mom and her Father on both of their wedding days.
-Christopher George
This was my Grandfather's Zeiss Ikon that, according to what he wrote
on the inside of the original case, he bought in Detroit in March of
1937. It still works perfectly and I use it quite a bit. Behind it is
the Canon Canonet QL17 G-III from 1976 that was also his. I took this
picture with the last of his cameras that I have: A Honeywell Pentax
ES-II that he bought from a camera shop in Chicago in March of '75 and
he had it sent to where he and every other old person lived in the
70's; Florida.
Camera: Honeywell Pentax ES-II
Lens: Super-Multi-Coated Takumar 1:1.4/50 prime at 1/60, f5.6
Film: Ilford Delta 400, 400 iso
Developer: Ilford Ilfosol 3
Negative scanned with an HP G4050
-Rob Lennox
This is a scale model of an Alfa Romeo 2300 Monza, which was built in year 1934. This model was given me from my grandpa when I was 5. Every time I look at this car it brings to mind good memories of him. It's the only thing I own that i really consider an Heirloom.
Canon 450D, EF 24-70mm f/2.8L USM, 1/200 f/8 ISO100 70mm
- Andrea Nessi
For this challenge I knew exactly what I needed to photograph: my Great Great Grandfather's civil war cavalry sword. His name was Cicero Post and he was in a Kansas cavalry unit for the Union. The sword has been passed down through my family for over a hundred years, and for my entire lifetime it has been either hung over, or set next to, my father's fireplace. Whenever I think of this sword I think of the fireplace, the warmth of the fire, the glow and the warm stones around it. I remember as child being awestruck by that sword. In fact, I'm still awestruck by it. One day, hopefully many years from now, it will be passed down to me. I will have a fine fireplace ready to receive this item.
For this shot I knew I needed to incorporate the fireplace in the background because of my own connection to it and the sword. I turned off all the lights in the house so that the only ambient light came from the fire, giving the sword that warm glow. Canon rebel EOS T3, f/4.0, shutter speed 1.6, ISO 3200.
Thanks,
-Brian Post
I spent a few days trying to figure out a good heirloom to use for this contest and couldn't come up with anything. Then, as I was experimenting with different settings on my DSLR while taking pictures of a football, my wife suggested I use the autographed football shown in the picture. I don't know why it slipped my mind but I thought it was perfect. The football is signed by the 1977-1978 Dallas Cowboys so I grabbed a couple of my Cowboys jerseys to fill in the background. I snapped the picture and did some adjustments in photoshop. Nikon D7000, Nikkor 18-105, F/11, Exposure 1.3 seconds, ISO 100.
- Michael Berman
I've lead a somewhat nomadic 20s, so I don't have many possessions, let alone heirlooms. My violin is the closest thing I have to one with me. I purchased this violin at the age of 16 from a very old couple in whose family it was an heirloom, and surely will it will be in mine as well. It is very old, late Baroque era. I was told by a luthier that the label inside is fake, which was apparently common in Italian violins, but that the instrument is indeed the age it claims to be. Nearly everything apart from the body has been modernized at this point, but it retains its coveted, hollow sound. Regarding the photo, this is me, playing the first movement of Vivaldi's "Winter". I began with just photographing the violin on its own, but realized that what makes violins cool is not how they look, but that people play them, so I bit the bullet, got out the tripod and remote (which I triggered with my foot), and got in the photo. I chose to play "Winter" for photographic composition, as both the bow hand and the left hand are very close the violin. It is quite quick, which is why the bow hand is motion blurred, and I didn't want to increase the ISO anymore than I already had.
Canon 550D
Canon EF 50 mm f/1.8 lens
50 mm
f/1.8
1/60 sec
ISO 1600
-Jeannie Moulton
Lacking any traditional heirlooms, my shot this week is of a moka coffee maker I inherited from an ex-girlfriend (she moved, rather than passed-away!). I've had a number of other machines/makers in the years since, but none seemed live up to the flavour and intensity of this one. I wonder what my ex is upto these days.. Maybe I should give her a call.. Canon EOS 550D with EF 50mm f/1.8 II Lens @ ISO320 50mm -0.3EV f/2.8 1/60
- Nick Hale

Camera: Canon 7D
Lens: Canon 24-105mm f/4 IS
Focal Length: 45mm
Subject distance: .5m
Aperture: f/4
Flash: Canon 430ex II w/dome diffuser
Technique: Placed object onto a mirror with a black matte backdrop. Placed flash at a 45 degree angle to the object roughly 2-3 feet away from the object. Flash had a dome diffuser. Used natural window light as fill. Post processing was done in Lightroom and Photoshop.
Story: At the age of five I had to flee Banja Luka, Bosnia. The Bosnian genocide was at its peak and my family and I were in danger. My father was Muslim and my mother was Orthodox. Since we bore his last name we were in danger too. He fled first, a month early, to find a place for us to live. Over night, my mother, sister, and I packed into my uncles red Yugo. Planes were flying low that night and bullets pierced the sky. As we drove to the bus station I sat motionless in the back seat praying. This heirloom was given to me by my uncle. Now it serves as a reminder. As I look at the knife, it makes one remember the struggle. At the same time it reminds me just how fortunate I am to be alive, have access to an education, have food on the table, and a roof over my head.
-Damir Alisa
Heirloom To Be.
With a shooting challenge like this one I would have typically called my parents and asked them what kind of trinket they could lend me for the shot, but having recently moved overseas I was stuck with no help from my parents and no heirloom. I asked my wife if she had any ideas and she suggested I use the ring I gave her when we first arrived in Luxembourg. She said that although it isn't old and it hasn't yet been passed down through the generations, some day it would be. Well that was good enough for me… Canon 5d, Canon 50mm lens at 1/100, with the aperture set to 9.0 - with flash full forward.
-Phil Wenger
Shooting Summary:
Canon T3i w/ kit 55-200mm lens
f/5.6
ISO 6400
1/13 sec.
Monochrome
Photo taken: 1/22/12
Story:
Following my grandfather's passing a few years ago, my mom was collecting some of his things from his house in Puerto Rico to bring back home, and came upon this late 70's Rolex in a drawer full of forgotten odds and ends... mostly cufflinks and a few cheap Timex and Casio watches. The Rolex had been purchased in 1981 during a trip my grandparents took to Switzerland a few years before I was born. It had apparently been forgotten about until my mom found it, and was not in the best condition. She sent it to a Rolex dealer in Miami to have it tuned and cleaned (all parts are original except the crystal), and then presented it to me as a surprise Christmas present two years ago.
This photo is simply the watch laying on my well worn kitchen table with the ISO turned up to enhance the natural light from a cold and wet Saturday morning.
Side note: Does 970px wide image just mean to constrain/crop the image to a max width of 970? If not, please advise so that I can submit correctly next time.
Thank you,
-JM Gillivan
Nikon D7000, Micro Nikkor 60mm 1/200 f/3.4, 1000 ISO
An interesting photography afternoon with a friend. I choose old military medals of his grand father who worked in the weather service in Tunisia. For this picture. I just used a light spot on the left with the ambient light of the room. Medals are placed on an old book lying on a leather club chair.
- Sebastien Bonaimé
Materialistically,there hasn't been much that has been passed down in our family.Though an inclination towards arts is something that has been inbred,courtesy my family.
Films,digitals,point and shoots,we've owned it all.The era of films was probably the best(as my dad puts it)and eventhough,this one has gone kaput,it still holds a high sentimental value.Even without films,I got a thorough understanding about apertures,shutter speed,thanks to its 2 piece,dis-assembled body.And,I've also realized how easy things are now,thanks to digitization.
Shot using Canon 1100D
Aperture : f/4.5
Shutter : 1/20 sec
ISO : 3200
- Neel Indap
Hello,
This is my submission for the Heirloom Photo Challenge, which I wanted to call "Second Chance." The only heirlooms I have are far, far, away in storage, but this tiny porcelain figurine was given to me for my birthday by my grandmother when I was very small. Well, that's not quite right: while playing with the doll one day, I managed to knock her head off by bashing into my sister's own little doll. This is the replacement I received after many tears and apologies and promises to take better care of my gifts. I shot a few very crisp, detailed photos that I thought about submitting, but this one, shot from overhead with my Nikon D5000 and a Sigma 70mm-300mm lens, got closest to what I was hoping to capture. She's such a delicate little thing, and I always imagined her spinning and spinning in that ballgown. (200 mm, ISO 1600, f/16, 1/80s, added a tint in Picasa)
Thanks for the challenge!
Allison Fagan
Bonjour,
This shot has been taken with a Nikon D700, Macro Lens (60mm), f3,2, speed 1/320, ISO 1600, using 2 lights.
The subject is what I received from my great-grandfather : a set of glass plates in its magnificent box and a stereoscope. The photos are dated from 1930 and has been taken where he lived, Tunisia. I've got about 100 of these stereoscopic plates, they show absolute wonderful black and white photos.
I seemed obvious for me to make this tribute to both my family and this old system.
-Jérémie de Saint-Albin