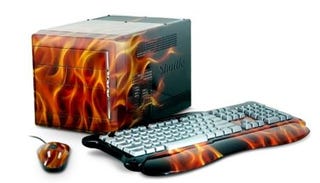 I've seen some fugly PC cases before, but this one definitely wins the dork award. Not that I could buy it anyways cause according to Shuttle, their new XPC 1337 caters toward "elite gamers" only.

"XPC 1337 systems offer the absolute best technologies available. This all comes together to make one unique system with performance to boot—only the 1337 apply."
So what kinda of specs do the "1337" get?

For $3,449 you get a Core 2 Extreme QX6700 CPU paired off with two ATI X1950 Pro cards and 2GB of RAM. Not to mention the flaming cool case with matching mouse and keyboard. At $3,449, I'd rather be a rich n00b than be part of the broke 1337.