Last year, after former Uber engineer Susan Fowler published her blog post alleging the company was rife with sexual harassment and discrimination issues, the allegations against Uber and other Silicon Valley companies began to pour out. These were issues that had plagued women and people of color in Silicon Valley for years, but for many outside the bubble, they came as a shock. That's because many of the individuals who spoke out had been legally prevented from taking their employers to court due to a clause in their employment contract known as a forced-arbitration agreement. In December, Microsoft became the first major tech company to publicly eliminate forced-arbitration agreements for sexual harassment and gender discrimination claims. If the rest of the Silicon Valley corporations want to fully reckon with their culture, they too need to eliminate them in these scenarios and others.

So we reached out to ten leading technology companies—Apple, Google, Twitter, Facebook, Amazon, Tesla, SpaceX, Verizon, Uber, and Lyft—and asked several times over the course of a few months for comment on whether they have ever required any employees to sign forced-arbitration agreements for sexual harassment claims, if they've eliminated such claims, and if not, if they planned to.
When an employee signs a contract with a forced arbitration agreement, they forfeit their right to sue the company. They also waive their right to an appeal and, oftentimes, to participate in a class action lawsuit. Rather than have their dispute heard by a trial by jury, an arbitrator—or a neutral third party—will hear both sides and make the decision behind closed doors. The outcome of the dispute remains private. By forcing employees to settle behind closed doors, powerful corporations can maintain an illusion of integrity while also lowering the chances of an employee victory. Forced arbitration renders discriminatory laws "meaningless and unenforceable in court," the National Association of Consumer Advocates argues.

Michael Subit, an attorney who has represented employee discrimination and harassment cases for 25 years, said in an email to Gizmodo that forced-arbitration agreements typically last "forever." But corporations cannot use arbitration to prevent all wrongdoing from going to court. While civil disputes can be bound by arbitration, criminal cases cannot. These cases include felonies, misdemeanors, and serious crimes and are instead prosecuted by a government agency.
Forced-arbitration is an increasingly common mechanism by which companies keep workplace misconduct out of the public eye. And it's a widespread practice—the Employee Rights Advocacy Institute for Law & Policy released a study in September 2017 that found that of the 100 largest companies in the country, 80 percent have used arbitration to settle an employment dispute since 2010. Of those companies, 50 percent resolved the disputes through forced-arbitration. Fowler herself was bound by arbitration, and in her explosive blog post said that ending forced arbitration "is the single most important thing a company can do to prove to its employees that it is dedicated to acting ethically, legally, responsibly, and transparently."
Fowler's legal team has filed an amicus brief in three Supreme Court cases arguing against arbitration clauses that ban class-action suits. "There's a legal way to cover up illegal behavior," Fowler told Bloomberg journalist Emily Chang, according to her recently published book Brotopia: Breaking Up the Boys' Club of Silicon Valley. "We need to make sure the legal system can be the advocate for women. It's not fair to expect women to have to come forward and take all the risks themselves."

Microsoft claims that only a small percentage of its workforce was required to sign such agreements, and that the company never enforced one related to a sexual harassment claim. But even if they are never enforced, the existence of these agreements not only signals to employees that seeking justice for harassment and discrimination is frowned upon, it's forbidden. That creates a culture where the wellbeing of employees is not prioritized over the corporation's reputation. Eliminating these agreements is not merely emblematic of good intentions, it marks a major first step toward taking toxic and discriminatory behavior seriously.

We decided to see how common these clauses still are; to see which technology companies are taking strides toward eradicating systemic discrimination within their workforces by enabling their employees to publicly seek justice. To see which tech behemoths are willing to put their reputation at risk in order to work toward a more inclusive workforce.
Of the ten companies, few provided a comment. An Amazon spokesperson said the company doesn't have mandatory arbitration clauses for its employees, and that it never has. Verizon said it doesn't have forced-arbitration agreements with employees for any types of claims. "There might have been in some predecessor companies [that did], but that would be pre-2000, or as those companies were acquired and integrated," a Verizon spokesperson said in an email to Gizmodo when asked if the company has ever had forced-arbitration agreements.
A Facebook spokesperson confirmed to Gizmodo that the company requires arbitration for all disputes between an employee and the company. They confirmed that this includes all employment contracts and all claims. The spokesperson said that Facebook conducts all arbitration under the rules set forth by the American Arbitration Association. They added that the company takes steps to ensure that these types of claims aren't made to begin with, pointing out Facebook's sexual harassment and anti-bullying policy as well as its workplace bias trainings and channels available to employees to report misconduct.
Google, Tesla, and Uber responded, asking for more information on our request, but ultimately did not provide a comment before this story was published. Twitter and SpaceX declined to comment. Apple and Lyft didn't respond to repeated requests for comment. Microsoft declined to provide any details on the current or former contract beyond what is already publicly available.
Here's the kind of language that tech giants' forced-arbitration clauses use, and what they do and don't permit employees to do, according to a 2015 Google software engineer contract provided to Gizmodo. At least some Google employees have been forced into arbitration, according to this contract, including for discrimination and harassment claims. The contract also notes that employees aren't allowed to pursue class-action lawsuits. An excerpt from the contract detailing all of the claims bound by arbitration is included below. We have reached out to Google to comment on why its employee contracts contain this language, and if it has changed since 2015. We will update if they respond.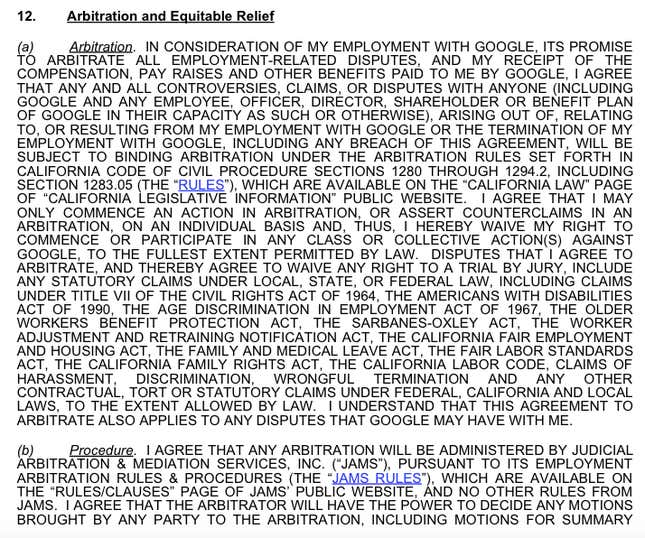 Subit said that in discrimination and harassment cases, taking away the right to a trial by jury is not in the best interest for employees. Also, depending on where the case is heard, an employee might have a more gender and racially-diverse jury pool than they would have with an arbitrator. "Arbitrators tend to be white and male," Subit said. "And older."

Subit noted in an email that there is a "significant variety" in forced-arbitration clauses in employment contracts. He said that the Google clause "is not as one-sided to the employer as some," adding that it "is actually a fairer than typical clause." He also noted that this clause waives the employee's right to both a jury and class action.

There are, however, instances in which employees previously bound by forced-arbitration are able to take their employers to court. Subit said courts are able to throw out an arbitration clause under certain circumstances, such as being unfair, one-sided, or too expensive. A jury by court is free, while an arbitrator is not. Employees can end up paying an arbitrator several hundred dollars an hour just to have their case heard. But ultimately, whether an arbitration clause is thrown out is determined by the court. "In the current environment, more courts are going to think that's a problem," Subit said, referring to forced-arbitration for harassment and discrimination cases.

Now that the floodgates have opened, tech companies are being forced to publicly confront the issues that have long existed behind closed doors. And yet, forced-arbitration agreements remain, though perhaps Microsoft's step toward progress will be the push other major companies need to follow suit. If Silicon Valley loves anything more than evading culpability, it's good press.
If you have information on current or past employee contracts or forced-arbitration at any of the major tech companies, contact me at melanie.ehrenkranz@gizmodo.com, or reach us via our SecureDrop.

Correction Feb 12th, 4:15 PM: An earlier version of this article said 80 percent of the 100 largest companies in the US forced employees to sign an arbitration clause, but in fact 50 percent did. We regret the error.