It's refreshing when justice is served. About as refreshing as the water that Starbucks will now have to source elsewhere to fill the plastic bottles of its "humanitarian" brand. Yesterday, they announced they will no longer bottle water from California's cracked soil.
After a blistering report by Mother Jones last week, Starbucks finally realized the ridiculousness of selling water bottled in places that have no water to supposedly help other places that have no water. They're even making bigger changes, according to the LA Times:
"The decision to move our Ethos water sourcing from California and reduce our in-store water reductions by more than 25 percent are steps we are taking in partnership with state and local governments to accelerate water conservation," John Kelly, Starbucks senior vice president of global responsibility and public policy, said in a statement.
For now, Ethos Water will likely be bottled in Pennsylvania, which already supplies Starbucks' East Coast stores with the branded water.
Of course, the amount of water bottled in California is a very small amount in the scheme of things; bigger policy reforms are needed to fix our water problems. This was more of a stupid branding misstep. But it is nice to hear that Starbucks is listening to the critics and making move that, although largely symbolic, does help a little bit.
G/O Media may get a commission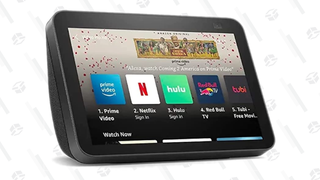 [LA Times]