Remember this 43-inch curved monitor from CES a couple years ago? Well, it's finally about to be available in all of its 2880x900px glory. For $8,000. Yowza!
G/O Media may get a commission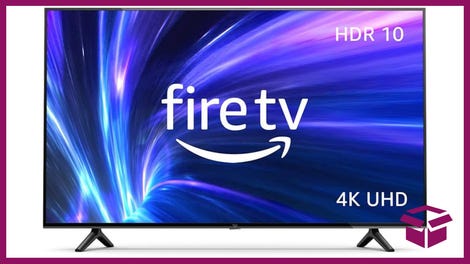 42% Off
Amazon Fire TV 50" 4K Smart TV
This bad boy is basically 4 DLP monitors stiched together and LED backlit, offering a killer response time of 0.02 seconds. It's got DVI-D and HDMI 1.3 inputs, but don't bother hooking up something like your Xbox 360 to this thing—it wouldn't know what the hell to do with the wacky 2880x990 resolution. But I can only imagine how incredible this thing would be when set up to properly run an FPS or driving game. Good god. Hardcore gamers looking to out-rig each other, the bar has been raised. It can be yours for $7,999 of your dad's money next month.
NEC DISPLAY SOLUTIONS DELIVERS UNMATCHED VIEWING EXPERIENCE WITH 43-INCH SEAMLESS CURVED DISPLAY

Ultra-Wide Curved Display Designed for Simulation, Digital Imaging, Command & Control Applications

CHICAGO - June 4, 2009 - NEC Display Solutions of America, a leading provider of commercial LCD displays and projectors, today announced the 43" NEC CRV43 ultra-widescreen specialty desktop display, designed for use in applications such as professional graphics, higher education, government, financial, command & control and home office.

The NEC CRV43 curved display can be seen at InfoComm 09 on June 17-19 at the Orange County Convention Center in Orlando, Fla.

The unique NEC CRV43 curved display provides a much wider field of view and greater dynamic range with its double WGXA resolution (32:10 aspect ratio). The user's taskbar is extended natively and setup is made easy to configure with one input. These features make it an ideal solution for simulation, digital imaging and command & control.

"The NEC CRV43 curved display provides an excitingly immersive viewing experience for any type of user," said Keith Yanke, Director of Product Marketing for NEC Display Solutions. "Its lightning-fast response time coupled with its seamless curved screen provides enhanced comfort, decreased frustration and increased productivity. The monitor eliminates the bezel and screen gap issues that have complicated users' work environment for years."

The NEC CRV43 curved display includes the following features:
* Seamless curved screen, which eliminates bezel and screen gap issues for increased productivity and decreased frustration (according to Center for Human-Computer Interaction - Shupp et al, presented at Graphics Interface 2006)
* 2880 x 900 double WXGA native resolution
* 200 cd/m² brightness
* 0.02ms Rapid Response
* 10,000:1 contrast ratio
* Wide color gamut with 100% coverage of sRGB and 99.3% coverage of Adobe RGB
* Single link DVI-D and HDMI 1.3 input connectors
* USB 2.0 connectivity for easy use of peripherals
* Front panel controls
* On Screen Display (OSD®) and software-based GUI, which enables advanced display control options

The NEC CRV43 curved display is backed by a 3-year parts and labor warranty including the backlight and will be available for July 2009 shipment with estimated street price of $7,999.