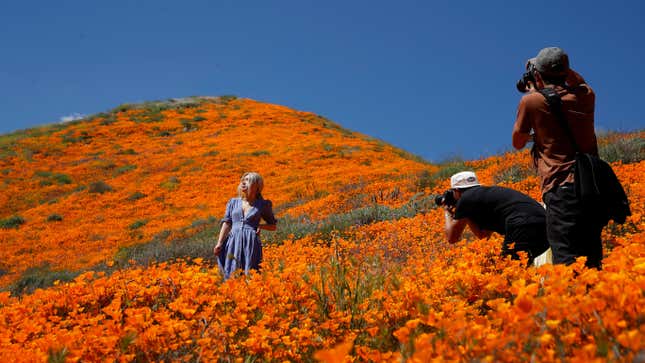 Authorities have learned about the value of picturesque fields of poppies the hard way in the age of Instagram. Since barring access and pleading didn't work, officials in the small Southern California city of Lake Elsinore are trying a new tactic: Telling would-be Instagrammers that they'll be arrested if they don't step away from the poppies.
Lake Elsinore announced the closure of Walker Canyon to all visitors this week, a popular area that was overrun in 2019 by crowds of up to 100,000 people in a weekend aiming to see a "superbloom" of bright orange California poppies caused by heavy rains. Mayor Natasha Johnson explained that the decision was made in the name of public safety and preservation of the environment. In 2019, the overwhelming number of visitors and their unfortunate behavior came at a cost that was "way too steep for our residents and our wildlife," Johnson said at press conference on Tuesday. One highway patrolman died, struck as he directed a thick scrum of traffic.
"They trampled on the very habitat that they placed so high in regard and sought to enjoy," the mayor stated.